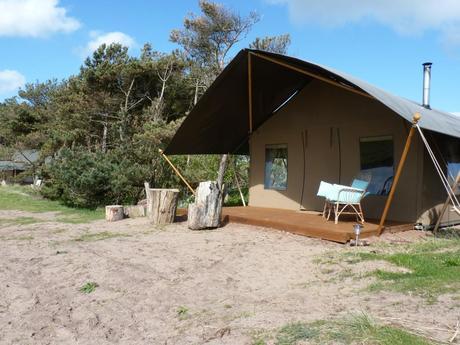 The honeymoon tent
After a fleeting visit last year, I was absolutely delighted when Harvest Moon Holidays invited me back up to their little corner of Scotland to check out their new honeymoon tent, Turtle-dove. This is glamping at its best – huge safari tents, set up just over the dunes from the beach, with the exception of the honeymoon tent, which is actually on the dunes themselves, with views out to the sea. Unsurprisingly, the tent was booked-up when we were there last weekend, so we were relegated to one of the normal tents. Well, I say relegated, but it was absolutely fabulous – if you want to come here on your honeymoon, and the honeymoon tent is booked up, there's no need to change your plans – the normal tents are wonderful in their own right (see my original post for photos of those).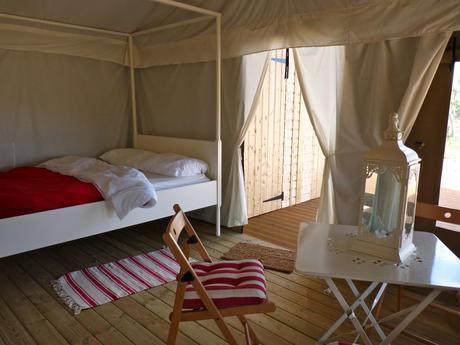 Interior of the honeymoon tent
There's no denying, however, that the honeymoon tent is something special. Inside, it's almost exactly the same as the other tents, but there's more white furniture and some lovely decorations (I loved the wooden waterbird), which gives it an elegant feel that suggests seaside cottages in New England. And whereas in the other tents there's two back bedrooms – one with bunks and one with a double bed – here you have just one large double room taking up the entire back portion of the tent, with a small seating area and views out over the deck and beyond, to the sea. And, perhaps best of all, there's still a cupboard bed in the honeymoon tent – so if the two of you want to get really cosy, then you can sleep in there. The whole site has a real tranquility about it (even when there's kids running around outside), but Turtle-dove feels really secluded, though it's not that separate from the main camp, so you don't have to walk far to get to your car or pick up provisions.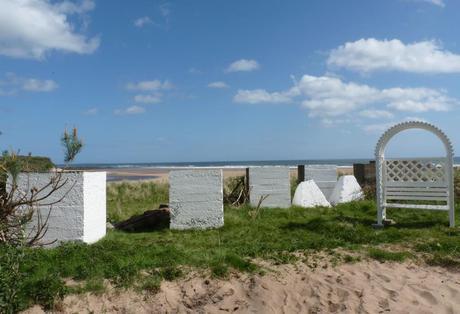 View from the honeymoon tent
Having now experienced actually staying at the site, my delight at the tents and their surroundings has only increased – and they don't only look great, they're comfortable and cosy. We brought a couple of friends up with us, with their 1 year old daughter, and the tent was more than spacious enough for the five of us to spread out in. On our first night, the rain battered away almost constantly at the tent, but it was a relief to know that it wasn't going to fly away anywhere, and that we wouldn't wake up to find puddles inside (generally my past experiences of "proper" camping). And, once we got the fire started (each tent has a wood-burning stove in it), the tent stayed surprisingly warm – though do take layers as the temperature can drop a fair bit at night (this is Scotland, after all). Matthew and I managed to snag the cupboard bed for the weekend, which was great – it felt like a real treat to sleep in something so unusual, and it was lovely to shut ourselves away at the end of the day. One of the highlights for us was cooking on the wood burning stove – it felt a little like going back to basics, and everything generally took longer than we expected (apart from when we managed to get a really roaring fire going), but the meals we cooked were immensely satisfying.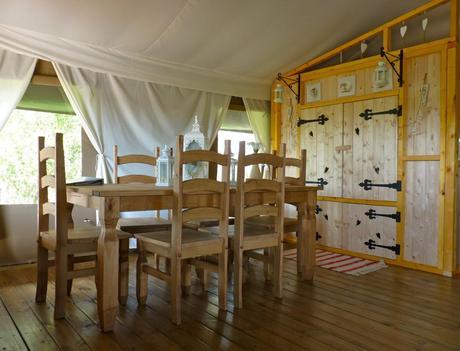 Dining area and cupboard bed
It's not just the tents that sell the place, however, it's also the surroundings. We would wake up to find chickens waiting patiently outside the tent (they like to get inside) and the African guinea fowl chasing the plump white ducks. There were lambs that needed feeding (cute but very noisy), rabbits to stroke (well, if you could get tothem before they hopped inside their hutch), and a gorgeous and very friendly horse. You can check for eggs in the chicken coop in the mornings, and if you can't find any there then you can buy lovely fresh duck and hen eggs from the sweet little honesty shop, housed in an old boat, and where you'll find a whole stock of other goodies, from bacon and beer to potatoes grown on the farm.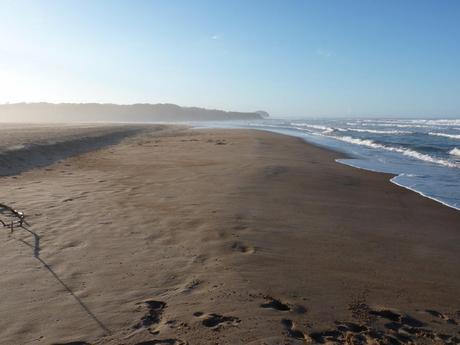 Lochhouses Beach
Then there's the beach – an absolutely gorgeous stretch of coastline that has a real, wild romance about it, and which felt especially beautiful just before sunset when the light was just beautiful. One of our friends even went for a brief swim – though the North Sea in May probably isn't quite the right temperature for everybody! We were really pleased that we hired a car when we got to Edinburgh as it gave us the chance to explore the area – North Berwick is just a short drive away, and is a lovely place to while away a day or two. It's not often that you get to experience such a low-key beach resort in the UK, and it was a real pleasure to potter around here for a day.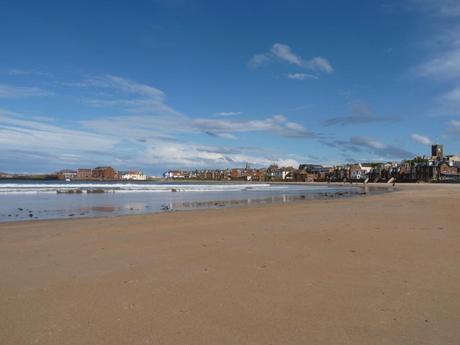 North Berwick
Sleeping under canvas, even this kind of luxury canvas, won't be everyone's idea of an amazing honeymoon, but if you're thinking of staying in the UK, looking for something a bit different to a non-descript hotel, want to be close to nature and near the sea, then I would really recommend booking Harvest Moon Holidays. After just two nights here, Matthew and I felt incredibly refreshed and relaxed, and before we'd even left the site we were already talking about coming back for a longer stay. Just as in a normal tent, there's a real feeling of freedom and a closeness to nature that you get from staying here, and it is, above all, immensely enjoyable.
Practicalities
We travelled up to Edinburgh by train, picking up a hire car from the station (we found that ebookers had the cheapest rates). The drive from the city was very straightforward, and took around 45 minutes. Alternatively, you could catch a train to Dunbar or North Berwick, and then get a taxi from there.
Prices start from £325 for a mid-week break (Mon–Fri), £350 for a weekend (Fri–Mon) and £475 for a week; book online through the Harvest Moon Holidays website.
The Honeymoon Project was a guest of Harvest Moon Holidays