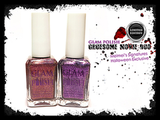 | grü-səm |
"inspiring horror or repulsion" - Merriam-Webster
(In a spine-tingling, creepy tone) Well, hello lovelies...
Here's an early Halloween treat - a limited edition Glam Polish Gruesome Movie Duo, exclusive to Mei Mei's Signatures.
Available as a set, these shades are inspired by the 2 horror movies they are named after; Carrie (left) and Tales From The Darkside (right), both movies with gruesome imageries.
I was giddy with excitement when these crept up in my mailbox for review. Firstly, I have an affinity for Halloween-themed goodies, or rather, supernatural ones in general. Though not traditionally celebrated here (Singapore), influences over the decades allowed Halloween to thrive commercially. Secondly, the rich, intense tones are to kill for!
Before I bore you to death, let's start off with...
Carrie
"Carrie is an American epistolary novel and author Stephen King's first published novel, released on April 5, 1974... Set in the then-future year of 1979, it revolves around the eponymous Carrietta N. "Carrie" White, a shy high school girl who uses her newly discovered telekinetic powers to exact revenge on those who torment her - in the process, causing one of the worst local disasters in American history." - Wikipedia
"Carrie - A vampy crimson holo with sparkly red/ gold glass flecks. inspired by Carrie White from Stephen King's novel." - Mei Mei's Signatures
For the uninitiated, Glam Polish is an indie nail polish label helmed by Rachel, and handmixed in Australia. The newer packaging sees her gorgeous polishes housed in 'tall' square bottles printed with the logo and basic information. They hold 15ml/ 0.5 fl.oz of product and come with a atandard sized brush applicator.
Who hasn't read/ watched or heard of Carrie by Stephen King? If you're generations apart from the original, there's a 2013 film remake.
Typically, I shy away from reds, but make exceptions for deeper, vampier shades. Carrie is definitely an exception. This beguiling rich burgundy wine beauty projects a definitive holo effect in the bottle. I just couldn't decide if it's linear or scattered, perhaps both. When tilted away from light source, the red/ gold flecks or bits are tiny but evident.
Here's how it shows up on the nails, shown here in 2 coats over Poshé Nail Strengthening base coat and finished with 1 coat of Glisten & Glow HK Girl topcoat:
The formula was easy to apply, and could almost pass with 1 coat. It is that pigmented! The blend of flecks gave the finish some unevenness, and also added a bit of viscosity to the formula, but not in worrying amounts. It wasn't streaky or goopy in application, even as I progressed on to paint more nails.
I could not determine the holo effect in Carrie even on the nails. In some angles, it appears scattered, yet in others, a very soft linear. It could be a blend of both. I can't tell anymore.
Close-up:
Now, the color...simply seductive! The rich crimson with red/gold and holo bits in what appears as a blackened blood red base gives this creation a delicious depth.
In my opinion, the polish has captured the essence of the antogonist in the movie - her rage and fire brewing within like the red/ gold flecks, the confused adolescent by the wavering holo effect, and the spilled blood by the crimson shade.
To reflect the mood, below is a nail art attempt with Carrie stippled over 1 coat of a-england Camelot with the pointed end of an orange woodstick, top coated. From 1 angle, it depicts dripping blood, and in the reverse, burning flames; both memorable elements in the story.
Let's crawl on to...
Tales From The Darkside
"Tales from the Darkside: The Movie is a 1990 American horror anthology film directed by John Harrison based on the anthology television series Tales from the Darkside. The film, shot in anthology style, depicts a kidnapped paperboy who tells three stories of horror to the suburban witch who is preparing to eat him, à la Hansel and Gretel." - Wikipedia
"A dark purple holo with sparkly gold/ red/ blue glass flecks. Inspired by horror movie with the same title." - Mei Mei's Signatures
I admit. I've not seen this movie. Or maybe I did but don't have an impression. So I do what I usually do - consult Google. The stills from the film really do fit the 'gruesome' tag, maybe even too much for me (who's a Trubie, by the way).
This one's an intense purple shade, with the same holo effect as Carrie. Away from the light, the flecks are less noticeable in the bottle. The holo particles steal the show anyway.
Here's 2 coats of Tales from The Darkside, with the same base and top coat combo as the previous swatch:
As with Carrie, it could have been done in 1 opaque coat, but a second resulted in a richer finish. The formula glided on smoother as it didn't feel like there was as much flecks, which did not matter anyway, as the holo is stunning.
The holo effect on the nails is identical to Carrie - a very faint hint of a prism, and stronger as a scattered holo, but, nevertheless, gorgeous.
Close-up:
Similar to Carrie, the base seems blackened, which enhances the purple and holo pigments. I could go on gushing about this polish, but it wouldn't be fair because I'm biased towards most purples, especially darker ones like this.
It's convenient that the shades in this exclusive duo complement each other. I couldn't resist pairing them in a gradient.
For holos, I typically stipple one shade over the other with a Q-tip or cotton bud when doing a gradient.
From a thumbnail size, the above mani looked like nails with gradual hematoma, albeit more sparkly. In the spirit of Halloween, I guess it's appropriate(?).
Where To Get Them
Glam Polish Gruesome Movie Duo is exclusively available at Mei Mei's Signatures as a set and retails for SGD37.00 per set. It is limited to 60 sets and each bottle is numbered. It is set to launch on Wed, 10 September 2014, 12:00 midnight (Singapore Time, GMT+8).
You won't regret following the respective businesses on these platforms for updates and information on more creations:
Mei Mei's Signatures
Singapore-based online store for the widest range of nail polishes and related products. Ships internationally.
♥ Store: meimeisignatures.com
♥ Facebook: www,facebook.com/meimeisignatures
♥ Twitter; @meimeisi
♥ Instagram: @meimeisignatures
Glam Polish
Artisan nail lacquer from Australia. Ships to Australia and USA.
♥ Store: glampolish.com.au
♥ Facebook: www.facebook.com/GlamPolish
♥ Twitter: @glampolish
♥ Instagram: @glampolish_
Till the next post, stay polished, and nightmare-free!
♥ ♥ ♥ ♥ ♥
To Leave a Comment: I've noted that OnSugar's Comment feature has caused a few readers frustration by not accepting their input. While OnSugar works on rectifying it, I did a trial and error and found that comments don't get red-taped if you enter your information in the "Name" field without any space, ie. "ALacqueredAffair" instead of "A Lacquered Affair". I hope this works. As much as I want to, OnSugar doesn't allow the disabling of Captcha.
Disclaimer: The polishes were sent for review. However, all opinions expressed are my own, and will always be.