Still touted by fashion experts as one of the finest models in the world, Gisele Bundchen participated at Harper's Bazaar, Brazil Edition's celebration of its first anniversary by modeling for the magazine's November cover. It was just fitting that she is the Harper Bazaar cover girl for her country's edition of the magazine.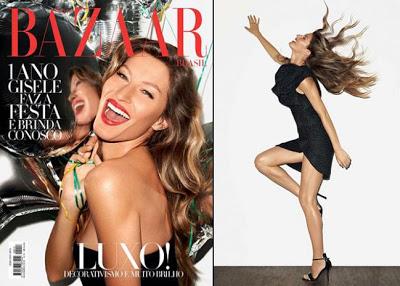 Pregnant and all ready to shoot
Gisele was in an interesting stage while she was shot for the cover. She, in spite of her pregnancy, never showed an ounce of difficulty during the stint. Like the playful and funny model that she is, Bundchen showed that she was having a great time during the shoot.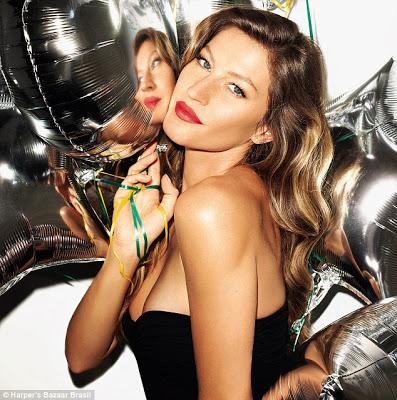 This 32-year-old Brazilian super model gamely posed in whatever way top photographer Richardson wanted her to do. Pregnant and all, she playfully held and kissed the silver-colored balloons, props which were intended to celebrate the magazine's anniversary. Indeed, most of the shots by Richardson deserve to be at the cover.
Not always the fashion goddess
If people think the Giselle Bundchen was handed the Super Model title in a silver platter, think again. This still sexy fashion vixen was never liked by fashion agencies at the start. According to veteran photographer to celebrities and models Mario Testino, nobody in the fashion industry liked her. And because of this, Bundchen had to exert great effort just to prove her worth as a model. 
Only a few were believers of her talent and one of this was Testino, who was actually her discoverer. Because she was seen then as having uncommon body assets that are not fit for modeling, Testino had to argue with his editors just to include her photos into his magazine pieces.
Current Top Model
Now Testino is happy that her top-earning model discovery has become one of the most desirable models in the whole world, and she still is. Fashion magazines are considered as fortunate if they are able to land a photo shoot with Bundchen these days. And at the fashion shoot for Harper's Bazaar, she clearly gave her all. With extended legs and pursing lips, she modeled with so much relish; showing that she still got what it takes to stay at the top of the fashion world. 
Image Source: Celebrity-gossip-MailOnline