The Big Night
For the 2013 Art of Elysium "Heaven" Gala which was presented by Audi, the traffic tunnel in downtown Los Angeles was closed down to make way of the event's reputed supporters. The event was held on the night of January 12.
The night included big names like David Arguette as well as long time supporters like John Legend and a lot more. The night seemed to be a night for couples because there have been plenty of them who celebrated the event together the night before the Golden Globes.
A "Heavenly" Fashion Parade
The event seemed like a fashion parade on the gray carpet. Bright stars donned beautiful gowns from designers like Rachel Bilson, Louis Vuitton and Carolina Herrera. One of the event's highlights was Julianne Hough who wore a beautiful and heavenly Jenny Packham Dress.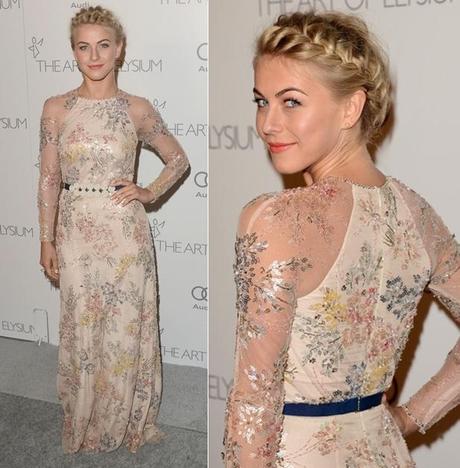 She stunned everyone as she walked with elegance and an all around the world braided up do. The 24 year old actress showed her fashionable taste as she matched the gown with Stuart Weitzman Shoes and topped it off with a Sethi Couture Earrings.
Trend Keeper
Braided up dos have started to be recently popular on the red carpet specifically speaking at the People's Choice Awards. Another star known as Jennifer Lawrence also has sported the same hairstyle. Julianne Hough managed to keep that trend going that night.
The day before the event, Julianne Hough was reportedly seen attending an appointment at the Anastasia Beverly Hills Salon. That might be the reason why she rocked a heavenly braided up do at the night of the event which accentuated the Jenny Packham Dress she wore during the event.
Many comments have actually commented that things are Apart from being an actress; Julianne Hough is also a ballroom-dancer as well as a country music singer. She won twice at a reality TV show and she was nominated for Creative Arts Primetime Emmy for being an outstanding choreography in the year 2007. 
Ms. Hough is also signed to a music company known as the Mercury Nashville Records.  The company helped her released a self-titled album which was launched on May 20 2008. Her very first leading role was in the 2011 remake of a move entitled as "Footloose".
Image Source: 
Cristinahh Blog