Turquoise is a bold color. It is not for the play it safe kind of chic, because these don't conform to average standards. They are for the woman who feels confident, and rather daring, because the look they confer denotes exactly that. It's no wonder they are so popular this season, and two of the hottest shoe designers have a pair to keep you satisfied.
Sergio Rossi and Jimmy Choo's turquoise pumps
The two designers have a huge selection of said pumps, to satisfy the different kind of design needs women have. Two designs have come very close of each other, and a careless glance cannot be able to differentiate the two. It takes even the trained eye a minute to be able to point out the subtle differences between the two shoe designs.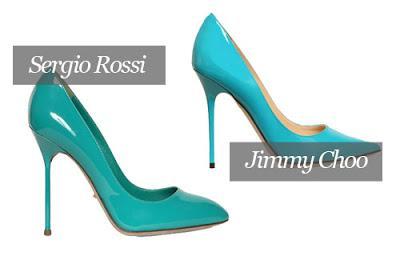 Sergio Rossi and Jimmy Choo's turquoise pointed pumps
Jimmy Choo
's pumps take on a light tone of turquoise, while
Sergio Rossi
's are somewhat darker in comparison. Additionally, they have heels that are 5mm shorter of Rossi's at 100. The final difference is with the nature of the cap toe, which is sharper in Jimmy Choo. Other than these, there is no other observable difference, which makes it a tough choice for you if you were in the shop for a turquoise pair and came across the two designs. Both carry the credible reputation of their designers, so any pair would be a good investment. Still on finances, Jimmy Choo's pumps retail for $525, while Sergio Rossi's cost $25 more, retailing at $550 instead. They are not the cheapest, but they are a premium addition to have to your closet. Besides, turquoise pumps have such potential, and can bring alive some of the outfits that you never gave preference to. 
Cases of near-equal designs are not unheard of in the bigger fashion industry. Because the biggest resource is the creative mind, similar designs can be conjured in two different minds, albeit not necessarily at the same time. It's a kind of redundancy that cannot be eliminated altogether, but only corrected once it is noted. Taking this into consideration, any of the turquoise pointed pumps from either designer are good.
Image Source:
FashionGlamour