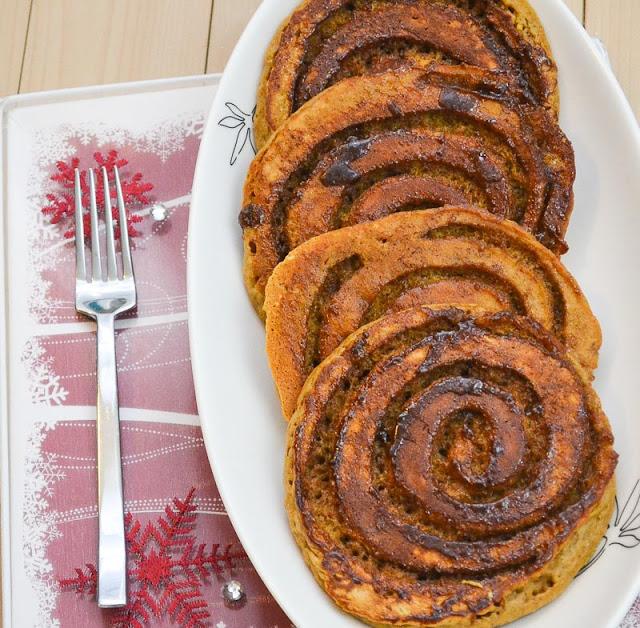 The hubby requested pancakes for christmas breakfast and I wanted to find something different then your basic pancake.  I happen to stubble upon a recipe for cinnamon roll pancakes which led me to another recipe for gingerbread cinnamon roll pancakes and it being x-mas and all I had to go with the gingerbread.... of course :) These pancakes were awesome, they not only tasted delicious but when you flip the pancake over to cook the swirl side and flip it back, it looks just like a cinnamon roll on top. The only thing is, I wish I could have shared these yummy pancakes with my family for christmas.  Though I can be happy that at least me and my husband can spend the holidays together instead of being deployed this year. I adapted this recipe a little since I didn't have all the ingredients it called for, and they still turned out superb!  and looked pretty cool too. 
Gingerbread Cinnamon Roll Pancakes 
Adapted from Recipe Girl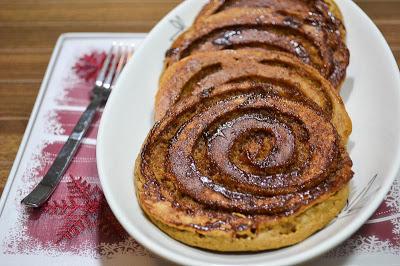 Yields: 6-8 pancakes
Prep: 15 minutes  Cook: 20 minutes
Ingredients
Cinnamon filling
1/4 cup butter
1/2 cup packed brown sugar
1/2 tablespoon ground cinnamon
1/4 teaspoon ground nutmeg
1/4 teaspoon ground cloves
Pancake
3/4 cup milk
2 tablespoons brewed coffee
2 tablespoons dark mollasses
2 tablespoons water
1 large egg
1 1/4 cup flour
1/2 tablespoons ground cinnamon
1/2 tablespoons ground ginger
1/2 tablespoons ground baking powder
1/4 teaspoon baking soda
1/4 teaspoon salt
Directions
Prepare the cinnamon filling before you make the pancakes.
- In a small bowl melt the butter in the microwave, takes about 20 - 40 seconds.
- Mix in the brown sugar and spices with a whisk, make sure that the mixture is combined well and not lumpy.
- Scoop the mixture into a small ziplock baggy and set aside (while your making the pancake batter the mixture will cool and thicken up a little)
Prepare the batter
- In a large bowl, whisk together the milk, coffee, molasses, water and egg.
- In a small bowl combine all the dry ingredients and mix well.
- Add your dry ingredients to the wet ingredients and mix till just combined. (don't over mix its okay if they are some lumps in the batter)
Cooking the pancakes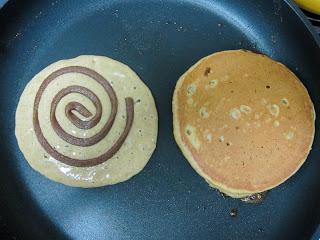 - Set your oven to warm or 200 degrees and add a pan into the oven, use this as a warmer tray for placing your cooked pancakes in, to keep warm while finishing the entire batter.
- Preheat a large skillet on medium heat and spray the pan with cooking spray
- Scoop a 1/3 measuring cup of batter into the skillet and spread it around a little to make a round shape
 - Take your zip lock baggy and cut a small hole in the corner and pipe a swirl onto your pancake.
- Cook the pancake for about 3 minutes until you start seeing bubbles on the side of the pancake, flip the pancake over and cook the swirl side for about 2 minutes, dont worry if you see some of the swirl mixture oozing out from under the pancake.
- Flip the pancake over to expose the swirl side and serve with syrup or they are great by themselves as well.  Enjoy.