I know I haven't blogged since leaving Japan but I've never stopped wanting to continue sharing my passion for baking and creating delicious treats to put a smile on someones face.  Some big changes occurred in those two years.  The biggest, we moved to Germany and we had a baby! She was born in late December of 2015 and I absolutely adore her.  Lately I've had that itch again to resume my blog and decided to give it a go.  Though I needed to make some minor changes to help me not only be able to blog, but work full time, take online classes, earn my next rank and of course spend as much time as possible with my daughter.
Thanks everyone for stopping by and checking out my blog!
Heres the latest Cupcake, for some reason just this month alone everyone in my work center has a birthday in September.  I have literally made 4 different kinds of Oreo Cupcakes in 3 weeks.  I look like I'm the one with an Oreo addiction.  These are pretty awesome though, by the way did you know they make Cinnamon Bun Oreos??  I had a friend give me a package of them and hinted (not very subtlety) that I should make cupcakes.  Well I did and will be sharing those soon as well.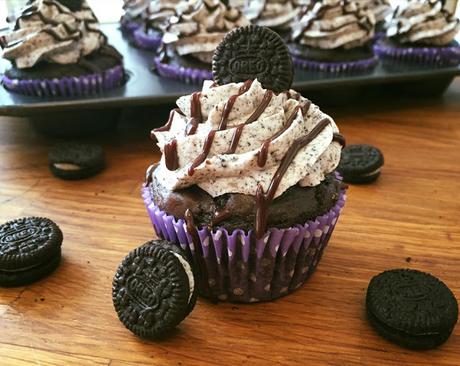 This is the site and link for the recipe I used to make the cake portion of the cupcake.
http://www.baked-in.com/2014/06/16/cookies-n-cream-cupcakes/


I just lessen the sugar from 2 cups to 1.5 cups.






Oishii Treats Original 

Cookies n Cream Buttercream 

1 cup milk, with 1 tablespoon vanilla extract

5 tablespoons flour

1 cup butter, at room temp

1 cup sugar (not powdered)

leftover cookie wafers, crushed (from recipe above)


Directions


- Using a small stove top pot add in your milk and place heat on high, add in your flour and whisk until the mixture starts to thicken, about 2-3 minutes.

- Keep whisking the mixture for another 1-2 minutes until its thick and has the consistency of pancake batter or cake batter. Remove from heat and immediately transfer the mixture to a ramekin or bowl and let cool to room temp. 

- In a electric mixture beat the butter and sugar together for 7-8 minutes on high, the mixture should be white and fluffy. Beating the butter and sugar together for this amount of time will help the sugar dissolve better.

- Add in your cooled milk mixture and whip on high for another 4-5 minutes, the sugar should almost if not be basically dissolved. If it is still slightly grainy the sugar should still dissolve the rest of the way when you pipe it on the cupcake.

- Fold in your crushed cookies and use a pipping bag and a large tip to pipe onto your cupcakes