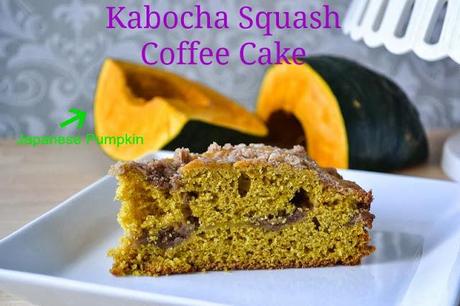 Squash is an awesome versatile vegetable, wouldn't you agree? It can sit on your counter for weeks and wont go bad, it can be added to everything from soups, casseroles, and even baked goods.  I even used squash as the sauce in mac n cheese and it was a-ma-zing!  I don't know why it took me this long to start using squash....oh ya maybe because the commissary charges over $6 bucks for any type of squash, it wasn't till I ventured off base and started shopping for my produce at the local Japanese farmers market that I realize how cheap squash really is.  The same sized squash I buy on base for over $6 dollars I can get off base for under $2 bucks, crazy right.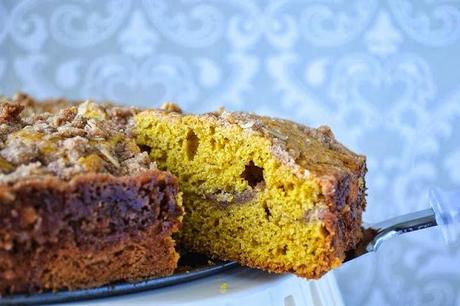 I've been stocking up on squash and searching for a wide variety of recipes to start using it, not only is it cheap, its super hearty for vegetarians, full of fiber and vitamins and it can be added to every dish.   I recently used the Kabocha squash (Japanese pumpkin squash) in a chickpea stew, mac n cheese and now this delicious coffee cake.  Whats great about Japanese pumpkin squash is that it taste a lot like the normal orange pumpkin you can buy for Halloween.  Its slightly sweet, a pain in the ass to cut though and orange in color.  I've been making a lot of dishes lately with pumpkin and have turned a pumpkin hater co-worker into a pumpkin lover now, especially after she tried this coffee cake, her mom even wanted to recipe :) When a mom wants your recipe you know you got something special.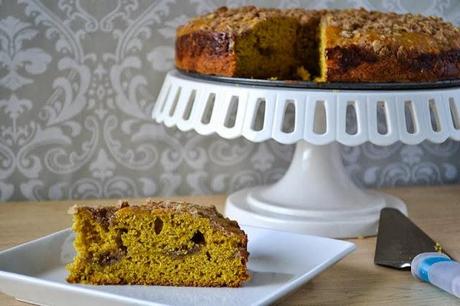 Next time, I'll be doubling the crumb mixture because you can never had enough added to the top.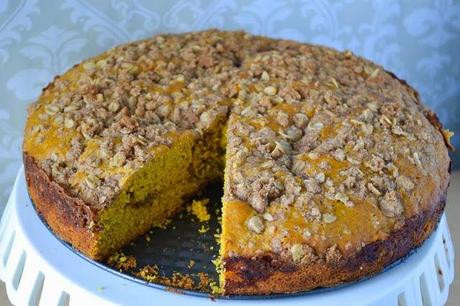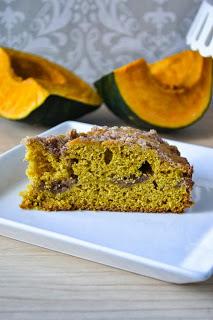 Kabocha Squash Coffee Cake
Servings: 10-12 
Ingredients
Crumb Mixture
1/4 cup packed brown sugar
1/4 cup sugar
1/4 cup flour
1/4 cup cooking oats
1 teaspoon cinnamon
3 tablespoons cold un salted butter
Directions
1.  Add all the dry ingrentins into a bowl and mix until combined,
2.  Cut in your cold butter and mix until the mixture is crumbly. I find that using a fork helps or just my hands. Set the bowl aside when finished.
Cake
1/2 cup butter flavored shortening
3/4 cup sugar
2 eggs
1 cup mashed cooked kabocha squash (or any othre sweet squash like pumpkin or butternut)
1 teaspoon vanilla extract
2 cups flour
2 teaspoons baking powder
1 teaspoon cinnamon
1/2 teaspoon baking soda
1/2 teaspoon salt
1/2 teaspoon ground ginger
1/2 teaspoon ground nutmeg
A pinch of ground cloves
1/2 cup unsweetned applesauce
Directions
1.  Preheat your oven at 350 degrees and grease a 9-in springform pan. 
2.  In a medium bowl combined your dry ingredients: flour, baking powder, cinnamon, baking soda, ginger, nutmeg,   and clove. whisk until combined and set aside.
3.   In an electric mixer cream together the shortening and sugar on high until light and fluffy, about 3 min.
4.  Beat in the eggs, one at a time, beating well after each addition.
5.  Beat in the squash and vanilla.
6.  Gradually add in your dry ingredients into the creamed mixture until fully combined.
7.  Spoon half of your batter into the greased sprinform pan, using the back of a spoon to help spread it evenly.
8.  Spread your appleasauce over the batter in the pan and sprinkle with half of the crumb mixture.
9.  Spread the remaming batter over the applesauce/crumb mixture, using the back of a spoon again to help spread it evenly.  Add the remaining crumb mixture to the top.
10.  Bake for 50-55 minutes or until a toothpick inserted comes out clean. (FYI my oven bakes fast so it was done early. around the 40-45 min mark. so test your cake early.)
11.  Cool for 10 minutes before removing the sides of the pan. Makes about 10-12 servings.
Recipe adapted from Taste of Home