We don't know about anyone else, but Sookie St. James (Melissa McCarthy) always made us hungry whenever she was on screen.  She was always cooking up something that looked thoroughly scrumptious and we often wondered how Lorelai and Rory could eat junk food all the time when one of their best friend's was a gourmet chef.  So today, our countdown (which is at 16 days! Can you believe it?!) is dedicated to all of the amazing dishes Sookie has prepared.  You can find our top 5 below, and be sure to let us know yours by either leaving a comment below or tweeting us @FrontRowChat!
Nov 9- Top 5 Sookie Dishes
Lisa- Peach Jam (S1E1)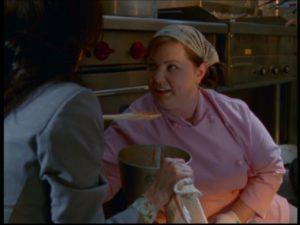 Sairah- The Bracebridge Dinner (S2E10)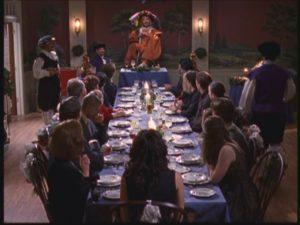 Cassie- The magic risotto (S1E4)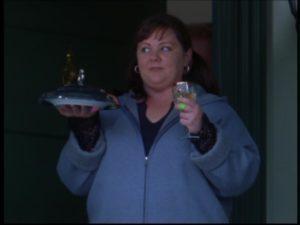 Everything about this dish was so quintessentially Sookie.  I mean, she tracked down the anonymous reviewer (despite RAVE reviews) and made him re-taste the risotto with a different wine pairing.  Sookie's always a little nutty when it comes to her food, but this really took the cake.
Aubrey- The Thanksgiving Meal she didn't cook (S3E9)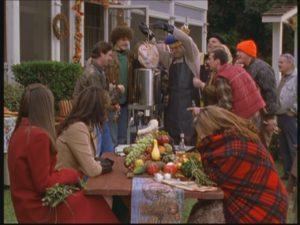 Okay, so maybe this one shouldn't qualify, but this episode is Sookie at her most hilarious for me. She let Jackson take the meal out of her hands, which is honestly a huge show of trust and love for her, and by the end of the night she's just rolling with the punches (which may or may not be due to the number of drinks she'd had by then).  
Hannah- Jalapeno – Chipotle Mac & Cheese (S4E3)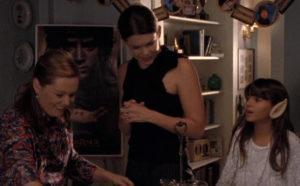 Only Sookie St. James would make a gourmet, spicy mac and cheese for a child's birthday party.  Honestly it sounds amazing to me, but I don't think eight year old me would have liked it at all.
Gilmore Girls: A Year In The Life premieres on Netflix on Nov 25.
Image Credit: The WB