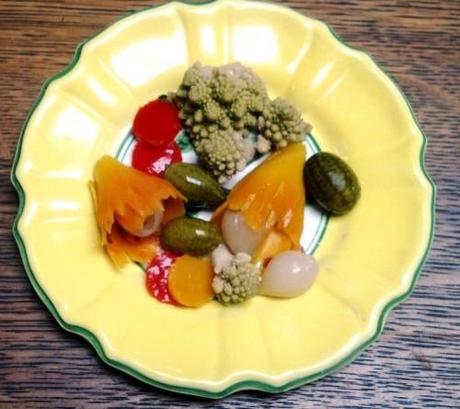 You know those big jars of vegetables you see in Italian markets and gourmet stores? With the onions, carrots, peppers and other gifts of the gardens tightly packed and neatly layered? That pretty relish they call Giardiniera, or verdura sotto aceti?
So simple, mixed pickled vegetables packed into jars — how hard can that be?
Far harder than one might imagine.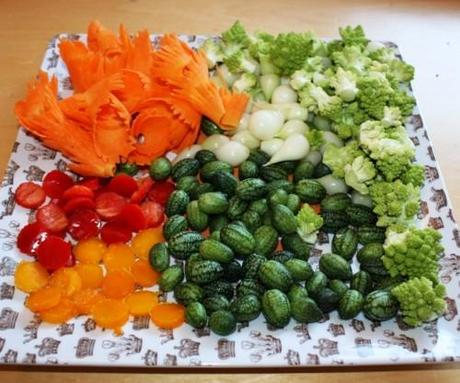 So instead of meticulously arranging humdrum hunks of produce this Giardiniera recipe employs the super models of the vegetable world: chic romanesco broccoli, curvy Mexican ground cucumbers, pearl onions and red pepper dots and well-coiffed carrot curls.
Romanesco broccoli, also known as broccolini, is the surprisingly beautiful result of crossing broccoli with cauliflower. Amazing, right? It's as Steve Buscemi and Aida Turturro hooked up  and their kid was Linda Evangelista.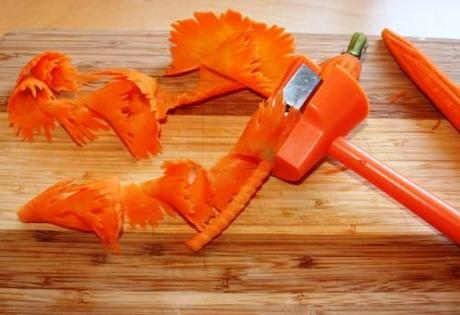 Balsam Farms in Amagansett, ever on the cutting edge of legumes a la mode, was the source of these mini 'cukes. 

The carrot curls are easy with this nifty tool – click to buy the Norpro curler.

And the dots of red and yellow pepper are punched out with a small round cutter – I used an apple corer.

There's no secret. Just assemble a nice mix of curated mixed vegetables, flavor vinegar with a nice array of herbs and seeds, pack into jars willy-nilly and process in a boiling water bath.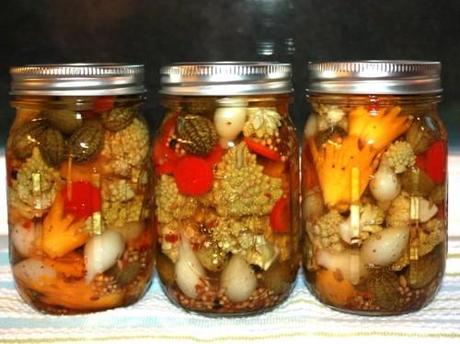 Giardiniera Fantasia – Italian Pickled Vegetables Fantasy
Recipe
3 c. vinegar
1 T. sugar
1 t. salt
Mixed pickling spices, any or all of the following work nicely:1 T. fennel seeds
1 T. mustard seeds
1 t. red pepper flakes
1 t. pepper corns
1 t. celery seed
1 t. caraway seeds,
1 pint mexican ground cucumbers (pinch off any remaining little black bits on the blossom end)
1 head romanesco broccoli, broken into florettes
1 pint pearl onions, peeled (cut a shallow X into the stem end, blanch for 1 minute in boiling water, slip off the papery skins)
1 each red and yellow, cut into dots with a tiny cookie cuter or other tool (alternately cut the peppers into small perfect squares or diamonds)
6 carrots, peeled and curled with a curler (alternately cut into coin-size slices) 
Prepare the vegetables.
Bring the vinegar, sugar, salt and your mixture of spices to boil.
Divide the vegetables between three or four sterilized pint canning jars.
Top with the boiling hot spiced vinegar, seal with sterilized lids and process in a boiling water bath for 15 minutes.
Let season for at least two weeks before serving.

Print This Post
How to curl carrots in this video: