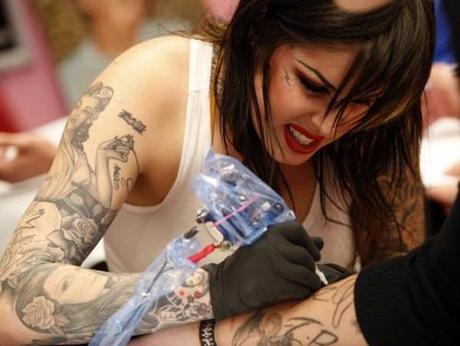 Getting Tattooed at a Tattoo Convention by Kat Von D
One of the biggest advantages of attending a convention is that you can book an appointment with a well-known artist who does not live near you. One of the biggest disadvantages of booking an appointment for the convention with a well-known artist who does not live near you is that you might not get as good a deal as you would if you were to visit the artist's studio. That is, the exhibit floor is noisy, full of smoke, crowded, and generally hard for anyone to concentrate in.
In addition, some artists try to pay for their trips and booth fees by the appointments they do during the convention – so the more tattoos they do, the more money they make. It is possible that you may be overcharged for a tattoo that is not up to the regular standards of the artist.
How to avoid this pitfall? Phone the artist WELL in advance. Explain your interests and reserve your time for the convention beforehand – the earlier the better. Give your artist enough time to do some rough sketches as well, that can be drawn up before the convention. If you have been dying to get a tattoo from someone great and famous, why take the risks that the artist fills up that appointment book before you can get to that booth? Reserve in advance and avoid the headache.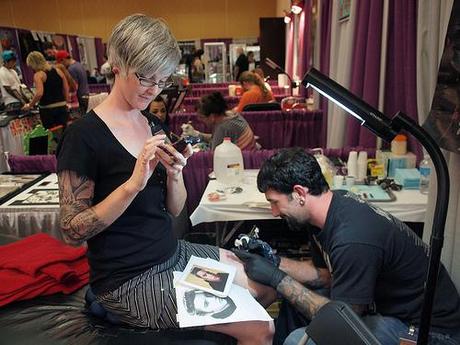 Make the Artist Do the Proper Preparations
Should you decide to "wing it" and hope to find someone you like once you're there, you will have a much better chance of securing a time slot if you visit before the public is admitted (which means you have to register for the convention). Chances are, they will want to get a deposit from you immediately (some people make appointments during conventions then fail to show without notifying the artist – very uncool! You have been warned, though. Caveat Emptor!