Action sports offer more than just an adrenaline rush–they help us face our fears. While life gets safer every day, our search for adventure and challenge remains strong. We seek thrills, push our limits and search for transcendence through outdoor sports. 
Today's guest poster, Olivia Golding, an aspiring writer from the UK, shares with us her experience with fear and pushing her limits through climbing. She is a 22 year-old barmaid living in Manchester. (Sounds like the making of a future ski bum, if you ask me!) She first started rock climbing two years ago during "Freshers Week" at University (according to Olivia, that's "basically the week where it's 'no holds barred' and everyone goes a bit mental"). Her philosophy is simple: try everything once. She hopes that if just one person takes up rock climbing because she shared her experience, then her work is done. Take it away Olivia!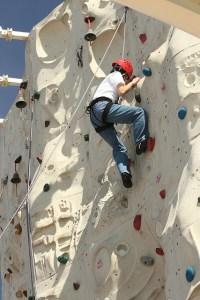 Indoor rock climbing is the conventional starting point for novices (unless you're particularly daring!) (photo courtesy of Flickr)
If you're not even a little bit concerned when staring up at the rock face and contemplating leading off on your first climb then you've either got nerves of steel, or there's probably something wrong with you. That sense of butterflies in the stomach, the feeling that this isn't really the safest pastime that you could have chosen, that perhaps it would be better to walk the long way round after all rather than go straight up – these are all natural reactions. And as long as that fear doesn't paralyse you, then you'll be OK.
For me it was that fear of putting your life into the hands of someone else, the belayer – that was one of the hardest parts of learning the basics of rock climbing. Falling off is something that you expect to happen when you're getting into the sport – the major concern is that the person on the other end of the rope will catch you when you do.
Having a good teacher is key to building up your confidence. You need someone who will guide you through the basics of how to put on a harness properly, how to tie in and what checks and calls to make before leaving the ground. Safety always has to be a huge part of rock climbing due to the nature of the sport and it's those basic checks, the first things you learn, that help to give you the strength to start up a wall. Have you checked the straps on your harness have been doubled back? Is the stopper knot on the rope good enough? Is your belay partner ready for you to start? "Ready?" "Ready!" "Climbing!"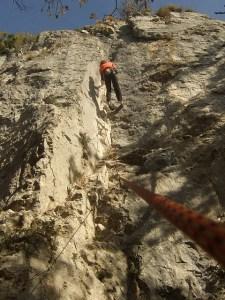 This will hopefully give you some perspective of the heights you could reach, though despite however prepared you think you are, it still won't get rid of the butterflies in your stomach. (photo courtesy of Flickr)
Like most people, I started climbing indoors using a fixed top rope. As a beginner, having a rope that has already been passed through a carabiner at the top of the wall ensures that if you do come off, you're unlikely to fall far. And while it might sound strange, falling off and being caught quickly can actually do a lot to boost your confidence. If you know that there is someone on the ground that's keeping a close eye on you and is ready to act should you slip, you'll find you're far more inclined to take calculated risks and push yourself that bit further when a handhold appears to be just out of reach.
Once you've got some experience of top-roped climbs, then leading your first pitch – ie taking the rope up with you and clipping it into carabiners at intervals to protect you in the event of a fall – is the next step. If you do come off the wall then there's usually further to fall, but as long as you have a good belaying partner you'll be fine. In many climbing situations, a little bit of encouragement can go a long way. Having someone push you to try a move after you've been stationary on the wall for five minutes, unsure that you can make it, can be all it takes. There's nothing more satisfying than being lowered down from a climb having made it to the top in that situation. It's when that sense of fear or trepidation is replaced by a sense of achievement that you really start to get the bug for the sport. Bring in the stunning views you can find when you take your climbing outdoors and it won't be long before you're well and truly hooked!
Author bio
This post was contributed by Olivia Golding, an amateur but keen outdoor sports enthusiast and writer. When not subjected to indoor constraints, she loves to be outside with nature and its beauty. She strives to be as organised as she can, and can do so with the help of camping stoves and tents from GoOutdoors.co.uk, amongst other essentials.