Happy Happy Thursday!
Ever since I got back from Las Vegas this past weekend, i've had a completely new mindset of how I want to begin to change my daily routine.
Normally, I just wake up, have my coffee, answer some emails, and get to work, until about 6 pm, oh, and then I go to the gym. I mean everyone has a routine that is semi similar, correct?
Silly day jobs.
While, instead of going to the gym AFTER work, i've decided that i'm going to try mornings instead, and see how I adjust to that, because I feel like every single time that I get off work, I am always way too tired to even have the motivation to workout.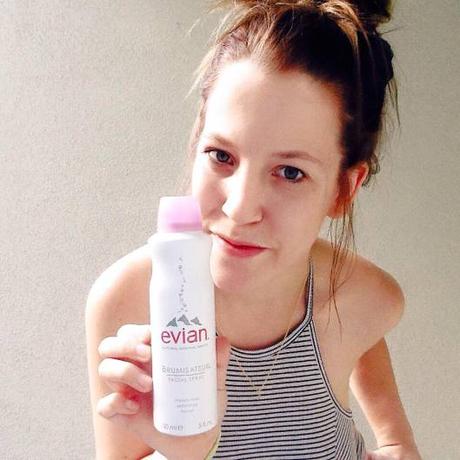 In honor of starting my morning workout routines, I recently had the opportunity to partner with Evian Facial Spray.
Not having tried Evian Facial Spray, I was a little hesitant on how my skin was going to react to it.
Not only did Evian Facial Spray wake me up, but I also found out about a few other good things that it does to help keep your skin in the best shape possible.
BENEFITS OF USING EVIAN FACIAL SPRAY FOR YOUR DAILY WORKOUT ROUTINE:
It Preserves skin's hydration during exercises that can easily dry skin (like Hot or Bikram Yoga)
It cools your skin down to keep you going for a longer, more intense workout
It washes away sweat that can irritate skin or cause breakouts
It removes chlorine or salt water after swimming
It tames fly-away hair and locking in moisture post-workout
You can find out more about the many uses for evian Facial Spray at www.evianspray.com and www.facebook.com/evianspray