Hey everyone!
Today I'm sharing with you all a simple yet stylish Neon and Lace look which makes a superb combination. Pairing Neop clothing with other pieces can be tricky sometimes. Try sticking to neutral tones, pair your favorite piece of lace dress or a combination of white, black & gray hues when pairing a Neon outfit, instead of playing with colors.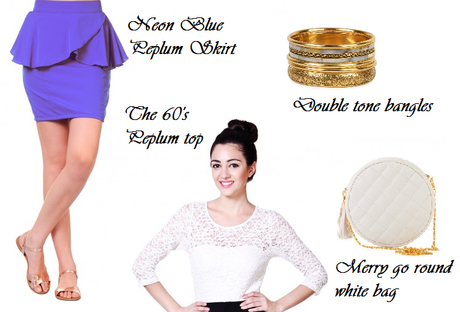 Get Simple yet Stylish with Stalk, Buy and Love
I have paired a sheer shoulder white lace top with Neon blue/cobalt blue peplum skirt and accessorised it with modern gold jewelry and a white merry go round bag. 
Shop this look from Stalk, Buy and Love.
Neon Blue Peplum Skirt Rs 599

HERE

The 60's Peplum Top Rs 1399 HERE

Merry go round white bag Rs 649 HERE

Double Tone bangles Rs 299 HERE
Share in the comments below How you liked this look? You can go around Stalkbuylove,com and have a look at all these products.