Being a new mom is one of the most beautiful experiences of our life. But it comes with its own set of problems. Those severe and ugly stretch marks are one among them. They are usually formed at the middle layer (dermis) of the skin when it is stretched beyond its ability over a time span and the tissues are torn consequently. Frequent moisturizing may not be enough to get rid of them. However, you can fade them away significantly by making certain changes in your diet. Here we go: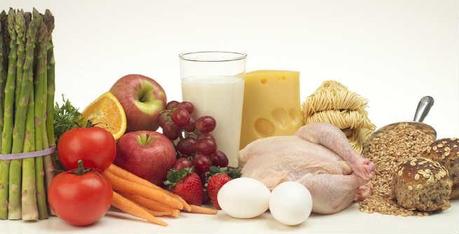 1. Water
Keeping yourself well-hydrated can help you ward off stretch marks. So, drink lots and lots of water throughout the day. But, skip alcohols and all those sugary as well as caffeine-rich beverages, such as soda, readymade juice, tea, coffee, etc. that can lead to dehydration and make you more prone to stretch marks. It is proved that consumption of minimum 8 glasses of water a day can stimulate the production of collagen in our body and maintain the elasticity of our skin.
2. Vitamin-Rich Foods
From eliminating the already-developed stretch marks to preventing the formation of new ones, vitamin A, C and E can help you in all possible ways.
Vitamin A – It keeps our skin healthy by curing the damages and promoting the new cell formation. Bright-colored fruits and leafy green vegetables like carrot, cantaloupe, mango, sweet potato, apricot, kale, pumpkin, spinach, etc. and foods like tuna and fish liver are known to be rich sources of vitamin A.
Vitamin C – Being full of antioxidants, vitamin C provides protection to our skin cells from damages and expedites the process of healing by boosting collagen production. Some great sources of vitamin C are citrus fruits like orange, lemon, lime, grapefruit; berries like blueberry; bell pepper, kiwi, broccoli, melon, and so on.
Vitamin E – It plays a key role in repairing cell damages and maintaining a healthy skin for long. Avocado, wheat germ, oat bran, nuts, seeds, tomato, peanut butter, and dairy products are best sources of vitamin E.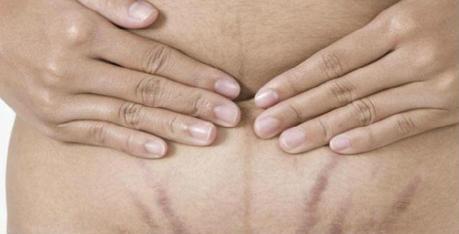 Also Read – Embrace Olive Oil for Stretch Marks Removal Here
3. Protein-Rich Foods
Including plenty of protein in your diet can be extremely useful in removing pesky stretch marks. Protein is one of the most vital elements of our cells and hence, consuming it regularly can help maintain the health of our skin efficiently by eliminating stretch marks. So, eat milk, yogurt, egg, fish, tuna, chicken, turkey, soy beans, etc. as much as possible.
4. Healthy Fats
Try to indulge in foods that contain lots of saturated as well as monounsaturated fats. These are healthy fats, which make our skin healthier by nourishing collagen and elastic fibers. As a result, we get rid of stretch marks easily. Some food items that are rich in healthy fats include coconut oil, olive oil, butter, herring, salmon, etc.
Also Read – 5 Ways to Use Collagen for Eliminating Stretch Marks Here
5. Zinc-Rich Foods
Foods comprising zinc are also capable of forming collagen properly in our body, thereby warding off stretch marks to a great extent. Opt for zinc-rich foods like lentils, beans, lean meat, banana, turkey, Brazil nut, fish, etc.
Some other foods that should be consumed for getting rid of stretch marks are gelatin, fish oil, bone broth, canola oil, hemp seeds and oil, sesame seeds, flax seeds and oil, almond, walnuts, winter squash, etc.
Image Credit – Featured, 1, 2