Threading is a common and most widely used method that is used to get rid of extra body hair. Though nowadays there are several other ways of hair removal also such as creams, lotions, waxing and more, it is observed that threading still rules the roost in popularity and acceptance. Whatever be the need, from extra hair removal of eyebrows to upper lips and side cheeks, threading is considered as the most proficient and popular way to bank on. Suitable to all skin type without much trouble, threading is undoubtedly a good process to remove extra hair growths. However if you have sensitive skin, you may suffer from redness and rashes after threading.
Nothing to panic …know that just following some simple skin care tips after threading can help you avoid these problems in an effortless manner. Let's learn more about the natural ways of skin care after threading as provided below:
1.  Make sure that you do not use any bleach product immediately after undergoing the threading process as it will result in irritation and itching sensation. It is suggested that you maintain a gap of at least one hour in between threading and bleaching process.
Also Read – Tweezing Makes the Hair Grow Thicker- The Myth is Finally Busted
2. Secondly try to avoid any type of heat treatment soon after threading as it tends to make the skin dry and cracked. If you had been planning to go for a heat-vapor facial after threading, go for a break in between definitely to avoid skin problems.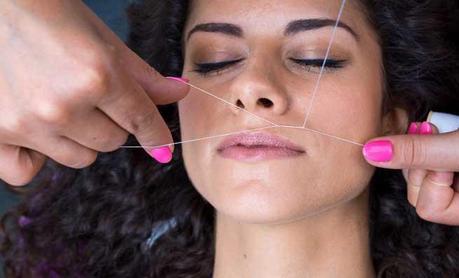 3. Also avoid touching the threaded area immediately with your hand as the skin pores remain sensitive and open at that time. Contact with dust and dirt of the hand can result in redness and rashes for people having sensitive skin type.
4. Try to avoid usage of any skin exfoliating cream or solution soon after threading. In case of redness, use ice cubes on the area to soothe down the itchy feeling. You can also use rose water which helps in regaining back the normal skin texture in a comforting manner.  Aloe vera is also a good option to be applied on the freshly threaded area, especially for sensitive skin.
Also Read – Prevent Unwanted Hair Growth on Forehead Easily
5. Do not step out in the sun immediately after threading as your skin remains highly prone to UV rays during this time phase. Always apply good sunscreen lotion on your skin before going out in the sun.
6. Finally, try to avoid using any cosmetic products on the threaded area as it may result in adverse effects. You can bank on baby oil or antibacterial face wash to clean the skin in need.
Also Read – DIY: 9 Steps to Thread Your Eyebrows Perfectly at Home