Back in 2008, a couple of sisters and business partners, Sophie LaMontagne and Katherine Kallinis, put their life savings on the line by quitting their successful careers in fashion and finance to pursue their lifelong dream of starting a bakery. Georgetown Cupcake opened on Valentine's Day in Washington D.C. in the same year, and then in 2010, Sophie and Katherine starred in their very own reality series, D.C. Cupcakes, which captures the drama behind the scenes in their family-owned bakery.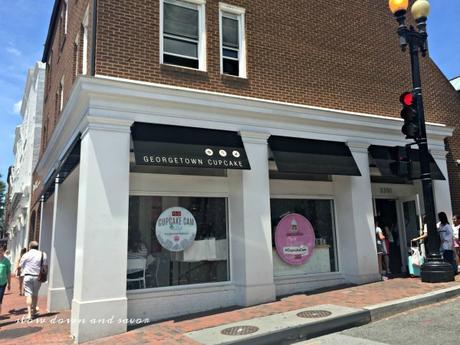 I was obsessed with D.C. Cupcakes, and have since re-watched several seasons with my kids and husband, and we all really enjoyed watching the girls come up with new flavors and awesome designs for their clients. I loved how personable and fun Sophie and Katherine were, and I vowed that someday, I'd go with my family to Georgetown Cupcake, and we'd be able to experience their sweet treats for ourselves.
So a week ago, when my sister and niece drove from Atlanta to D.C. for a college visit, we clearly had to see them. We met up with my dad, and the 7 of us had an awesome brunch over at American institution, Martin's Tavern. After we visited, caught up and ate some dang good food, it was time for my sister and niece to start their activities over at Georgetown University, so clearly it was time. I had my in.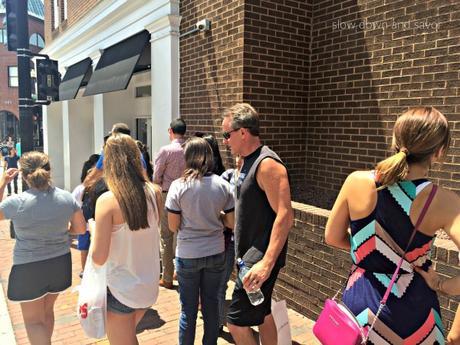 I led the way through the city for a quick 10 minute walk where we ended up at the famed Georgetown Cupcake. Oh my gosh, I was beyond excited. There was a pretty decent line, but to be honest, I'd have sat in line for an hour for those cupcakes.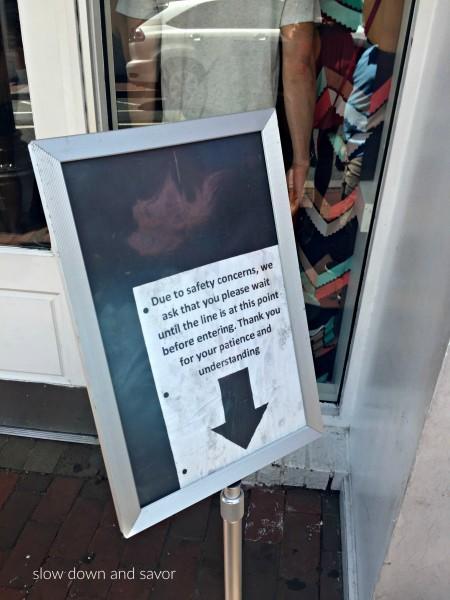 Our line was only about 15 minutes long, and before we knew it, we were next. I had some pretty serious anxiety about being at the front of the line. I mean, when do we go in? No one was there to direct traffic. It was up to us, well, up to ME, when to go in. So after some patience, I decided that it was time.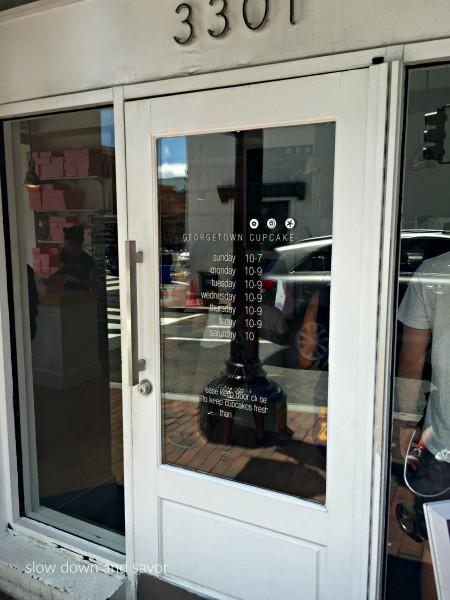 We stepped foot out of the blistering heat into the cool bakery, and I was so happy. It was JUST like I pictured it after having watched episode after episode, season after season of the show. It was awesome. The cupcakes on display were so beautiful.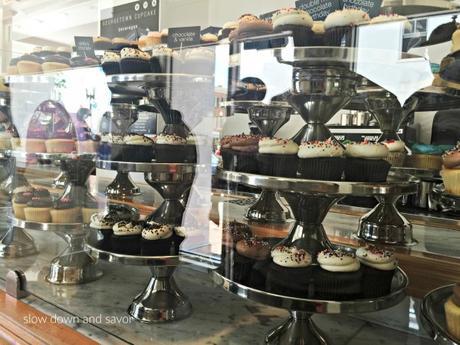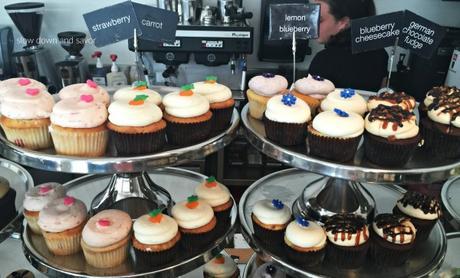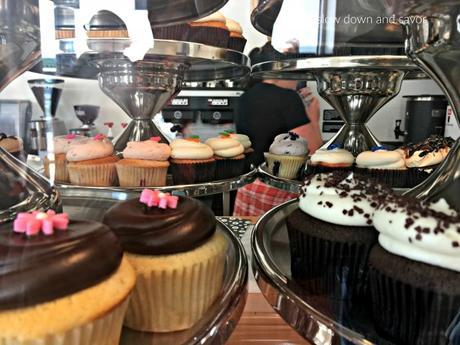 I absolutely love their signature swirl, and how irresistibly smooth and velvety each and every mini-cake looked. It took all of my will-power to keep me on the correct side of the glass, instead of bounding over like a starving, cup-cake deprived puma.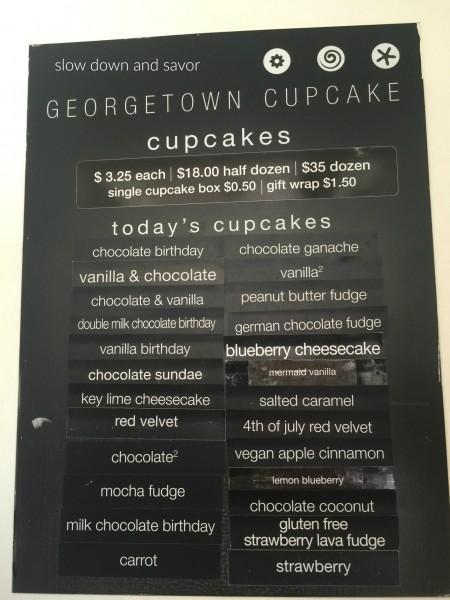 We each made our selections pretty quickly amid the huge myriad before us, and were on our way to cupcake bliss. I went with the strawberry, Michael chose the key lime cheesecake cupcake, Major decided on the chocolate birthday cake, and my dad got vanilla cake with chocolate icing.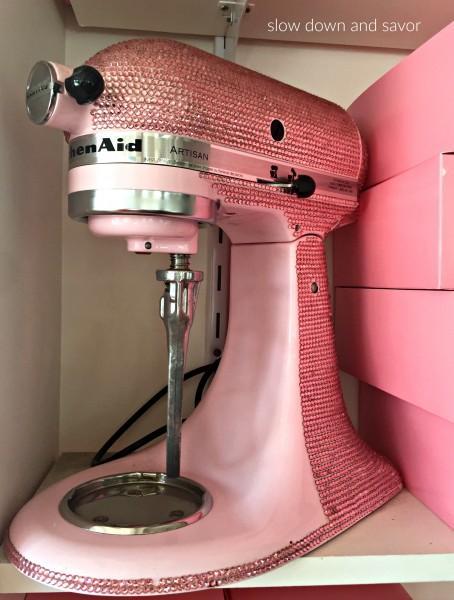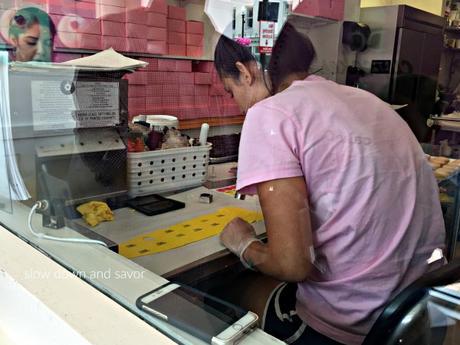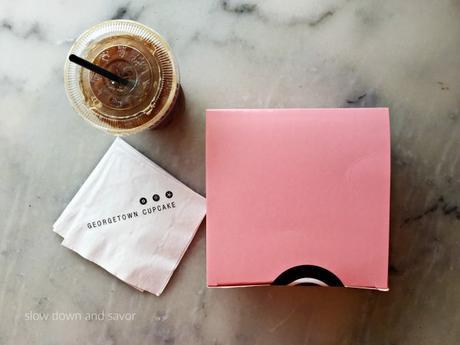 Our number was called shortly after payment, and I couldn't wait to open that perfectly pink box to find our delicious goodies inside. Yum.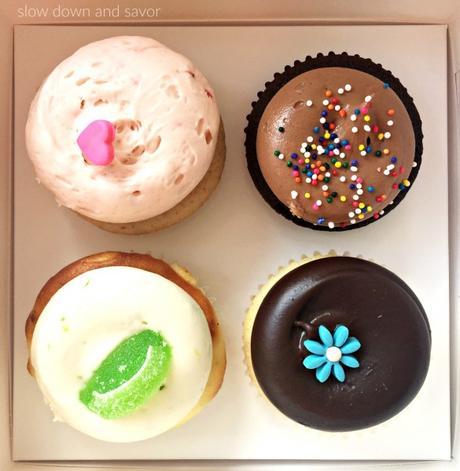 The thing about Georgetown Cupcakes that was emphasized time after time on D.C. Cupcakes is that their presentation must be perfection, and it was.
Even on this super busy, super hot Sunday afternoon, the presentation was spot on. Brava, girls. You have your people TRAINED.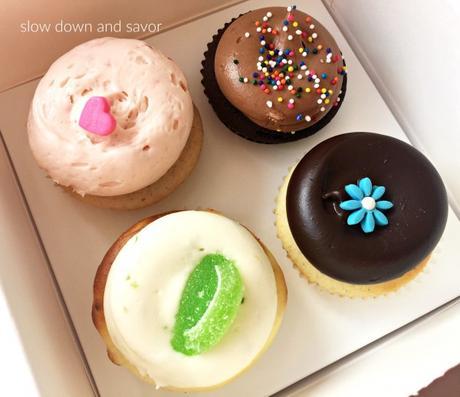 But presentation aside, how were they?
SENSATIONAL. I don't care if you say they're "sold out" because of their show, or critique them for not being part of the shop or growing too big out of D.C., one thing is for sure, and that's that their cupcakes are fantastically delicious.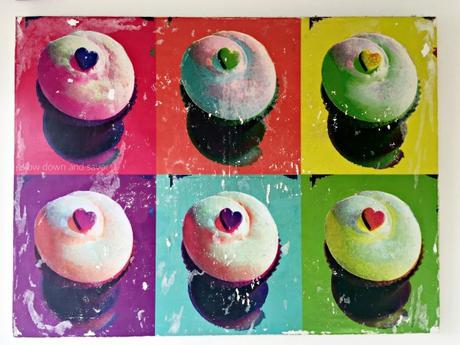 My strawberry cupcake tasted like creamy fresh strawberry ice cream. I mean, you could TASTE the realness of the fruit and the quality of the ingredients. I was astounded. I also loved how it wasn't too sweet, but was perfectly balanced. Dang that was a good cupcake.
My dad loved his moist and simple chocolate and vanilla combo, while Major just about annihilated his birthday cake. Luckily, I was able to grab a quick taste, and it tasted just as chocolate birthday cake should. Yum.


Michael's key lime cheesecake cupcake was the most interesting, as it was half cheesecake, half cupcake, but whole amazing. The key lime was extremely tart, and refreshing.
I loved every minute of our time in Georgetown Cupcakes, and hope to visit again soon.