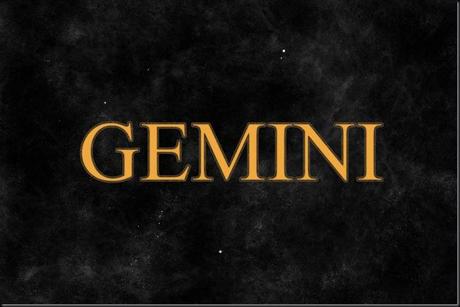 The following monthly forecast is only valid for those of you with Gemini as your rising sign, which is probably different from your Sun sign as it is dependent of the time of your birth rather than on the date of your birth. If you do know exactly or approximately when you were born, please click on the following link to find you Ascendant sign - FIND YOUR ASCENDANT SIGN
Gemini Rising – January 2013
Your world Gemini for most of this month is centred around the thorny issue of money and possessions owned by other people, by matters of debt but also of more intimate and personal matters too, such as sex and your private life. This is because the Sun passes through your 8th house of sharing, power and secrets during January. People who hold or have power may enter and affect your life you life in a dramatic way, using the influence they have in aiding you or by controlling you in some manner. These people may work in large institutions, or deal with big amounts of finance. You may also become interested in unusual subjects, like life after death, prediction or divination as you open and expand your mind. Mars is aiding this as it spends the whole month in your 9th house of learning and knowledge. You will want to free your mind and learn something new, you could gain a new skill or your interest in some kind of faith may increase. You could be quite aggressive if you have any legal matters going on now, and this could cause you some difficulties, so be careful what you say or do.
Venus helps with relationship issues with spouses and with business partners and friends can have bright ideas that will change your way of thinking in a more progressive manner especially in the first week of January as she is moving through your 7th house. When she enters Capricorn on 9th, blockages or unexpected requests and actions may come from work colleagues who may be harsh and ultra critical towards you. This may be especially true between the 13th and 17th January as Venus encounters the Uranus Pluto square. Around 24th of January there could be rather stressful times in your place of work, although luck may be on your side to aid you. On 26th just before Jupiter turns direct, the Sun makes an expansive trine to the planet of wisdom allowing you to open your mind and learn something new. Travel and dealings with foreign people or international contacts now can be beneficial to you. Expect emotions to run high in the middle of the month and the Leo full Moon on the 27th will be a busy one if you are at all involved in local issues with neighbours. Matters surrounding any brothers or sisters may come to prominence too.
Other Ascendant Sign Forecasts
Aries Taurus Gemini Cancer Leo Virgo Libra Scorpio Sagittarius Capricorn Aquarius Pisces
For A More Personal Look At The Future
As with all general forecasts, this can only be a rough guide to the movements of the planets and how they may affect you. Would you like this forecast made even more relevant for you?
Get in touch with me at [email protected] providing your birth details or please go to the following link, and I will endeavour to see what the planets have in store for you personally in the next couple of months. Please note I am unable to do personal readings for free.
Get an astrology report by clicking here...