Bless My Bag's first man in the mirror is none other than one of the Philippines' most celebrated music icons, top performer and singer, Gary Valenciano.  Today you get backstage access to a not so recent shoot by big time local photographer Xander Angeles (one of Mark Nicdao's early trainers) for Gary's retail and print merchandise for M. Lhuillier.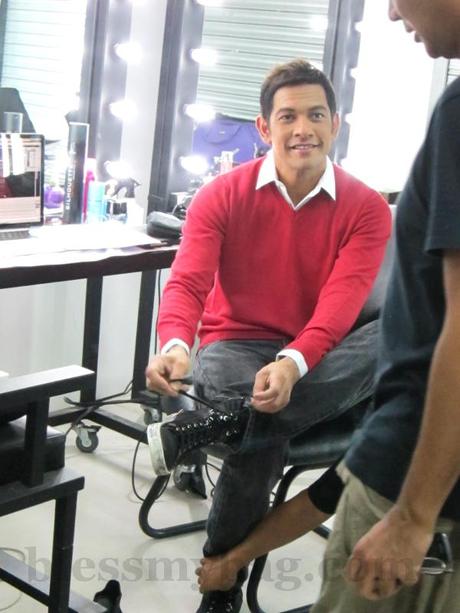 We also had celebrity stylist Michael Salientes (right) on board who stayed diligent with his trusty iron throughout the shoot.  Michael is a celebrity stylist, one of the best in the Philippines, today.  He is also the stylist of Sarah Geronimo and also happens to be a good friend of my mother.  To his left is Vina, Gary's dedicated aide and road manager.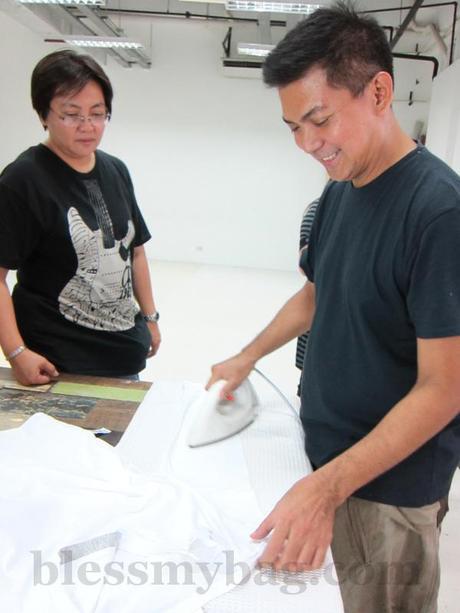 Today, for a change, it's time to see makeup done on a man!  M.Lhuillier's main man for their campaign to be exact.  There is one thing I must apologize for though, I do remember saving the makeup artist's contact to my phone but for some reason now her name isn't in my phonebook!  So unintentionally this wonderful lady here doing Gary's airbrushed makeup remains anonymous.  If any of you know her, just let me know and I'll edit her name in.  There won't be  elaborate descriptions of the makeup done on Gary, just short captions, but I do promise  that there are lots of photos from the shoot right here.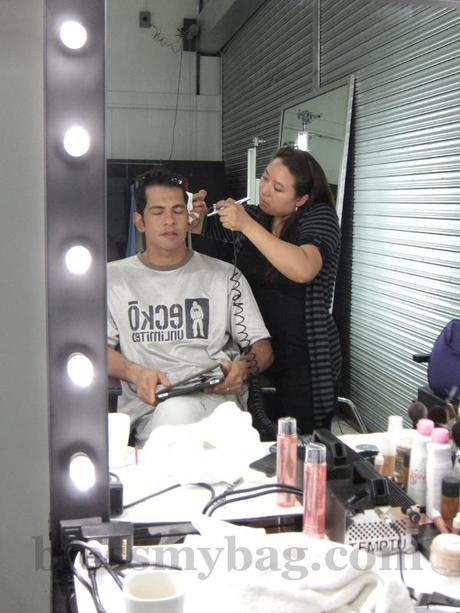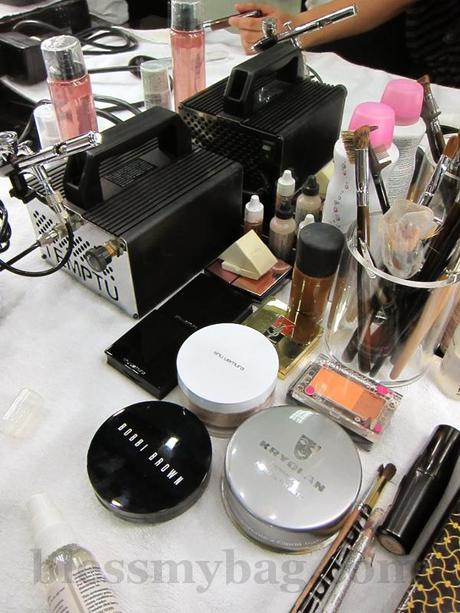 The mystery Makeup artist preps Gary's face by hydrating it with an Evian spray mist.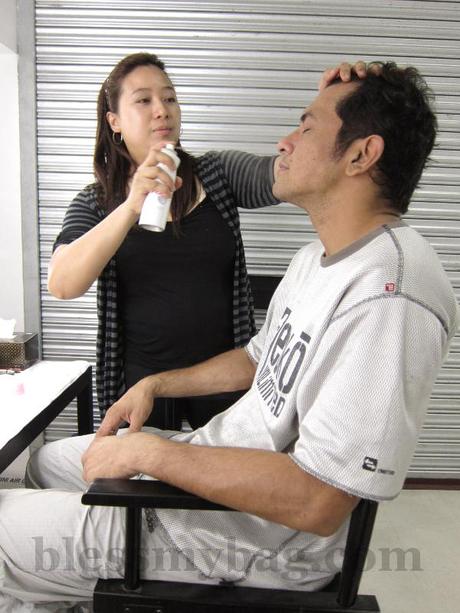 Xander makes a few calls before setup while waiting for hair and makeup to finish…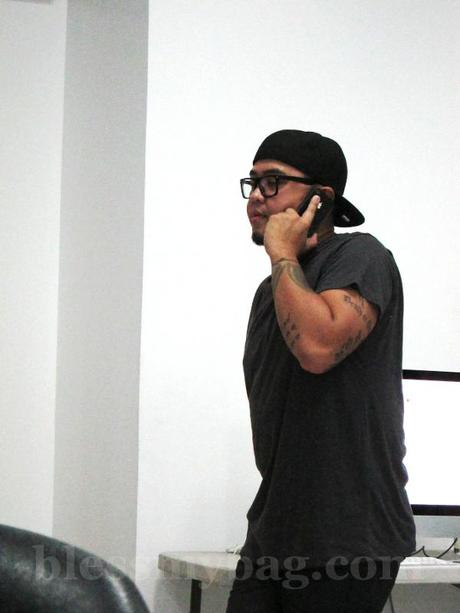 Click "Read More" to continue and see the rest of the feature with more captions and photos.
The makeup artist brought her personal heavy duty Temptu airbrush with its own compressor.  She noted that there is supposedly a more portable version of this that's less noisy but then this is more sturdy and heavy duty than that kind and can survive being bumped and tugged along while in transit better, ironically.  If I recall correctly that's what she said.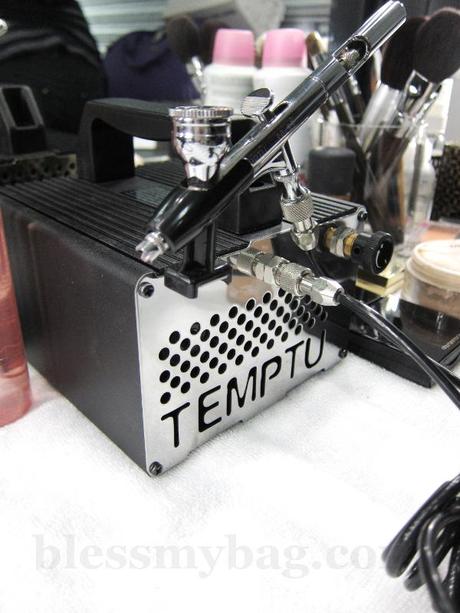 As one does when airbrushing, you pour the thin formula of airbrush foundation into the product well that holds the liquid till you run out.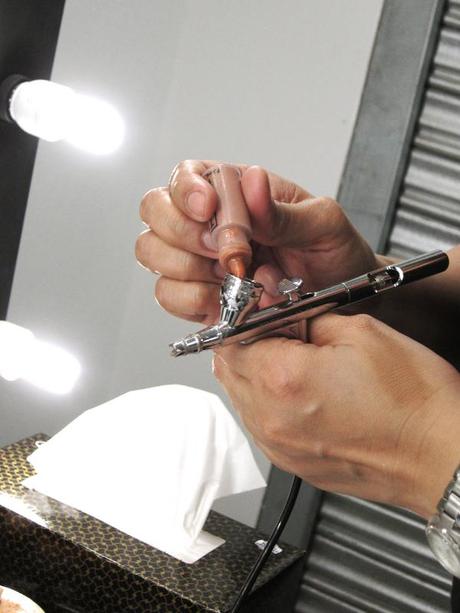 And I almost forgot that before she begins airbrushing she does some spot concealing on certain areas of Gary's face with a heavy concealer first to even out certain areas.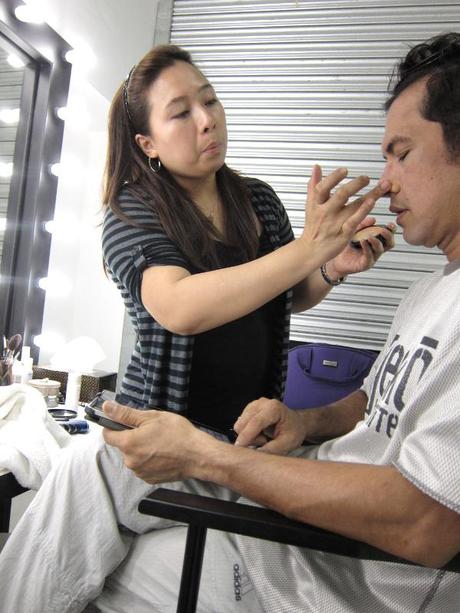 She then moves on to airbrushing and starts by spraying a thin overall even layer of color from a distance.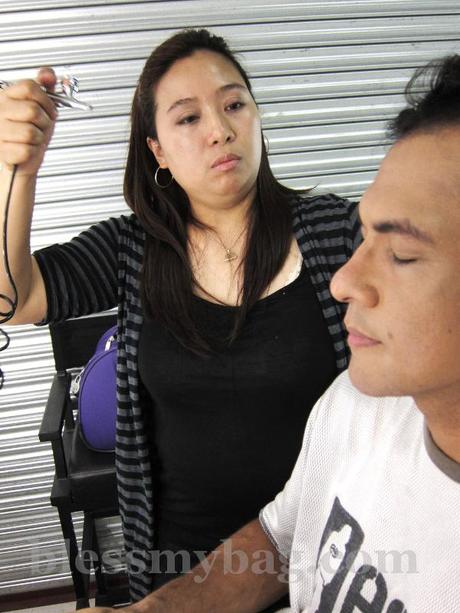 Then she moves in closer for areas that need a bit more coverage.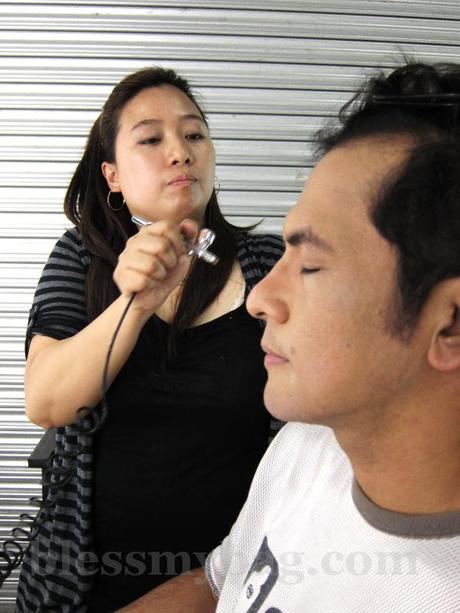 While waiting for Gary, Xander decides to teach his daughter a little bit about what he's doing for the shoot.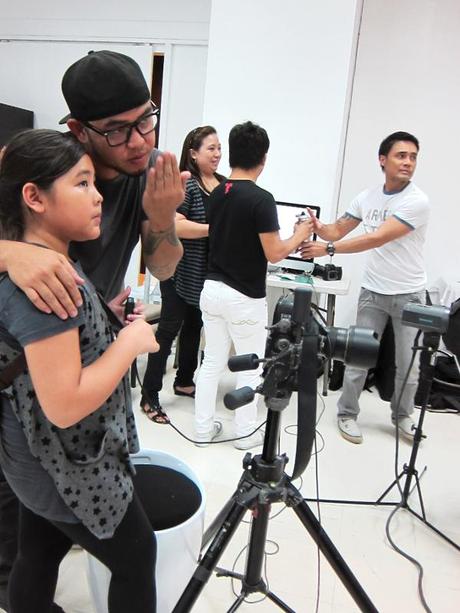 I quickly notice she that she has a cute backpack and that they are very close…but I was even quicker to notice that…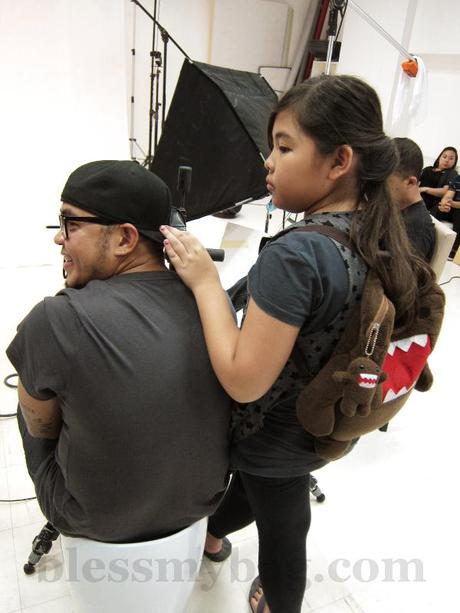 …she had extremely cute nail art on.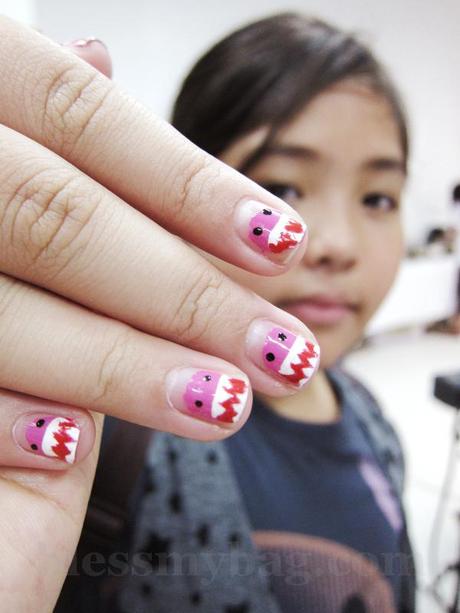 The makeup artist finishes Gary's Makeup with some contouring and setting powder.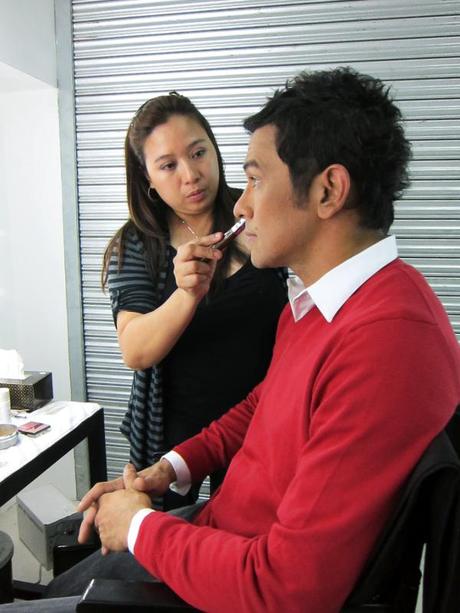 …then of course one must never forget hair.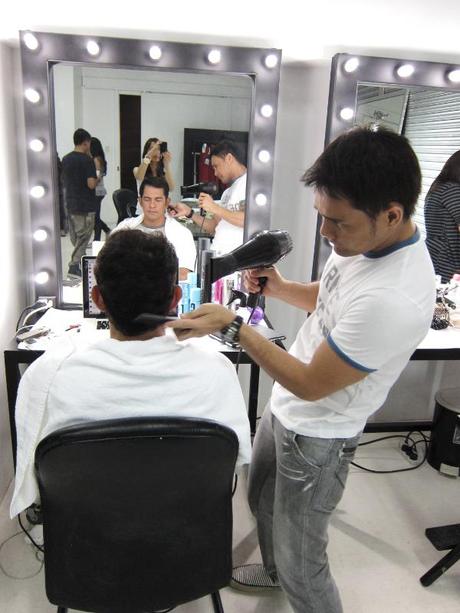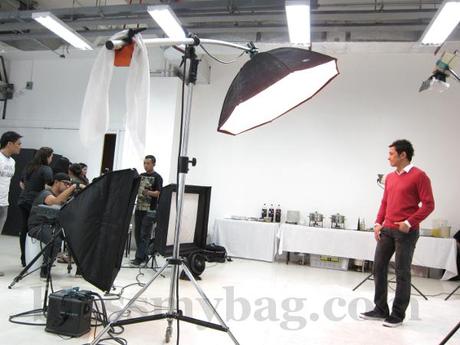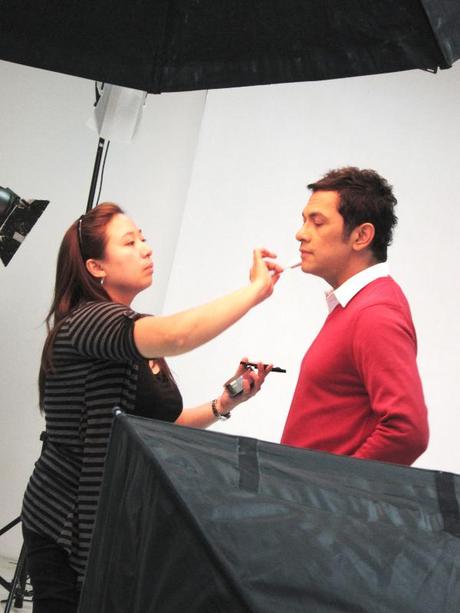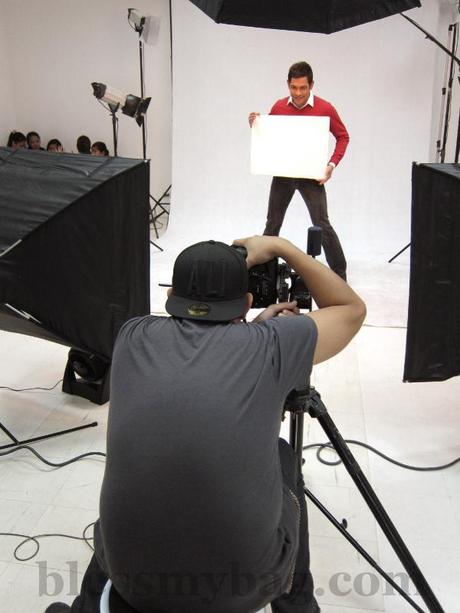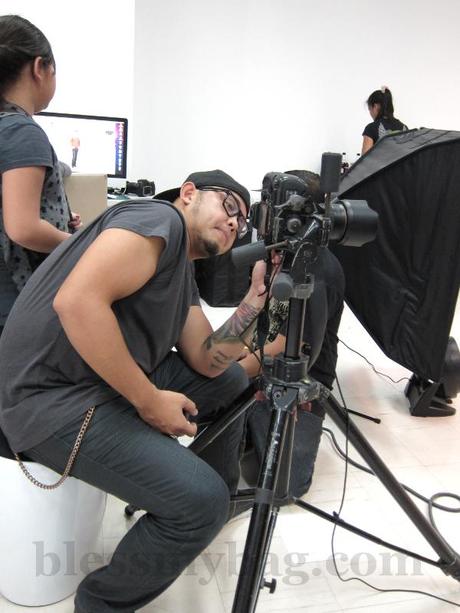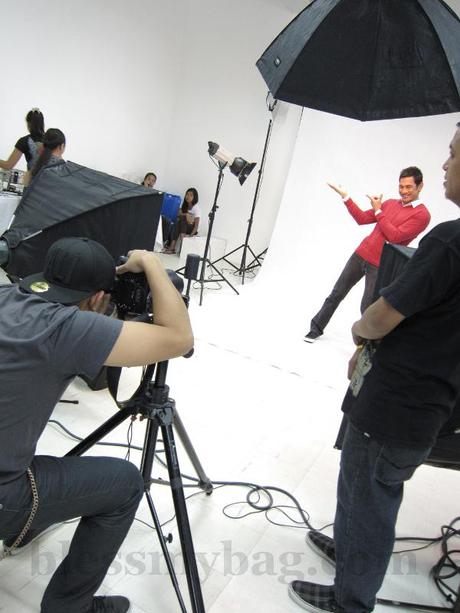 Xander worked his magic on set and so did Gary.  It was really great to be able to see two talented people work so easily and so quickly together.  I like that for a change this was about makeup for guys and airbrush makeup was definitely a more "geared up" way to get it on.  Guys like gadgets.  The idea of being "airbrushed" probably beats the idea of being patted on with a sponge or having a "fluffy" brush swished over your face.  In my opinion airbrushing isn't necessarily the "next level" of makeup.  It's good to remember that airbrush is merely another method that came in prior to the arrival of high definition foundations.  You can achieve a more or less "airbrushed" look without an airbrush kit if you have expertise, time, and high def products under your belt, but then again the prestige and fidgety nature of airbrush makeup never fails to impress and rakes in bonus talking points, too.