If you are an avid reader of the blog, you will know since my first taste of Bioderma  that I have been on the hunt for something that works just like it but is cheaper and more widely available. So far, that search has been fruitless but I have found something that I now adore just as much as Bioderma, even though it works differently…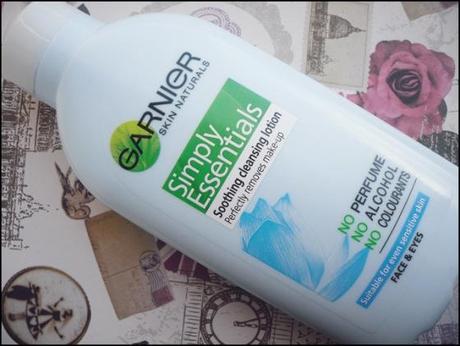 I am talking about the Garnier Soothing Cleansing Lotion. Now I actually bought this on a whim whilst shopping and didn't really know much about it but the fact that it said it was suitable for sensitive skin and can be used on the face and the eyes made me think this could be ok. And I am happy to say it is the best make up remover I have tried since Bioderma.
It is quite a thick lotion that you pour onto a cotton pad and sweep over your face and eyes to remove make up. It contains no perfume, alcohol or colourants and has good things in it like Pro Vitamin B5 and Water Lily extract. And it just dissolves make up. Literally it just melts off your face. I would even go as far as to say it removes mascara better than Bioderma. Two sweeps over the eyes (without having to rub) and everything is gone. Seriously. I couldn't believe how quick and effective it was.
Taking my make up off takes less than 2 minutes now and I don't even have to pay attention, this does it all for me. It is soothing and gentle on my skin, it doesn't irritate it, make it greasy or break me out and your skin feels soft and nourished after using it. No tight and sore skin, no stinging eyes. I really can't recommend it enough. They also do it in different formulas for different skin type.
And it is so cheap! I picked mine up in a supermarket for less than £2.00 and I am already planning on buying more.
I adore this and I highly recommend it to anyone with oily or sensitive skin. Please go and try it.
Available from Boots, Superdrug, supermarkets and online. Priced £2.99.