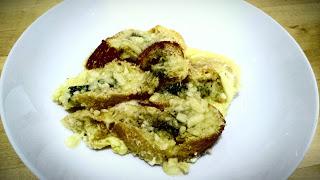 Ingredients
4 slices garlic bread (Garlic, butter, parsley, bread) 1 egg, 1/4 cup double cream, parmigiano.



Serves:

 2 

Preparation:

 20 minutes
What do you do with leftover garlic baguette? In this house, there is very rarely any left over I'll be honest, Scott Pilgrim isn't the only person addicted to it. But, when I was pregnant I had gestational diabetes and had to limit my carb intake. This meant where previously I could cane half a garlic baguette, I had to stick to one or two slices maximum. Hence... leftovers. This also works the morning after a night before when you NEED a good breakfast and all you have is the remnants of the buffet table.
1) Place the leftover garlic bread in an ovenproof dish.
2) 
Whisk the egg and double cream together and pour over the bread. Top with grated parmigiano and bake in the oven for 20 minutes at 200 degrees.