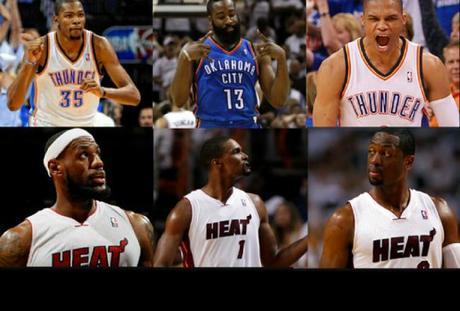 Photo: Getty Images
- Adam Parker
Okay, everyone.
We've had our one day off from the 2012 NBA Finals. We've had the time analyze, scrutinize and over-analyze every inch of Game One.
Now, we're mere hours away from Game Two between the visiting Miami Heat and the host Oklahoma City Thunder at Chesapeake Energy Arena.
Game One received the highest ratings
ever
 for an NBA Finals game shown on ABC, so congrats to the network on reeling in this cash cow.
Yes sirree, the matchup between the Thunder and Heat is definitely one for the ages, and it centers on the continuation of the marquee bout between Miami's LeBron James and OKC's Kevin Durant.
But enough of that, let's get some quick thoughts on Game Two.
Which Dwyane Wade Will We See in Game Two?
I can tell you which one Miami needs. The Heat need Wade to play closer to his 2006 Finals form rather than continue throwing up average games (for his standards) as he's done for the majority of these playoffs.
Simply put, 19 points on 19 shots simply isn't going to get it done if the Heat want to have any chance, especially considering that the Heat's bench is essentially hit or miss on a nightly basis. On too many instances we saw Wade settle for deep jumpers. He's a great player, so they're not necessarily outside of his range, but D-Wade has made his money attacking the rim with reckless abandon and either drawing fouls, converting the basket or both.
He needs to rediscover that aggressive style of play in Game Two.
Can LeBron James Stay Hot?
He's going to have to.
With the prehistoric power forward Chris Bosh playing less like himself and more like Andrea Bargnani or Dirk Nowitzki, Wade disappearing at times and getting virtually no help from the role players in the second half, LBJ has no choice but to will his team to a win tonight or risk losing control of the series altogether.
Somebody get me Greg Jennings on the line -- King James is going to need some pointers on how to 'put the team on his back.'
James Harden Will Play Better In Game Two...He Has To!
After the streak Harden's been riding, it was baffling to watch
The Beard
 only be able to muster up a measly five points.
What happened to the NBA Sixth Man of the Year? The third piece in OKC's Holy Trinity?
Our only guess is that is something to do with
The Beard.
 I mean, isn't that always it with Harden. After all, everyone knows by now that that beautiful piece of facial artistry is the source of JH's skills on the court.
Maybe
The Beard
 just got too fatigued? It probably doesn't help that we needed to use it as the power source to keep the website up and running in the four days leading up to the Finals.
We were wrong to ask for you to loan it to us, James. We apologize. We realize now that your need is greater than ours, so we're returning it to you for Game Two.
Nick Collison and Thabo Sefolosha -- Consistent Role Players Or Overachieving in the Moment?
These two guys are effort guys. There's no doubt about that. They'll give you everything they have on a nightly basis and then some. Sefolosha's game is starting to resemble that of a lankier Ron...uh-um...I mean Metta World Peace. Decent spot-up shooter and great defender. Collison, on the other hand, is a fan-favorite in OKC thanks to his glass-eating skills (rebounding, not actual glass eating because that would be weird).
If this is finally the coming-out party for the two of them, then fantastic. If not (which seems more likely), hopefully for the Thunder, it at least carries over until they're hosting that Larry O' Brien trophy.
Prediction!
Both men gave herculean effort in Game One, with LBJ's 30 points and nine rebounds falling short of KD's 36 points and eight rebounds. Couple that with Russell Westbrook falling just two rebounds short of a trip-dub and you can see why the Heat in Game One.
As for Game Two, we always talk about the perimeter defense for Miami, but what about the Thunder? Thabo and
"Durantula"
(and Westbrook too) are a swarm of defensive pests! KD will get his points as will LBJ so they essentially cancel each other out.
As for Wade...he's simply too talented to not reach at least the 20-point mark in Game Two. Bosh needs to move inside and stay there offensively. If he does, he'll be far more effective (especially if he can knock down a few mid-range jumpers).
Despite all that though, I still like the Thunder in front of their home crowd in Game Two. They're undefeated at home in these playoffs, and until that changes you have to like them on their home floor. Not to mention, there's no way
The Beard
 doesn't rebound from his abysmal Game One performance.
Westbrook will be the volume scorer that he's likely to be for his entire career, but as long as he gets his shots (you know he will because of his style of play), I have to take the Thunder. Expect 80+ points from OKC's Holy Trinity tonight in another comfortable win.
Be sure to follow Beard And Stache on Twitter 
@BeardAndStache
, 
and also Adam 
@Adam_Parker43
, Like our Facebook page 
HERE
!