Have you ever heard of Galley Foods? No? Well, neither had I until the middle of this month. Galley, a Washington D.C. based online food delivery service, opened in January with the goal of delivering delicious, affordable, fresh, chef-made meals prepared from scratch to your home or office ready for you to eat in minutes.Then in September of this year, Galley expanded from the district up here to Baltimore. Woo, woo!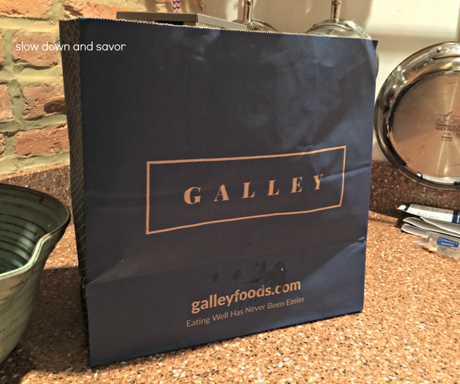 Yes, the dinner-box trend is HUGE and SUPER crowded at this point (Blue Apron, PlateJoy, HelloFresh, PeachDish, etc.), but there's something about Galley that stands out from the dim. Galley sends chilled meals already prepared from scratch, priced at $14 or less, with tax, delivery fee and gratuity included. The meals arrive with heating instructions for the microwave and oven right on the containers, making it as painless as humanly possible.
From. Scratch. Now, as you guys may know, here at Slow Down and Savor, "from scratch" are the two magical words that get me going. I just love things that aren't hurried, that are crafted carefully and specifically. And to have a meal-delivery service that boasts "from scratch" meals... That's just gold.
But are they REALLY from scratch?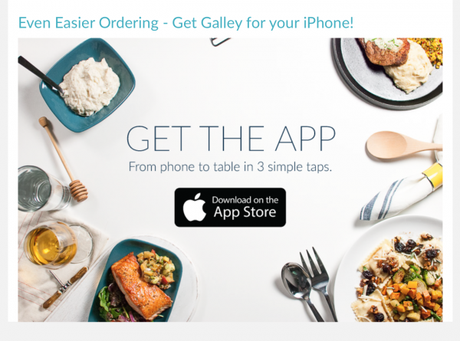 Yes. They pride themselves on that claim. No store-bought tomato sauce. Nope. They actually take the 4.5 hours to make their oven-roasted tomato sauce FROM SCRATCH.
The only finished products they bring into the kitchen are the pasta and bread, which they receive from other DC-based providers. Lyon Bakery supplies all of their bread, De Ceccio provides all of their dry pasta, and La Pasta is their go-to for fresh pasta. Everything else is made in-house. EVERYTHING.
That, my friends, is what called my name - what stood out from the dim - and why I decided to give Galley Foods a shot.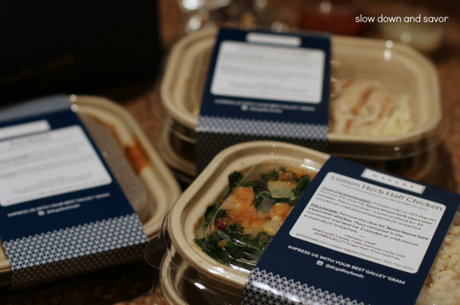 So I waited until the week of Thanksgiving to use my credits and place my order for review. I knew I'd be cooking my tail off later in the week, and frankly just wanted to give myself a breather before the big show. Two birds with one stone, right? So, I logged into my account on the Galley website, which you can do either on your computer or by using their app, and I checked the menu for the day.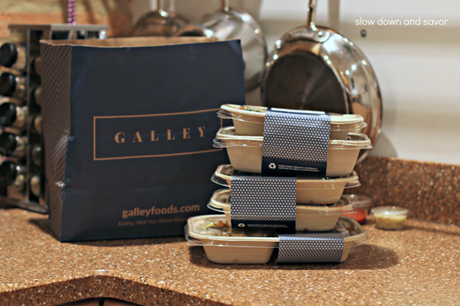 I made a selection for the three of us. I chose pot roast, lemon herb grilled half chicken and grilled chicken parmesan. I noticed there was a delicious looking veggie option, and I did confirm that their dinner menu will either have a pescatarian or vegetarian option every day. So meat and veggie lovers, rejoice!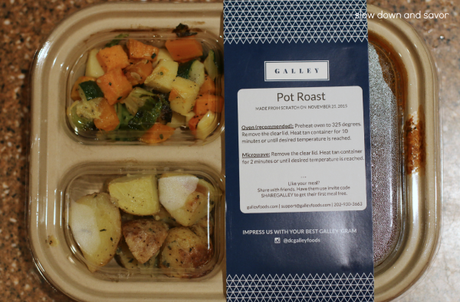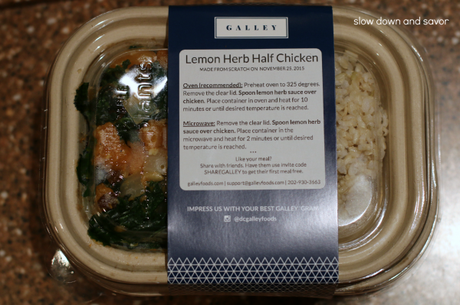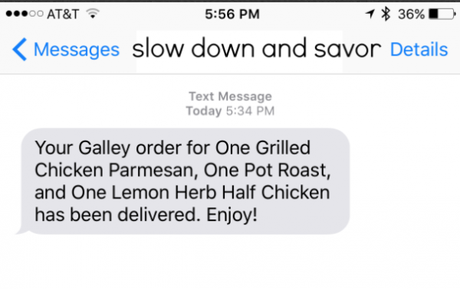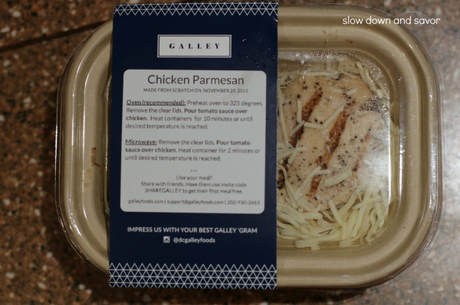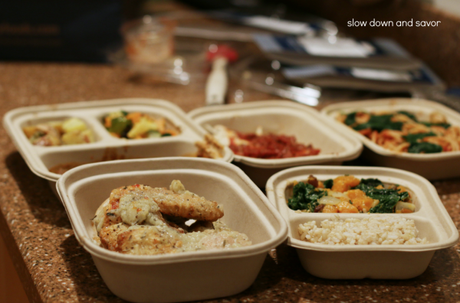 Something else that's awesome is that the folks at Galley want you to be able to place your order whenever is best for you. You can order up to a week in advance by scheduling delivery within a 30-minute window or you can order when you're hungry during dinner-time for delivery in under 30 minutes.
If you order before 5pm, you'll choose a 30-minute window. Any orders after 5pm will be delivered as quickly as possible. So I ordered at 5 p.m., and it was here, at my home around 5:30 p.m. and that was impressive.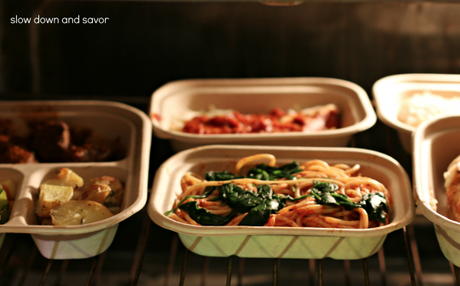 Being impressed with the fulfilled promise of on-time delivery was just the beginning. I was impressed with the presentation the meals arrived in. I was impressed with the ease of preparation. I was then VERY impressed with the outcome.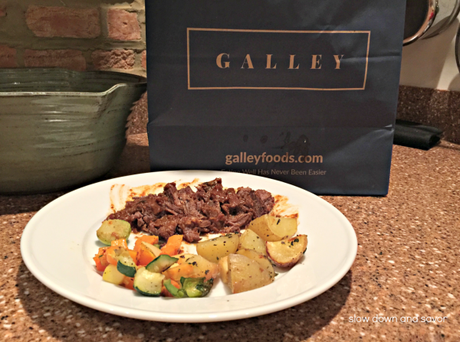 The three delicious dishes were warmed so quickly, and easily. And little did I know, that would be the last meal I would prepare in that oven before it crapped out on me. Yep. THE NIGHT BEFORE THANKSGIVING. RIGHT AFTER I ASSEMBLED MY PIE. RIGHT BEFORE I STARTED TO GET MY BIRD MARINATED... What would become of our big turkey dinner??? But that's another story for another day. Anyway...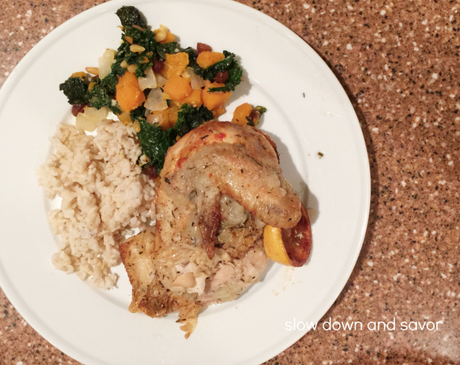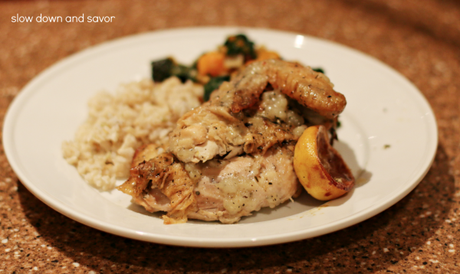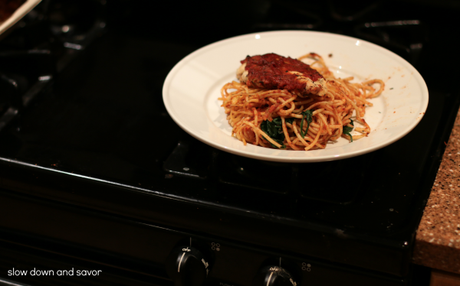 We devoured our Galley meals. The kiddo LOVED his pot roast, saying it was "super yummy." He kept saying it, too. Over and over. "Please chew your food before you talk," we'd say. "I can't help it! It's so good!" I personally LOVED the sauce the meat was cooked in. Robust, flavorful, savory and velvety. I was a HUGE fan. The roasted veggies on the side were dang good too.
Michael said his chicken was perfectly tender and the lemon herb sauce was delicious. And once again, the sides were super flavorful and kept him coming back for more.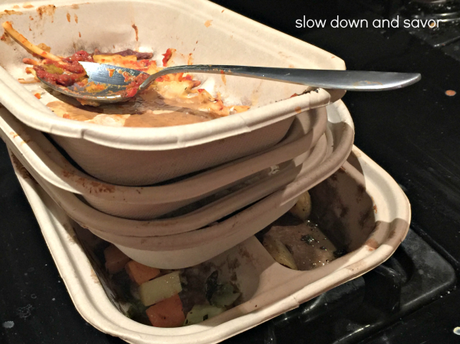 My favorite of the three dishes I selected for us was mine, the grilled chicken parm. The chicken was super tender and perfectly seasoned. The sauce was especially good too. I could tell it wasn't canned or jarred, and for that I was thankful. The pasta was cooked to tenderness and when the three collided, it was just perfect. The only thing that WASN'T perfect? The fact that there wasn't enough sauce. I needed more sauce. I'm a saucy girl. Saucy, saucy! GIVE ME THAT SAUUUCCEEE.. Intense? Yeah. So is my love for sauce!
The portion sizes were more than generous, which was good for me, because that meant I had a fantastic breakfast of cold leftovers waiting for me in the morning. My favorite!
Anyway, the point is that the 3 meals we received from Galley Foods were delivered fresh, on time, beautifully presented, were easy for us to prepare and absolutely delicious. And those aren't the best parts. They're very GOOD parts. But they're not the best.
The best? I love that Galley doesn't require a commitment or subscription. Nope. None. Nada. No strings. The absolutely amazing convenience of pre-made, scratch-made, deliciously-made meals makes Galley an amazing concept that's beautifully executed.


Should you decide to check Galley out, click here and use my referral link and get your first meal FOR FREE! Cool, right? All I want is for you guys to find a new way to get in a mouth-watering, from-scratch meal without having to even dirty a pot or pan.
Before you ask, no, I'm not sponsored by Galley. I just really loved my experience with this company and totally stand behind them, and will be using them in the future. That's for sure. So give them a shot. No strings.You won't be disappointed.
I can also see Galley Foods being a pretty cool tool to keep in your arsenal for a cozy stay-in date night. Just saying! Have you tried Galley? Let me know what YOU think!