JK Shin, the man at the head of Samsung Mobile Communications, has confirmed that Galaxy S3 Mini would be unveiled today, at a media event in Germany, in order to meet strong demand in central Europe. It is also confirmed at the same time that this version of the Mini smartphone would be entitled to a screen of 4″, thus being perfect for all potential customers who complained about Galaxy S3 being too large.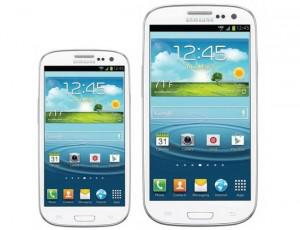 Galaxy S3 vs Galaxy S3 Mini
According to most recent rumours, the phone will get a four-inch Super AMOLED display with 800 x 480 pixel resolution. The processor is going to be a dual core CPU clocked at 1 GHz and the operating system will run the Android 4.1 Jellybean, with Samsung's traditional TouchWiz customizations on top. The back is adorned with a camera of five megapixels, and there will be a front-facing VGA camera.
So for those of you who were hoping for much more, this can be a big disappointment, but remember that these are only rumours and nothing that Samsung have confirmed. We will know more only after the official announcement.
If you already have a Galaxy S3,  make sure to visit MyTrendyPhone.co.uk, and buy much needed Galaxy S3 accessories, such as Galaxy S3 case or Galaxy S3  cover.