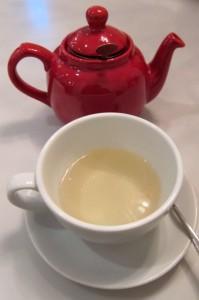 Jasmine Silver Needle
Gails BakeryWith the weekend upon us, a quick mention for Gail's Bakery, Soho in appreciation of them opening till 10pm in the evening and 7pm on Sunday.
Most cafés close at 6pm, so this is a great if you are in the West End in the evening and, instead of a crowded pub, what you really fancy is a nice cup of tea.
Gail's has a smart, clean urban interior. White-washed brick work, herringbone parquet floor, white lacquer counter-top contrast with pillar-box red stools and teapots. Set on a corner, there is seating around a large table at the rear and adjacent to the high windows.
There is a really good range of loose leaf teas on offer, including green, chamomile and peppermint tea, all displayed in large kilner jars. Tea at Gail's bakery is from London's own Tea Palace, selected after a taste test by customers.
I had a light and lovely Jasmine silver needle. Being a white tea it is naturally low in caffeine, so perfect for a late-night cuppa.
I am also like very much Gail's in Crouch End. Being local to me it is perfect for a cuppa when out for a stroll. It is also open to a civilised 8pm and 7pm on Sundays.
All Gail's branches have their delicious-looking bread and baked goods on display, so you can always find a little something to go with your cuppa.

---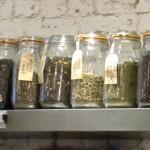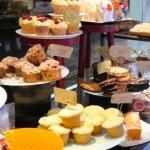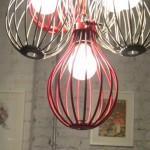 ---


Price of a Cuppa : £2.30 pot of tea

Leaf or Bag : Leaf from Tea Palace

Crockery : post box red teapot and white cup and saucer

Music : none

Service : Friendly

Food : Fantastic looking bread, cakes etc. Details
here

Kitty says: Small, but great place for a late evening cuppa
Address: 128 Wardour Street
London W1F 8ZL
Website: Gail's Bakery, Soho
---
More Places for Tea in London: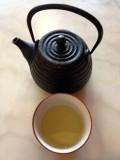 Camellias Teahouse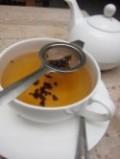 Yumchaa
Fitzrovia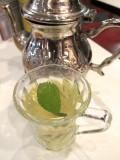 Le Comptoir Libanais
Soho
---
More Places for a Cuppa – Tea Map of London:

Tea Map of London
---
Invite your Friends for Tea at Gails Bakery: