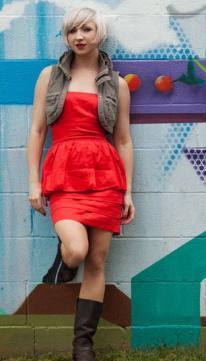 Marcy Richardson, aka @OperaGaga
By her own admission Marcy Richardson, aka @OperaGaga on Twitter, is a soprano. Oh, and a lover of Handel, contemporary music, and sophisticated musical theater. Marcy also has a shoe fetish, loves aerial pole fitness, and laughs every single day. 
And one more important thing. She is a big winner in the 2011 #Operaplot contest, where you had to distill an entire opera plot into a single tweet. Judge Eric Owens selected five top winners,  including this plot of Marcy's: 
I should be able to f*ck my maid. Apparently, no one else agrees. #operaplot [Le Nozze di Figaro] 
Marcy Richardson's pithy (a scant 76 characters with #operaplot), plotty perfection! It's bold. It's beautiful. 
It's blue. 
How lucky are we, then, to have Marcy give us the 4-1-1 on her prize-winning plot! 
Why did you decide to enter #Operaplot? Was it your first time?
I entered operaplot because my good friend and colleague Jennifer Peterson (gaspsiagore on twitter) told me as soon as it started, "You have to enter operaplot! You'd be so good at it!" I was like, uh…what's that? So I had a few glasses of wine, went home, and just started writing. I was an operaplot virgin before this year. I didn't even tweet before December! My facebook status updates are rather legendary I must say, so it was only fitting that I start tweeting. 
Did you feel you had a winner when your plot was complete?
Not really. Non musicians often ask me, "what's such and such opera about?" if I mention a show I've done or would like to be in. I try to give them the shortest and most concise/amusing answer as possible, so I've actually had some real life operaplot practice. I just started picking shows I liked and went for it. I loved the plots I wrote for Lulu, Boheme, and Capriccio as well. The figaro one…I wrote it…I thought about adding more…and then I realized, nope! That's it. That's the whole show. And then I kept writing more plots. That one came to me VERY quickly and then I moved on. 
You specialize in singing baroque opera. Have you performed in Le Nozze di Figaro or simply know the opera? 
Yep. I've sung both Susanna and Barbarina in Figaro. 
Some have said you've elevated the f-bomb to an art form. Any misgivings about dropping it in your plot?
Of course not. I never have any doubts or apologies when it comes to dropping the f-bomb. I tested out using "screw" or "bang" for media's sake when I was typing, and then I thought, no. That's just not it. There is no real substitute for the f-bomb. It's a great f*cking word. I f*cking love it. 
Any unusual reactions since winning the contest?
Nope! Nothing but congrats! 
What prize did you choose and why?
I chose the Deborah Voigt recital. She is a phenomenal artist–I got to sing shepherd boy in concert when she sang Tosca in Vero Beach and haven't had a chance to hear her since! Though some of the prizes around the country looked really fun, that would not have been possible without free airfare and accommodations for a hustling bitch such as myself. 
How are you going to top this year's plot or will you retire at the top?
If the spirit moves me and I'm feeling inspired, I'd enter again. 
How did you come up with your Twitter username @OperaGaga?
People often yell, "hey gaga!" to me on the street here in NY, usually when I'm wearing sunglasses–I guess we have a similar facial structure in some ways, light blonde hair, petite, and I'm not exactly conservative when it comes to how I dress. One day my voice teacher (Trish McCaffrey) said, "Hey, Mark and I have a nickname for you! Gaga! We don't know if it should be MarcyGaga or OperaGaga or what." I liked OperaGaga for a twitter handle when I was trying to come up with one later, so there it is. 
Where can we see and hear you singing in 2011?
I'm the soprano soloist in the Mozart Vespers on June 27th at Alice Tully Hall and am singing my second Dalinda in Handel's Ariodante this March in Baltimore with Opera Vivente. Also, don't forget to look for my Handel CD which I'm producing from my live concert/recording session of seconda donna Handel arias April 29th featuring fellow tweeps Jennifer Peterson (gaspsiagore), Bryan DeSilva (countertenorbry) and the OperaMission Handel Band. Other than that, if I don't get some more work soon, I guess any interested parties would have to come shower with me and hear me then. 
* * * 
Learn more about Marcy, the soprano, at her website. Or follow her on Twitter at @OperaGaga. Read all five winning #operaplots and runners-up at the Omniscient Mussel here.