Event: 2018 Richard Tucker Gala
Date: October 21, 6 p.m.
Venues: Gala Concert at Carnegie Hall and VIP Reception at the Plaza Hotel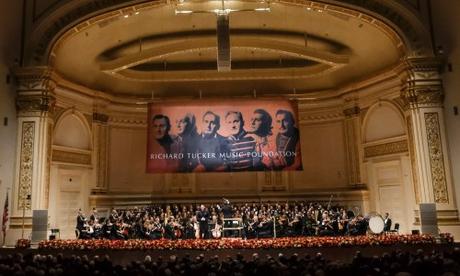 The Stern Auditorium of Carnegie Hall is set for the 2018 Richard Tucker Music Foundation Gala 2018 | photo by Dario Acosta
Verdi, Verdi, and more Verdi. Red roses, pink roses, roses galore.
A lush carpet of roses lined the lip of the Perelman Stage at Carnegie Hall while many Italian arias tumbled from the lips of some of the world's most acclaimed opera singers.
The event was the 2018 Richard Tucker Music Foundation Gala 2018–a glorious, star-studded evening with a glittering roster of Richard Tucker Award winners and reigning Metropolitan Opera stars:
Christine Goerke, soprano (2001 Richard Tucker Award-winner)
Angela Meade, soprano (2011 Richard Tucker Award-winner)
Anna Netrebko, soprano
Nadine Sierra, soprano (2017 Richard Tucker Award-winner)
Stephanie Blythe, mezzo-soprano (1999 Richard Tucker Award-winner)
Javier Camarena, tenor
Yusif Eyvazov, tenor
Michael Fabiano, tenor (2014 Richard Tucker Award-winner)
Quinn Kelsey, baritone
It was a night of lasered top notes, impossible arias, and gorgeous legato lines across all voice parts–a holy offering from some of the best opera singers in the world tackling the most challenging works in the mainstream repertoire. Sheer gloriosity.
Full disclosure: This Operatoonity.com event coverage was written from a unique vantage point for this reviewer–as the guest of Richard Tucker's middle son, Dr. David Tucker, author of a new memoir called The Hard Bargain. It was a privilege to attend a benefit concert honoring Richard Tucker's legacy, and I am thrilled to be able to share my experience with readers.
The program opened with an audio clip of the late Metropolitan Opera primo tenore Richard Tucker singing from "Cielo e mar," the heralded second-act aria from La Gioconda. Tucker's richness, his squillo filled the Stern Auditorium, his voice washing over the crowd like a blessing to all in attendance. According to David Tucker, roses held special significance for his father. At the opera, he had a single rose or roses in his dressing room. He loved the flower and the fragrance and would take in their fragrance during his breaks backstage.
This year, the Richard Tucker Foundation recognized bass-baritone Christian Van Horn with the coveted award and its handsome $50,000 cash prize. It is only the third time in the foundation's 40-year history that the Tucker Foundation has selected a bass-baritone.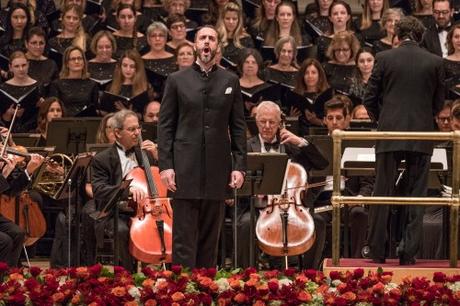 Christian van Horn, the 2018 winner of the Richard Tucker Award | photo by Dario Acosta
Van Horn opened the program with Verdi: "Oh, chi piange?…Del futuro nel buio discerno" from Nabucco. For his second number (King Phillip's signature aria from Verdi's Don Carlo), Van Horn treated listeners to a powerhouse rendition of "Ella giammai m'amò." His bass-baritone is colorful and expressive–almost surreal in its versatility for a voice part that is rarely the romantic lead or known for vocal calisthenics. Amidst all the lightness and brightness of the Stern Auditorium, Van Horn's performance evoked a gloomy kingdom ruled by a broken king, overcome by the force of his suspicions.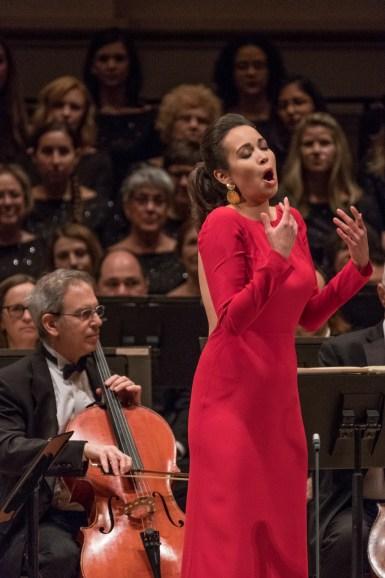 2017 Richard Tucker Award Winner Nadine Sierra  | photo by Dario Acosta
Nadine Sierra, the 2017 winner of the Richard Tucker Award, took the stage next to sing "Me llaman la primorosa" from El Barbaro de Sevilla. The aria's title means, "They call me the beautiful one." None could argue with the talented American soprano for selecting to perform that showpiece for the gala concert since Sierra has such a graceful, charming stage presence.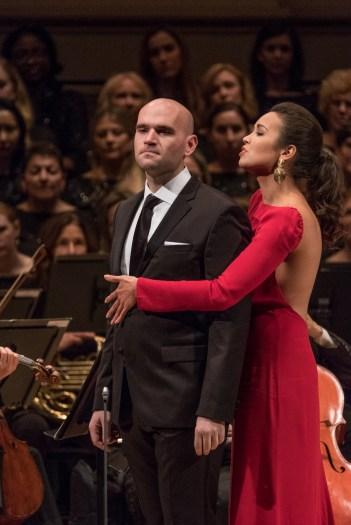 American singers Nadine Sierra and Michael Fabiano displayed arresting chemistry singing Massenet. | photo by Dario Acosta
One of my favorite performances was the duet from Manon, "Toi! vous!… N'est-ce plus ma main," that Sierra sang with tenor Michael Fabiano, the 2014 Richard Tucker Award winner. This award-winning duo shared an electric chemistry for a concert setting, replete with a passionate embrace and lingering kiss at the end. Though the event did not incorporate subtitles and most of the program was sung in another language besides English, Sierra infused her performance with the body language and intonation of a seductress, and Fabiano willingly surrendered to opera's most famous tart-with-a-heart. No one was in doubt as to what that number was all about.
It was a treat to hear soprano Christine Goerke sing Ariadne's aria from Ariadne auf Naxos. As the 2001 Tucker Award winner sang, "Es gibt ein Reich," she demonstrated a superior talent for singing Strauss–her diction, her intonation, her ability to convey the meaning and intricacies of the German language through song are nonpareil.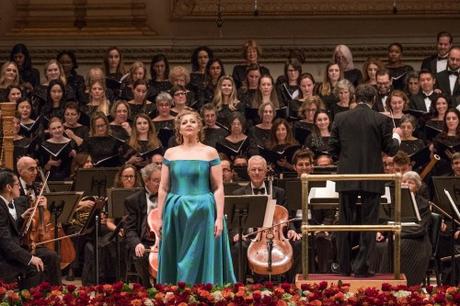 Christine Goerke also sang, "Regina Coeli…Inneggiamo il Signor non è morto," accompanied by the New York Choral Society. | photo by Dario Acosta
Mexican tenor Javier Camarena relayed a heartwarming story before singing from Florestan by Spanish composer Manuel Garcia. While Camarena was singing in Barcelona, he was robbed. The thieves stole his cufflinks and tuxedo studs, among other things, but failed to nab his new CD, he lamented to the audience. After the burglary, Camarena called Barry Tucker, the oldest son of Richard Tucker and President of the Richard Tucker Music Foundation, Inc., who shared his late father's cufflinks and studs with the singer. Camarena then poured his whole heart and talent into an impassioned, "Dieu! Pour venger un père…Ô ciel, De ma juste furie."
Soprano Angela Meade and Javier Camarena sang a stirring duet from the Rossini opera Armida, "Amor! Possente nome!" | photo by Dario Acosta
For sheer virtuosity, my favorites performances of the evening were from American soprano Angela Meade, with Camerena from Armide, and Meade's solo aria from I Lombardi all prima crociata: "Oh madre, dal cielo…No, no! giusta causa."  She sang the Verdi with purity and precision, as if the role were written for her. Since winning the Richard Tucker Award in 2011, Meade's rise has been meteoric. According to her bio in the program, she was won 57 vocal competitions, including some of the most important opera prizes worldwide.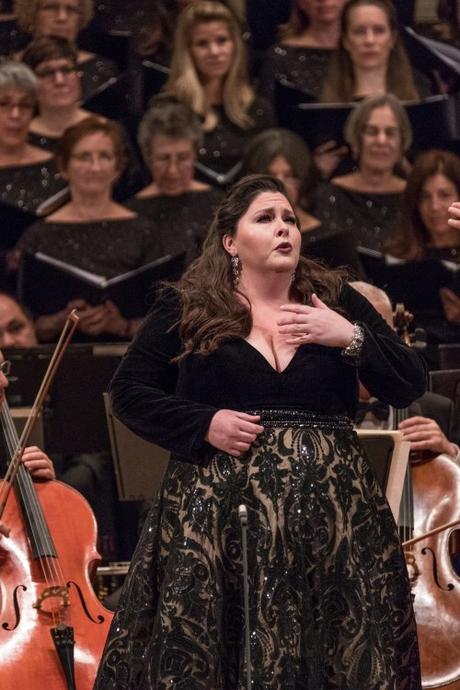 Soprano Angela Meade displayed an uncommon virtuosity with Verdi at the Richard Tucker Gala concert, singing with the New York Choral Society | photo by Dario Acosta
Hawaiian Baritone Quinn Kelsey sang Verdi's Falstaff with a power and passion never before witnessed by this reviewer.  His "È sogno o realtà" was a tour de force. He will return to the Metropolitan Opera this season to sing Amonasro in Aida and Germont in a new production of La Traviata.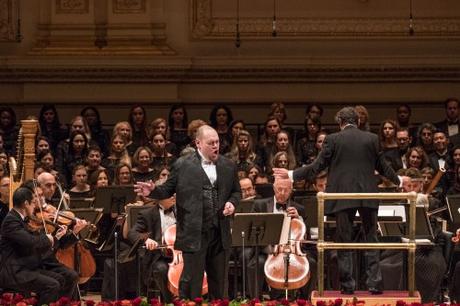 Quinn Kelsey's rendition of "È sogno o realtà" proved why he is in high demand for Verdi roles. | photo by Dario Acosta
Kelsey than joined Van Horn in a duet from Bellini's I puritani: "Riccardo! Riccardo!…Suoni la tromba that brought down the house. It would be sheerly glorious to see those two onstage in such a production.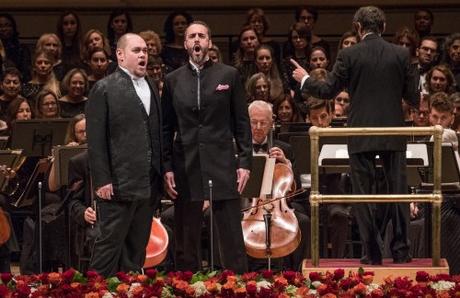 Quinn Kelsey and Christian Van Horn combined their talents for a scene between two pro-Cromwell soldiers from I puritani | photo by Dario Acosta
That is one of the most wonderful qualities of the Gala Concert. It was sheer wish fulfillment. If only we could see the soldiers' duet from Bellini…if only we could see spinto soprano Anna Netrebko and her husband, tenor Yusif Eyvazov, sing a duet from Andrea Chenier. Voilà!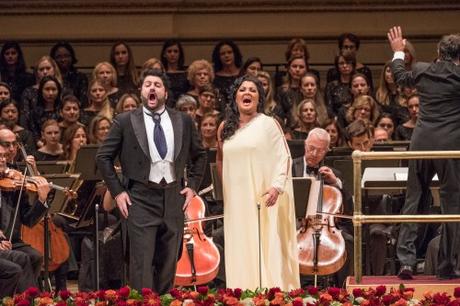 Husband and wife dynamic duo–Yusif Eyvazov and Anna Netrebko, in a stunning canary-yellow evening gown lined with glittering trim, sang the heroic duet from Andrea Chenier. | photo by Dario Acosta
For sheer magnetism, none could top Azerbaijani tenor Yusif Eyvazov's rendition of "Ah, sì ben mio…Di quella pira," from Il trovatore. He may have been donning a tuxedo, but his spinto tenor transported the audience to the chapel at Castellor, circa 1400 A.D.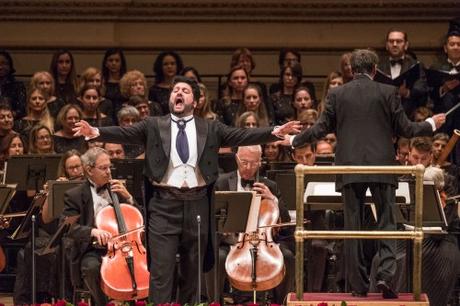 Metropolitan Opera star Yusif Eyva performed Manrico's Act III arias magnificently… from Verdi's Il Trovatore. | photo by Dario Acosta
Besides the introduction of Ruth Bader Ginsberg in Barry Tucker's opening remarks, the most talked about performances, the clear audience favorites were Stephanie Blythe's numbers. Now a celebrated mezzo-soprano, perhaps the most heralded since Marilyn Horne, Blythe won the Richard Tucker Award in 1999. Since then she has created a rich and diverse musical career across genres. In fact, she talked about the 2013 release of a new CD of pop songs from the American songbook right here on Operatoonity. Her crossover gifts were evident in the evening's rendition of "Take Care of This House," from 1600 Pennsylvania Avenue by Leonard Bernstein. What a fitting tribute to honor Bernstein's Centennial.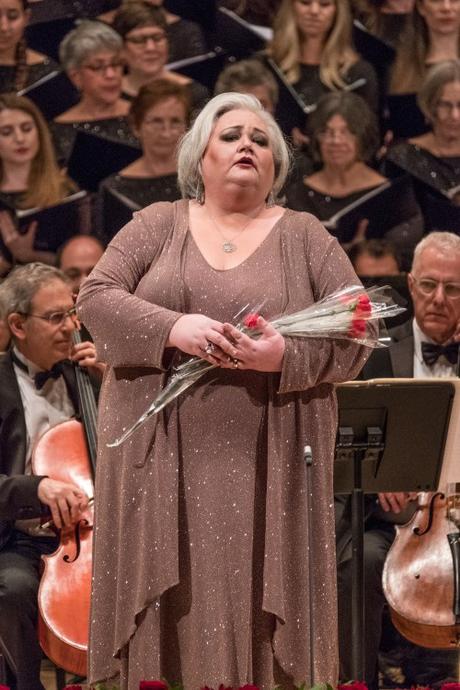 Stephanie Blythe in a delightfully coquettish rendition of the "Habanera" from Carmen. | photo by Dario Acosta
A surprise addition to the gala concert program was Blythe performing a sweet and sultry "Habanera." In her lovely sparkling ensemble, she was a glamorous, flirtatious, rose-tossing sensation. Oh, to be one of the men in the audience favored by a red rose. You don't have to take my word for it. Here is a clip from the performance shown on Medici TV:
Bellísima, Ms. Blythe. All hearts handily won over. The men adored you. The women fangirled you.
Speaking of dreams turned reality, here is this reviewer's most cherished photo of the evening: Dr. David and Lynda Tucker, my daughter, and I following the concert, in the Stern Auditorium, with the homage of roses to the late, great Richard Tucker framing the photograph.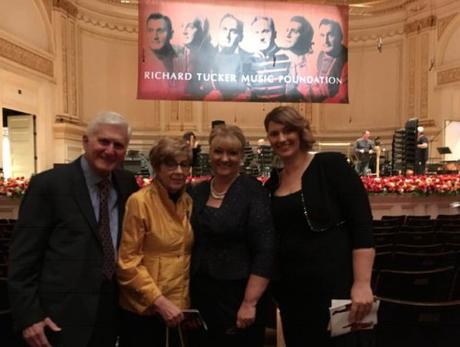 David and Lynda Tucker's daughter-in-law snapped this photo of my daughter and me with the Tuckers, following the concert.
This star-studded concert brought everyone's dream arias to life, accompanied by the Metropolitan Opera Orchestra under the baton of Maestro Marco Armiliato.
The concert was followed by a sumptuous VIP dinner at the Plaza Hotel.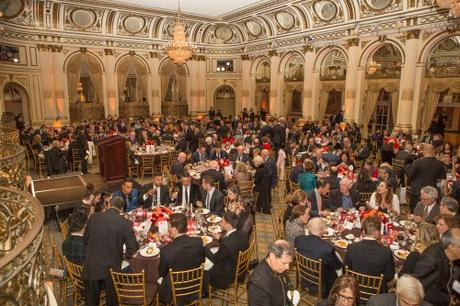 The VIP reception honoring Christian Van Horn and other Richard Tucker Award winners at the Plaza Hotel | photo by Dario Acosta
Guests generously supported the live auction on behalf of the foundation, bidding on such prizes as a private concert by three Richard Tucker Award winners at a setting of their choice, and a chance to take the baton at the Metropolitan Opera Gala.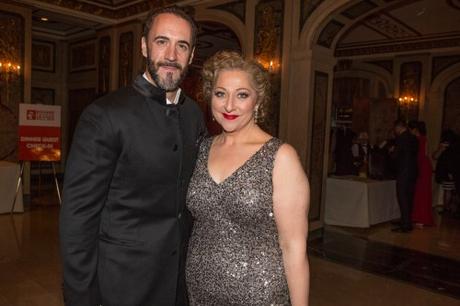 Richard Tucker Award winners Christian Van Horn and Christine Goerke, at the dinner | photo by Dario Acosta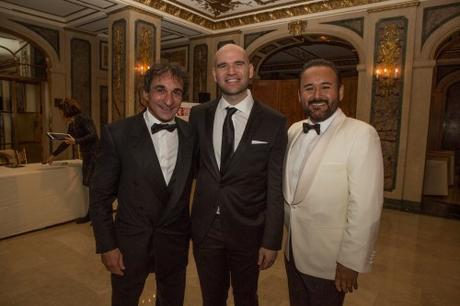 Maestro Marco Armiliato, 2014 Richard Tucker Award winner Michael Fabiano, and Mexican tenor Javier Camarena at the Gala dinner. | photo by Dario Acosta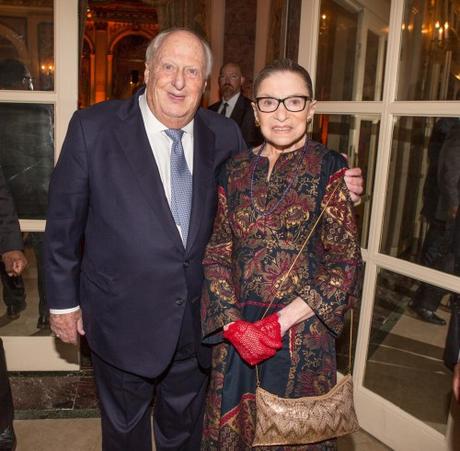 Richard Tucker Music Foundation, Inc. President Barry Tucker with Justice Ruth Bader Ginsberg | photo by Dario Acosta
Grazie mille, Dr. Tucker, for the magical evening. It was a fascinating exploration into the distinguishing qualities among artists who sing the same voice part, something one rarely experiences in a single program. It was nothing short of front row seats to the soiree of the season.