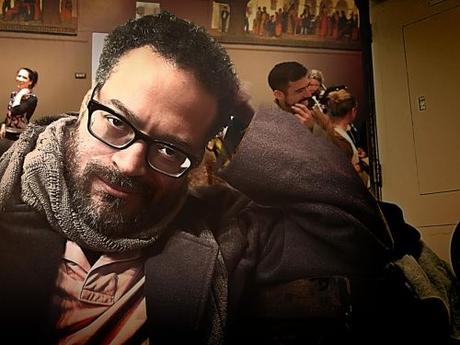 Lyric tenor Nathan Granner, looking very Rodolfo-esque, whose gifts in the classical and performance arts are, well, limitless. But don't take my word for it, read his reviews.
Since starting this blog in 2010, I have had the pleasure of getting to know some extraordinary artists. One of them is Nathan Granner. I am not *exactly* sure how we met, perhaps on Twitter, but he is one multi-talented tenor, whom I introduced to Operatoonity readers a few years ago.
He has recorded multiple CD's, and my favorite was his collaboration with guitarist Beau Bledsoe called Departure. Cleverly named, too, because their treatment with a variety of songs is a marked departure from how these pieces are traditionally heard or performed.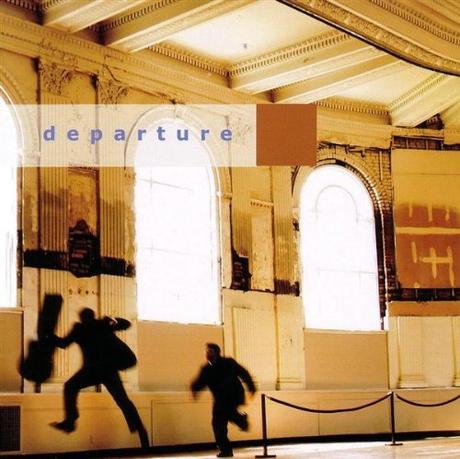 Nathan Granner and Beau Bledsoe's album, "Departure" was pure dead brilliant in quality and eclecticism–lullabies, arias, gospel hymns–they recorded it all.
His hallmarks are innovation and collaboration. Close to my heart was his collaboration with me on the launch of my opera novel Don Juan in Hankey, PA. He provided a lively and creative video endorsement of the book, which I will always treasure:
When I received a notice on LinkedIn that he would be singing another Rodolfo this season, this time at Opera Santa Barbara, I invited Nathan back to this platform to learn more about what he's been up to.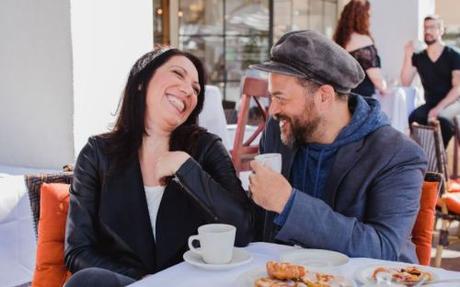 A candid moment with Eleni Calenos as Mimi and Nathan Granner as Rodolfo. Their last performance at Opera Santa Barbara is today.
Welcome back to Operatoonity, Nathan. Last time we connected, you had released a "HYMN–Songs of Great Faith" with Ben Gulley. So catch me up. What have you been up to?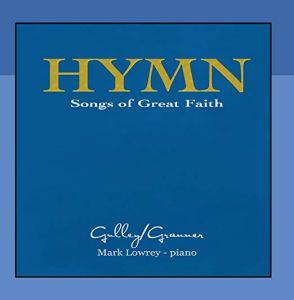 A wonderful collaboration between two talented tenors: Ben Gulley and Nathan Granner.
Dear me. That's a lot of life lived! SO. Much. Has. Happened!Not to write a novel (wink, wink) about this period. Let's just say that creating the Gulley/Granner LLC brand, really helped kickstart Ben and me into getting both of us established in the opera world.
We went on to raise funds and release a second independent album, Benchmark, Vol. 1, Tenor Arias and Duets with Piano Quartet. I produced the live show taping of a PBS special on Virgil Thomson (just the show part) at Kansas City's Kauffman Center for the Performing Arts and a couple other high tech musical installations in the area. Ben and I also won a couple of awards at the Mozilla (Firefox) Hackathon for Google Fiber combining music and technology for the Gigabit network.Almost directly after that, Ben got picked up for his first solo tour. Fully supportive, but not having a partner for a year. I went back to school to get my master's degree at UCLA.
It was supposed to be more about producing, but I like to say that the instructors basically locked me in a practice room for two years.During that time at UCLA, I not only learned a lot about musicianship and opera, but I also became (through my dear friend and amazingly talented Verve/United jazz chanteuse Brenna Whitaker) the kind of go-to opera guy for David Foster on the West Coast. I graduated, signed onto the Robert Mirshak roster, and went off to NYC to audition for my first roles out of college. My first was for Spoleto USA in Studio C of the Metropolitan Opera. I got lost on the way out and by the time I got out of the building I had been cast as Triquet in Eugene Onegin.That was last year. I sang Curly in Oklahoma! as well as Edgardo (with my now wife and amazing soprano Jamie Chamberlin) in Lucia di Lammermoor, The Magician in The Consul and premiered the role of Morel in the world premiere of Stewart Copeland's (of The Police) The Invention of Morel, both at Chicago Opera Theater and Long Beach Opera.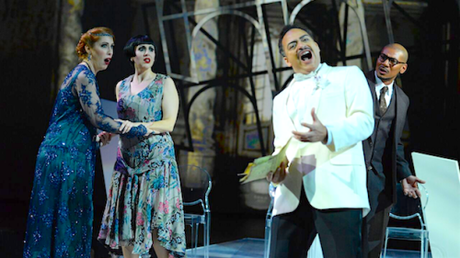 Granner premiered the role of Morel at Long Beach Opera | courtesy of Long Beach Opera
Somewhere in there, I did my first Rodolfo at Tulsa Opera, Opera San Luis Obispo, and most recently back to back with West Bay Opera and where I am right now, Opera Santa Barbara, where we opened this beautiful production on November 9.
Looks like you are singing back-to-back Rodolfos this fall? Is that a signature role for you?
I haven't signed anything … JK. … Anyone? Anyone? Buehler? In this biz, a signature role is a rare thing. I'm just fortunate to be immersed into this character and have been able to inhabit Rodolfo so utterly. More than anything, La Bohème has allowed me to sing with and befriend so MANY excellent singers and opera folks. There is sadness and pain, you know, with this opera. The first time I sang it was a rough, rough time for me personally. I have learned that keeping rehearsals light and breezy, for the most part, is really crucial to the process. Sure we have to practice the entire show, and face the tragic end (of youth and innocence), but to do that in rehearsal for weeks at a time can be quite damaging, so … Keep it light, keep it light, keep it gay!
You had been touring for years with The American Tenors (AMTEN). Are you back to live opera performance exclusively? If so, for how long?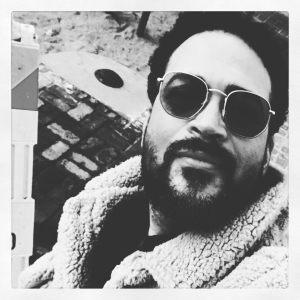 Nathan Granner loves being a road warrior, which is necessary to ply his craft.

I miss my AMTEN time for sure. Singing with Ben and Daniel Montenegro most of all, as well as Jessie Lynch our longtime accompanist. I miss the road. Specifically waking up with a freshly brewed cup of coffee and stepping out of the tour bus and seeing the amazing country at my fingertips. The colors of the Northeast, the Potomac River, the green of Mississippi, the grandness of Montana, and the beauty of the Golden Isles in Georgia. The crowds and the music.I have at least three more records in me to record and am getting pretty desperate for the studio, too.
I've missed opera, you know, but being a newlywed, I miss my Bae and pine to be with her and sing with her on every stage. The world of singing opera is never a constant. Even when one has dedicated their life to the art form, it is as fickle as The Duke of Mantua projects onto Gilda. For the time being, I am just trying to keep and grow the career and sing at the best level of competence that I can.
Where do you call home these days?

Los Angeles.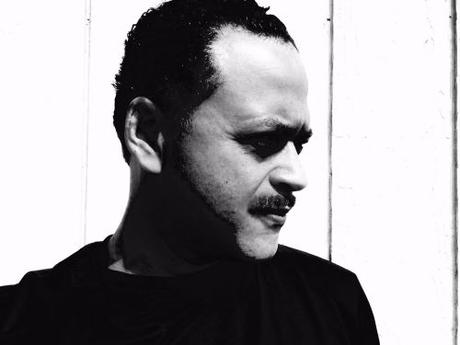 What roles are you waiting or wanting to sing? (Sometimes tenor voices have to catch up to certain roles, right?).
I'm actually wanting to reprise Nemorino and Tamino. Such great roles. Tom Rakewell from The Rake's Progress.
A friend of mine is set to premiere Alice in Wonderland in the EU, and I'm really looking to sing Mad Hatter! Duke in Rigoletto. I just got cast in I Due Foscari this January/Feb 2019, so I'm super looking forward to that one!
I'd love to take a look at Charlie Parker from Yardbird. My friend Larry, who premiered it, said it was particularly challenging. I'm from Kansas City though and many of my friends are Jazz musicians, so I'd REALLY love to at least take it on once.
Impossible dreams?
I want to premiere Tony Montana in the non-existent Scarface,  Lebowski in The Big Lebowski, (also non-existent).
I really, really love new opera if you couldn't tell. I just want to sing compelling and relevant roles germaine to contemporary culture.  I DO love me some 19th Century romantic stuff though, so yeah. I'm game for whatever right now.
Tell me about your charitable work and why you do it.
Charitable work is a huge part of my life. In some respects, singing opera is a charitable work… No joke.
I sing for the ALS Foundation when I can. I am a true lover of anything to do with eradicating Parkinson's disease, in honor of my late grandmother, Marie Kimmel.
And I am a fan and new supporter of WildAid, protecting wildlife and reducing demand for animal parts is a calling of mine too.
I think on some level, to do what I love has to be done on a real holistic basis. Giving back is a big part of that. While I am not at the point in my career I can sing totally pro bono, I do a lot of non-musical work for organizations. Public speaking, creating images, and design–what have you–are ways I can work without the need to reduce fees for my artistic discipline.
Anything else you'd like Operatoonity.com readers to know?
La Bohème at Opera Santa Barbara opened November 9 and has one more performance today, November 11!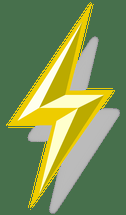 And the LIGHTNING ROUND:
Favorite opera: "The Rake's Progress," Igor Stravinski, composer
Favorite composer: I can't! Too many!!!
Favorite Italian composer: Ottorino Respighi. Pines of Rome anyone? P.S., there's a Rodolfo line in the first act of Boheme "L'amore è un caminetto che sciupa troppo," which has total Respighi Pines of Rome intervals. No one else really gets that, but I still love it every time.
Favorite venue: WaterFire in Kansas City, or Providence.
Favorite aria: "All Hands," from Postcard From Morocco by Dominick Argento and "Oblivion Soave" from Monteverdi's L'Incoronazione di Poppea. Go figure. I mean I GUESS I could say too "Che Gelida Manina…," especially now that my high C is really popping these days.
* * *