Yes, yes, you demand to know, we all realize you 'troughed it' at The Dorchester, but how was the Rembrandt exhibition?  Alas, I have to tell you that it was nearly ruined by that worst of all possible excesses - people - dread word!  I remember thinking that the tickets were not too expensive and the consequence was that the crowds, despite the best efforts of the security people to keep an even flow, were far too big.  Even so, there he was, old man Rembrandt looking Falstaffian with his whiskers and lived-in face, and eyes that had now gradually ceased to twinkle and instead gazed out with unflinching self-honesty.  I find them intensely moving: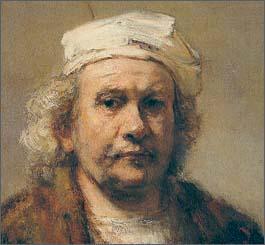 From high art we rose even higher to stratospheric Mammon with a visit to Harrods.  It is perhaps, best summed up by the ghastly kitsch statue in memory to the late Dodi Fayed and Princess Diana which, when they died in that car crash in Paris, the then owner of Harrods and Dodi's father, Mohamed al Fayed, insisted on having installed inside the department store: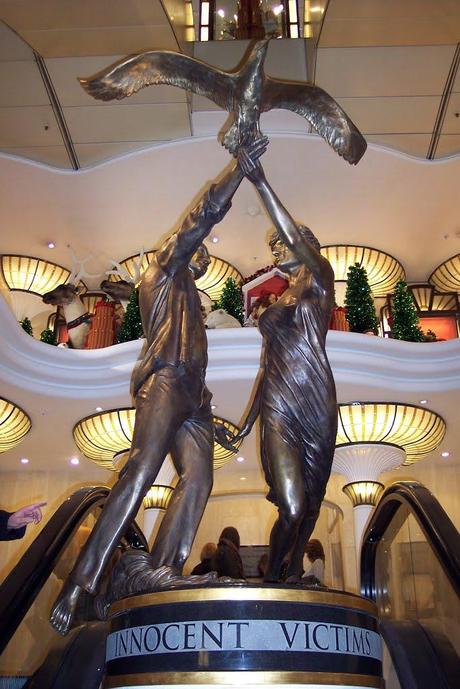 The artistic merits might be minimal but I do not sneer at the sentiment.  Even mega-rich plutocrats like al Fayed are entitled to indulge their private grief but perhaps, in retrospect, keeping it private might have been better.
As for the store, well, it is the cornucopia that keeps on giving, er, well, so long as your credit card can keep going, that is!  Yes, it has its fair share of tat but it also has the very finest of products but tat or fine it is all, all, hideously, almost laughably, expensive!  Having gazed longingly for several minutes at a simply beautiful pair of loafer-style shoes made of the very finest soft leather and then having taken in the price tag of £695! I came to the firm conclusion that even if I were a multi-millionaire I would never buy at those sorts of ridiculous prices.  I mean, supposing, just supposing, that I had bought those shoes and decided to wear them home and as I stepped out of Harrods I trod in a dog turd, probably from one of those stupid white balls of fluff that smart ladies drag around?  Imagine the furore when the poor woman suddenly realises she has a dead dog on the leash because I have strangled it!  Anyway, it was fun seeing how the other 0.5% live!
In the evening we went to a branch of the Côtés Brasserie group where we had a very simple but hugely tasty supper served by some super young people who had obviously been highly trained.  Bookmark this site to see if they have a branch near you -   http://cote-restaurants.co.uk/
So, all in all, two terrific away-days.  But tomorrow comes my pièce de résistance and I can tell you the secret now because I told the 'Memsahib' before we went to London.  We are off to Morton-in-Marsh to stay at the The White Hart Hotel, the very same establishment that echoed to the screams of pleasure from the bridal suite some fifty years ago last October 3rd, er, well, that's how I remember it, anyhow, but the Memsahib's memory seems a bit dodgy on that one!  It is now called the White Hart Royal Hotel and it has obviously gone up the social scale from when we last visited.  Still, at least this time I will not have to spend Sunday morning, exhausted after, er, doing my duty so valiantly all night, cleaning all the rudery scribbled in lipstick on my car by various friends!