Hello friends everywhere!

 

:-h

 

When it comes to applying makeup one thing we can probably all agree on is that beauty tools such as brushes compliment the delivery of our cosmetics. By providing the advantage of a quicker application with better control and the ability to achieve a smooth even finish, capturing your desired effect can be created with minimal effort.

 

I have a few sets of cosmetic brushes, some good, some not so good, but when I do find a great brush, I generally keep using it over and over.

 

I was lucky enough to win a Furless promotion over at Spoilt beauty blog, which saw me, a proud owner of my very own mini brush set that I've come to believe, is absolutely worth shouting out about.

 

<:-P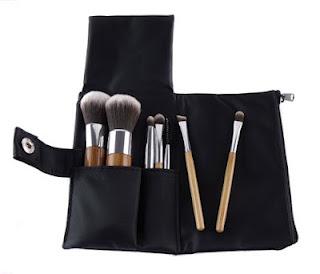 Despite this being a mini or travel sized brush set, these makeup brushes are actually the most used 'go-to' beauty tools in my entire cosmetic swag.

 

The Furless Mini Bamboo Makeup Brush Set contains the basic tools I need to achieve any makeup look at home or when I'm out and about.

 

The compact black pouch is lightweight with a sleek design, perfect to slip into my handbag or personal luggage utilising minimal space.

 

The material is durable and well made to protect the firmly packed brushes, keeping them secure during transit.

 

As a bonus, the pouch includes a handy zip-up compartment, ideal for storing my extra beauty essentials.

 

The multitasking brushes are incredibly versatile, so, not only do I use them for their specific purpose, I usually interchange them to suit my needs.

 

\:D/
The classy-looking brushes are inexpensive, considering they are of professional quality and comparable to certain op shelf brands at a fraction of the price.

 

The short length natural bamboo handles are designed for the ultimate in comfort and control, while the bristles are made with synthetic, cruelty free fibres that are super soft and dense to provide a beautiful, flawless application.

 

I like that small sized brushes are actually easier to hold onto and maneuver than some bulky full-sized versions, particularly when working in awkward positions.

 

However, don't be fooled by how little these brushes are, because there is no compromise at all on performance or capability, these brushes handle a maximum workload with the greatest of ease and perfection.

 

:DI personally prefer synthetic cosmetic brushes because I love feeling the soft, featherweight brushes on my skin, which are easier to buff and blend compared to animal hair bristles that get scratchy and can irritate my sensitive skin. :-SI've experienced no problem with the bristles shedding; not even after washing have the bristles become loose, so I've never noticed any unwanted strays. #:-S
The brushes in this set include:
Powder Brush – With luxuriously soft bristles, I've successfully used this brush for dusting loose or compact powder and to buff all over color such as mineral powder foundation or bronzer and it works wonders for applying blush too.
Blush Brush - This slightly rounded, dome shape brush is soft but very dense, so not only does it work well for blush/bronzer application, particularly when contouring the face or sculpting the cheekbone; I actually prefer to use this brush to apply liquid foundation and it constantly maintains flawless results.
Large Eyeshadow Brush– Soft yet firm, this brush packs maximum color and is suitable for all over soft layering and blending of both wet and dry textured eyeshadows.

 

It can come in useful for applying concealer and handles the task effortlessly.
Small Eyeshadow Brush– The smaller version of the Large Eyeshadow Brush, perfect for working in smaller areas and close to the lashline.

 

This doubles nicely as a lip brush as well.
Crease Brush – This brush is firm yet still incredibly soft and gentle, great for detailing and using in the crease or even the eyelids.

 

It's ideal for highlighting in the inner corners of the eye and under the brow line.

 

It also dupes as a concealer brush, especially handy when targeting smaller imperfections.
Angled Liner Brush– Firm but not at all scratchy, this soft, dense angled brush is easy to control, allowing for precise application of both powder liners and gel/cream versions. The bristles retain their shape for defining and shaping and are thin enough to fill in sparse eyebrows.
Lash/Brow Groomer– Firm enough to comb my brows and keep them neat and tidy.

 

It also lends as a lash separator to help reduce clumping after mascara application.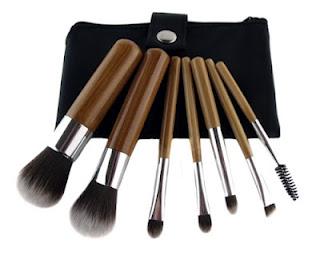 I've been using these brushes consistently for the past 12 months and they are super effective and last the distance.

 

Perfect investment for anyone from the novice to the connoisseur, if you want decent, quality brushes that don't cost the earth, then this is a set you can definitely rely on to cover all your basic makeup needs.

 

:x

  

Whilst catering for the budget friendly consumer, even though these brushes are economical, they don't sacrifice on performance or durability. Also, if you're like me and keen supporter of the ethical treatment of animals and are passionate about stamping out animal cruelty, then be sure to avoid animal hair cosmetic brushes. No animals are harmed creating

t

his brush set from Furless, which is 100% vegan and Halal friendly!

 

I've awarded the Furless Mini Bamboo Makeup Brush Set with a well-deserved rating of 5 stars out of 5!

 

(*)

 

(*)

 

(*)

 

(*)

 

(*)

 

=D>

 

Highly recommended!
What makeup brushes do you personally use and are you a fan of a mix-n-match brush or do you religiously use a specific brush for each task?

 

:-?

 

Do you prefer synthetic brushes and if so have you tried any of the gorgeous brushes from Furless?

 

I have also tried the mineral powder foundation from Furless as well, which was brilliant, what is your favorite product from their range, or the one item you would most like to try and why?

 

:-/
  All images in this post are generic.