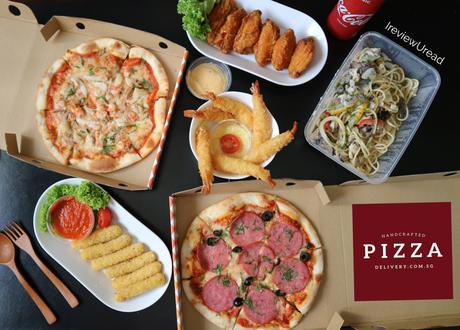 I crave for food often. From Sushi to Shepherds Pie, I enjoy filling my belly up with these comfort food. One of the most common comfort food is Pizza. Be it you're feeling down or lonely, pizza will always be there for you when nobody is. In the recent study by Psychological Science, comfort food helps you improve your mood, a sense of well being and decreases loneliness. Thus, I ordered myself some friends from Pizza Delivery Singapore to brighten up my day.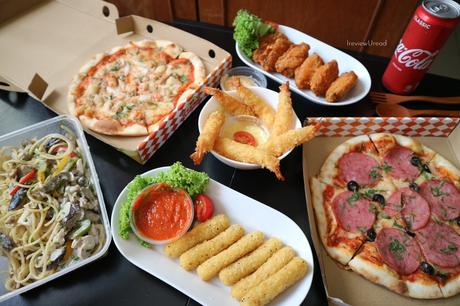 Pizza Delivery Singapore
Pizza Delivery Singapore serves authentic Neapolitan pizzas that are fired up in 90 seconds. With the head chef trained in Italy, Pizza Delivery Singapore stays fiercely true to the Italian traditions. Their pizza dough is left for a 72 hour fermentation time before being hand-stretched. By doing that, it brings out the dough's optimum flavours. Pizza Delivery Singapore uses a stone-oven to bake the pizzas. By using the stone-oven, the pizza could be cooked simultaneously from the top and the bottom. This speeds up the cooking time for a stone-oven have a higher cooking temperature. Additionally, this gives the pizzas a smokey flavour and a better crust.
The company guaranteed that you'll get your orders within the hour of your chosen time slot. If not, they'll compensate you with a $10 discount voucher instantly. If you received a stale pizza, it can be replaced for free too.
I received my orders piping hot within the hour of my chosen time slot. Everything was packaged in such good quality containers that the Aunty in me has decided to wash them and reused them. I also love the cute graphics on the pizza box but I've forgotten to take a photo of because that same Aunty in me is very bad at remembering things.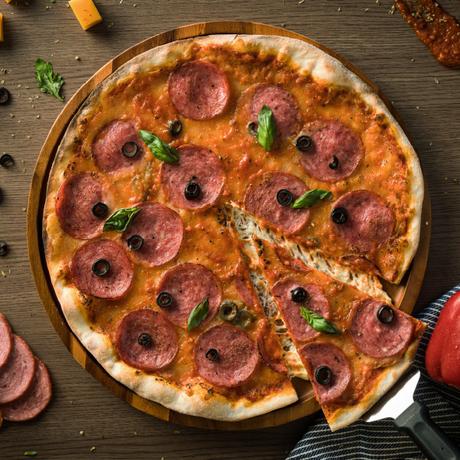 Beef Salami Pizza
We're starting the reviews with pizzas. The pizzas come in 3 sizes - Small, medium and large. The small pizza is 4 inches with 4 slices. The medium pizza is 9 inches with 6 slices and the large pizza is 12 inches with 8 slices. I got 2 medium pizzas of 2 different flavours. The pizzas come with 1 packet of chilli flakes and 1 packet of Parmesan cheese each. Interestingly, they gave fresh Parmesan cheese instead of the usual powdered Parmesan cheese.
Both pizzas have thin crusts which made the crust very crispy if you reheated the pizza for supper. You're even able to hear the crunch when you bite into it. I chose pizzas with homemade tangy tomato sauce as the base. They're also garnished with premium herbs to enhance the flavours of the pizza.
The beef salami pizza comes with huge beef salami slices and a generous amount of mozzarella cheese infused in the pizza. Sitting on top are briny olives topped with extra virgin olive oil and fresh basil. When I first bite into the pizza, I was able to taste the rich meaty flavour of the beef salami slices. They were savoury, pleasant to bite and goes well with the rich spread of tomato sauce. There's also a perfect balance of toppings per bite. The thin crust gives a nice finish of crispiness to the pizza. Overall, this is a savoury pizza that leaves you craving for more.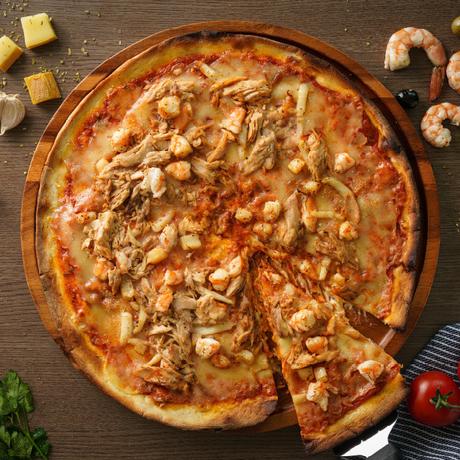 Seafood Pizza
Similar to the beef salami pizza, the seafood pizza has a tangy tomato base and thin crust. It is topped with juicy prawns, tuna chunks, delicate squid and tasty scallops. These toppings were drenched with mozzarella cheese and extra virgin olive oil.
Upon the first bite, one was able to taste an abundance of different seafood being complimented by the savoury cheese and zesty tomato sauce. The tuna chunks were not overbearing while the scallops were chewy and flavorful. In the usual circumstances, I do not enjoy eating squid for they were chewy and flavourless to me. However, this bite-size calamari was a game-changer for me. They were sweet, aromatic and not hard to chew through. The prawns were also chopped into bite-sized pieces and scattered around the pizza slices. They compliment well with the appetizing tomato base for the prawns were slightly crunchy and sweet. All in all, this pizza would be an instant favourite for seafood lovers.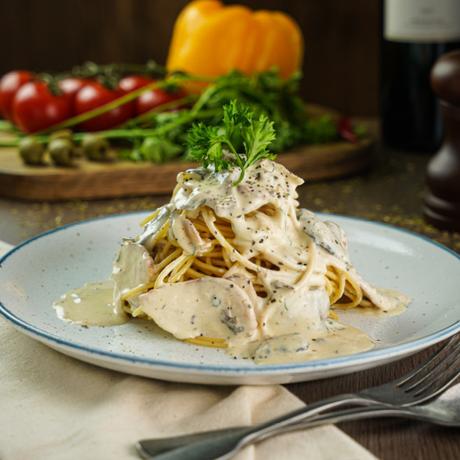 Chicken Alfredo Pasta
The Chicken Alfredo Pasta is a creamy pasta dish that would be a hit for those with a savoury palette. Toasted in Parmesan cheese, butter and white wine, the Chicken Alfredo Pasta is guaranteed to fill you up. Mixed with juicy chicken, various kinds of mushrooms and capsicum, this pasta dish came in a huge portion suitable for 2 or even 3 individuals. It's lightly seasoned with grounded black pepper and finely chopped parsley. You're able to choose between linguine and spaghetti as your pasta of choice for this dish. As a mushroom lover, the large number of mushrooms added in the dish gave me joy. There were so many different kinds of mushrooms to choose from. Accompanied with the creamy sauce, this dish is rich, flavorful and filling.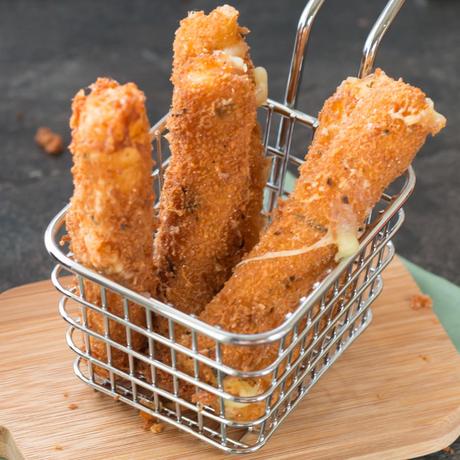 Photo taken by Owari Photography
Mozzarella Cheese Stick (6pcs)
What is a pizza dinner without side dishes? For me, I like getting cheese sticks and chicken wings with my pizza. These 100% Mozzarella sticks are battered with golden breadcrumbs and grated Parmesan cheese. They come with a flavorful tomato dipping sauce. 1 order of this gives you 6 pieces of Mozzarella Cheese Sticks.
By the time we finished taking the photos and videos for social media, the cheese stick is not as warm as it's supposed to be. Thus, it did not give us the "pull cheese" effect. However, after warming the cheese sticks up, it did gave us the photogenic 'pull cheese' effect. I like how there's a thin layer of bread crumbs covering the cheese stick instead of a thick batter. Although doing that puts the cheese sticks at risk of burning while they fry, this made the taste of the Mozzarella cheese stood out more.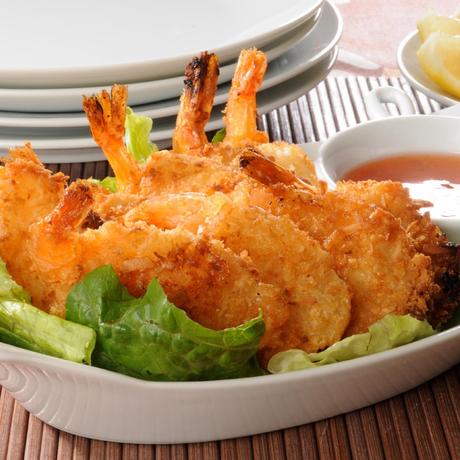 Honey Mustard Prawn (6pcs)
Before we move on to the chicken wings review, I threw in an order of honey mustard prawns in the mix to spice things up. The honey mustard prawns are made of battered fresh succulent prawns. These prawns are fried till golden brown with a special blend of honey mustard.
When I received the prawns, they are Japanese fried shrimps. From the photo, I had the impression that the prawns will be those from the Tze Char stall battered in breadcrumbs. Thus, I was a little taken aback when they looked like Ebis. This might be a case of the blue and gold dress from 2015 where everyone sees a different colour of that dress and I am just seeing a different perspective of the prawns. On the other hand, prawns are still prawns to me. Regardless of where they come from, as long as they are plump and do not have a fishy smell, I'm happy.
These honey mustard prawns come with a generous serving of sweet honey mustard sauce. It has a mixture of spiciness, sweetness and slight bitterness to the honey mustard sauce. As compared to the usual mustard you get from the stores, this sauce is sweeter and creamier. The prawns are long and flavorful. Its batter and breadcrumbs are not too thick so you can enjoy the prawn fully.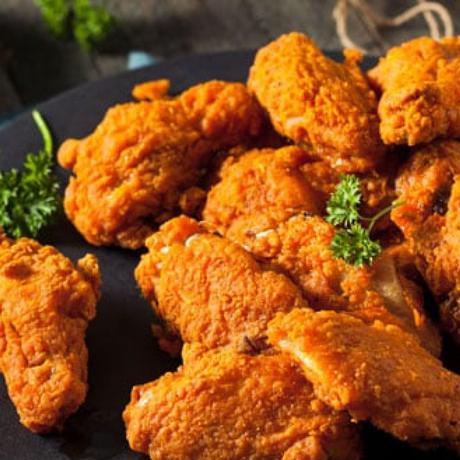 Photo taken by Owari Photography
Crispy Chicken Wings (6pcs)
Lastly, we have my most anticipated side dish, the crispy chicken wings. These juicy, tender chicken wings are fried in what tasted like a coat of prawn paste batter. They came with a sauce that tasted similar to the honey mustard sauce from the prawn dish.
The chicken wings are savoury, juicy and delicate. It has a slightly spicy tinge that tickles your tongue as you savour the succulent meat that makes you crave for more. It was not greasy on the outside as the meat was not dry on the inside. I find myself reaching for the wings over and over again and before I know it, all 6 pieces are gone.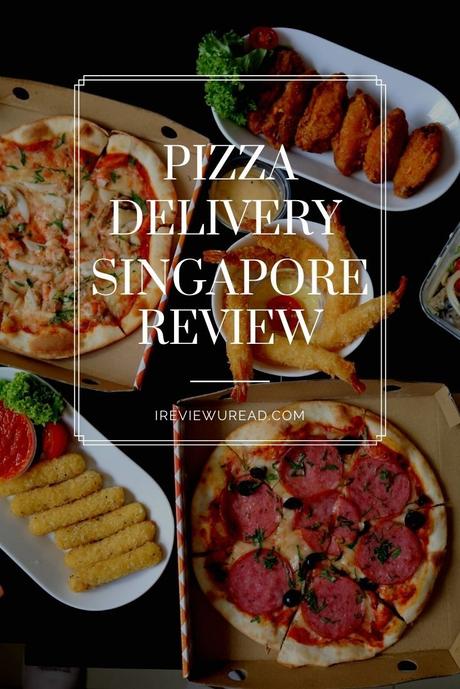 All in all, Pizza Delivery Singapore provides great quality dishes. I would strongly recommend the pizzas for they are generous with their premium ingredients, the crust is thin and crispy and the overall taste is great. If you're looking for a high-quality flavorful pizza for your meal, Pizza Delivery Singapore is the way to go.
Currently, Pizza Delivery Singapore is having a 1 for 1 sale on Medium and Large Pizzas. Get yours now!
In partnership with:

Owari Photography
Owari Photography is a new and professional photography service that specialise in product photography. Their clients include ORIGIN, Sushi delivery, Mosanco Enchanted Cafe and more. They have an in-house studio and uses state of the art equipment and they offer packages that include loan of props, professional editing and in-house assistant. Check Owari Photography out for your photography needs.

Best in Singapore
Featured in my Origin's post, Best in Singapore is a website that features the best products, the best technology and the best of everything in Singapore. In their recent posts, they touch on the best ice cream delivery Services, best Nasi Lemak and even the best online snack subscription box in Singapore. Check out Best in Singapore for the best of everything.