Rating: 
5
Prep Time: 
15 minutes
Cook Time: 
30 minutes
Total Time: 
45 minutes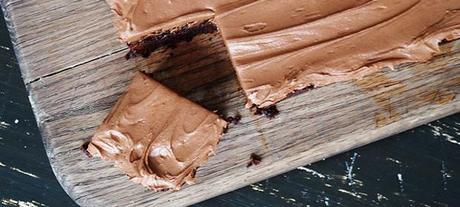 Ingredients
1/2 cup unsalted butter (1 stick), softened
4 oz bittersweet chocolate, chopped
3 oz unsweetened chocolate, chopped
1 cup sugar
2 eggs
1 tablespoon instant espresso powder
1 teaspoon vanilla
2/3 cup unbleached all purpose flour
1/4 teaspoon baking soda
1/8 teaspoon salt
1 cup miniature semi sweet chocolate chips
Fudge Frosting:
6 ounces bittersweet chocolate, minimum 70 percent cocoa solids
1 cup plus 2 tablespoons unsalted butter, softened
1 3/4 cups confectioners' sugar, sifted
1 tablespoon vanilla extract
Instructions
Preheat oven to 350 F.
Melt butter, bittersweet chocolate and unsweetened chocolate in a microwave safe bowl, heating in 30 second increments until smooth. Allow chocolate to cool.
Prepare an 8x8 baking pan by lining it with foil. Spray the foil with cooking spray. Set aside.
When chocolate has cooled, stir in the sugar until well blended. Add the eggs, one at a time, stirring well with a wooden spoon, just until combined. Add in the espresso powder and vanilla and stir until combined.
In another bowl, whisk together flour, baking soda and salt. Add flour mixture to the chocolate mixture and stir until just combined. Stir in miniature chocolate chips. Spread batter evenly into prepared pan.
Bake for 30 minutes. Remove from oven and cool completely in pan on a wire rack.
Make the Frosting
Melt the chocolate in the microwave – 2 to 3 minutes on medium – or in a bowl sitting over a pan of simmering water, and let cool slightly.
In another bowl beat the butter until it's soft and creamy and then add the sifted confectioners' sugar and beat again until everything's light and fluffy. Gently add the vanilla and chocolate and mix together until everything is combined.
Spread frosting on the cooled brownies in the pan.
Lift brownies out of the pan using the foil as handles. Cut brownies into bars.