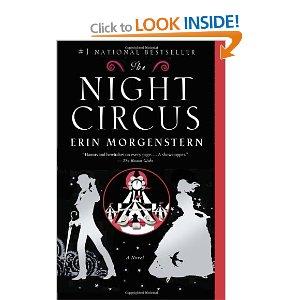 This one came highly recommended to me by many bloggers and I had bought it a while ago on a lark - I just hadn't started it yet.  I'm not sure why.
But then, after the holidays, I finally had time to read again and I finished up the books I had been reading and decided to dive right in.
Within the first few pages, I wasn't sure I was going to keep going.  Morgenstern describes EVERYTHING.  Normally getting over descriptive can really get on my nerves, but soon I looked down and I was already 25% of the way through the book!  I was hooked and I hadn't even realized it!  The book had drawn me right into the magical, colourful world of the circus and there was no looking back.
To describe the plot, I think I'll leave that to the jacket description.  I've tried to articulate it a few times and my brain can't seem to send the message to my hands :)
From Amazon:
In this mesmerizing debut, a competition between two magicians becomes a star-crossed love story.




The circus arrives at night, without warning. No announcements precede it. It is simply there, when yesterday it was not. Within nocturnal black and white striped tents awaits a unique experience, a feast for the senses, where one can get lost in a maze of clouds, meander through a lush garden made of ice, stand awestruck as a tattooed contortionist folds herself into a small glass box, and gaze in wonderment at an illusionist performing impossible feats of magic.




Welcome to Le Cirque des Rêves. Beyond the smoke and mirrors, however, a fierce competition is underway - a contest between two young magicians, Celia and Marco, who have been trained since childhood to compete in "a game," in which each must use their powers of illusion to best the other. Unbeknownst to them, this game is a duel to the death, and the circus is but the stage for a remarkable battle of imagination and will.
This a masterfully woven tale.  I highly recommend it.  The characters are well developed and quickly become dear friends.  The world is skillfully painted.  The circus becomes a place to both thrill and enchant. It is an adventure and a love story; a fantasy and a thriller.  Honestly - before I was halfway through - this one had made my "Favourite Books of All Time" list.
Just read it already.  I promise you'll love it.