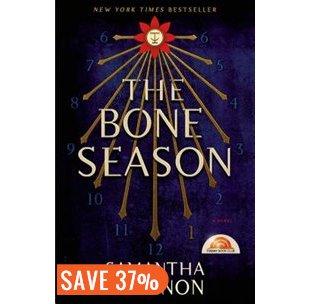 So much for my romancey streak...I know - you're all devastated.  But I simply MUST tell you all about this fabulous book I just finished.
The Bone Season by Samantha Shannon.
Oh - it gives me chills just to think about it.  So good.
The year is 2059 and clairvoyants in London are forced underground by SCION because their mere existence is illegal.  If they are caught - they are killed...or so everyone is led to believe. Paige Mahoney is one of these clairvoyants, but a very special one - a Dreamwalker.  

Her job is to scout for information by breaking into people's minds. 

Working for one of the biggest Mime-Lords, Paige has steady work and the protection of the syndicate she works for.   That all changes one day when she accidentally kills the guards who have entered the train she is on with the intent of arresting her.   Killing them without bloodshed or struggle - her spirit simply walked from her body and took care of the threat.
Shortly after, she is rooted out of hiding and arrested...and brought to Sheol I.  This is where she discovers that the voyants haven't been getting killed by SCION - instead, they are imprisioned and trained by a new enemy.  The Rephaim.   Creatures of the underworld who say they are protecting SCION from cruel, human-devouring beings called the Emim.
More importantly, though, is how important Paige is to the leader of the Rephaim.   Nashira, the Blood-Sovereign, collects those talents she wants for herself and absorbs them into her, for lack of a better way of describing it.  When the Blood-Consort, Warden (Nashira's betrothed), selects Paige to be his pupil, eyebrows raise and an interesting relationship develops between the two that left me guessing why his loyalties to the Blood-Sovereign were so strained.
Add to this that Paige's former Mime-Lord is also on Nashira's list and a whirlwind adventure is embarked upon where loyalties are tested, friendships are tried, and it is hard to see who will fall next.
I am not going to recap further because it is such an interesting read with a complex social structure and interesting character relationships.  I find it hard to believe that this work came from an author barely into her 20's - it is so rich and vibrant.  You really must read it to believe it.  Hell - it's worth reading just for the food descriptions.  I am no foodie, but the author must be because every time she started to talk about the food, my mouth would water. LOL.
 I really do think it's worth reading if you like a little Dystopia or a little paranormal in your day. Apparently there are more to come in this vein and I am quite looking forward to them when they arrive (the next one is out this October).