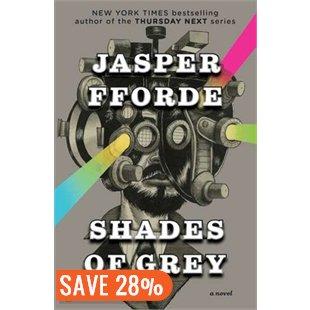 I must admit, my friends, that this is an exceedingly difficult review to begin.  THIS book was so incredible.  So amazing.  Oh, and oh so very difficult to describe.  And, before we go any further - this is NOT to be confused with Fifty Shades of Grey.  You will never find a review for that book here.
As far as post-apocalyptic dystopian stories go, this is BY FAR the most imaginative and original one I have yet encountered.  400-plus years previous, Something Happened.  No one really knows much about it, but a man named Munsell wrote a whole bunch of rules (books and books of them) to tell how the world would operate going forward.   People were separated based on the true colours they could see and the hierarchy of society fell in line.  Those who can see the most real color automatically became the leaders.  Those with the lowest true color perception became the labor class and those in the middle fell into approriate roles for their levels.
The story begins with Edward Russet starting the tale of how he ended up in the belly of a carnivourous Yateveo tree and how it all began with the wrongspotted man in the paint store and the girl with the most interesting/cute nose he encountered shortly after (who obviously knew who the man was).   Eddie and his father, a relief swatchman (kind of like a doctor specializing in color healing) are headed to the Outer Fringes, where his father will be relief swatchman for East Carmine's swatchman who died in a very suspicious way.  Eddie quickly learns that things are much different in the Outer Fringes.
Ok - I'm doing a terrible job recapping the plot...let's take a look at what the dust jacket says. After all, THAT is what hooked me:
Welcome to Chromatacia, where the societal hierarchy is strictly regulated by one's limited color perception. And Eddie Russet wants to move up. But his plans to leverage his better-than-average red perception and marry into a powerful family are quickly upended. Juggling inviolable rules, sneaky Yellows, and a risky friendship with an intriguing Grey named Jane who shows Eddie that the apparent peace of his world is as much an illusion as color itself, Eddie finds he must reckon with the cruel regime behind this gaily painted façade.
Quite frankly - I love this rich world that Fforde has crafted.  I was overjoyed to hear he plans more novels in this world - even if they won't technically be a series quite yet (the next one will be a prequel).  The societal hierarchy is really cleverly described and it is interesting to see the temperaments align with the color perception of the characters.  More importantly, however, the character development is absolutely phenomenal!   The story is told from 20 year old Eddie's point of view and as he moves through the world and experiences new things, it isn't hard to see how his brain works differently from the rest of the people in his world.   A delicious mystery forms the basis of the storyline and is revisted throughout until the answers are found.
I am not sure that this book is for everyone, but I enjoyed it so much.  I do recommend giving it a chance and see if the first few chapters aren't enough to hook you for the whole book.  Leave your preconceived notions of the world we live in behind because this book delves into a much different place with very little relation to our own.  I am so happy the publisher gave Fforde the chance to write a book like this (something he, himself, acknowledges in the end notes that he wasn't sure he was up to the challenge of). Look for the pop culture references from our world and see the creative ways they have been used and, most importantly, buckle up and get ready for an fascinating ride through Chromatacia.
And, if you need a little help along the way - Fforde has a great reference section on his website.