Note: I received a copy of this book from the author herself.  Because we both like cheese - not because she was bribing me for a good review.  All thoughts in this good review are my own.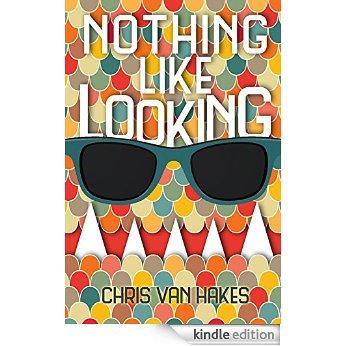 Some of you may recall when I reviewed Chris Van Hakes debut novel, Lost and Found...and I loved it. So, when she told me she wanted to send me a paper copy of her new book I was so excited!  You see, I've stalked her on social media for long enough to know when someone is pouring their whole soul into their work and that was exactly what she was doing.  She lit up in every word she wrote about her new novel.  It was impossible to resist wanting to read it.
Now, on with my recap and review
Nothing like Looking is a YA novel about a teenage girl named Reed Larsen.  She was recently expelled from her very christian high school after someone told the principal she was gay...a fact lacking in any truth at all.  Now Reed must go to the "snob school" where she feels she doesn't fit in and on day one she meets the most beautiful boy in the world, Mason.  Mason has a girlfriend (the beautiful and perfect Caroline of the pretty people tribe), but he takes an interest in being Reed's friend when he sees her reading The Hobbit.
Then the horrible secret of her old school comes back to haunt her when the over bearing, political type girl, Jett, tells Reed she knows she is gay and that she was expelled for it...and Reed, being too insecure to deny it, ends up admitting and lying that it is true.
Now that she is "out" at her new school, instead of being a social pariah, Reed is an instant celebrity and gains a certain respect from her peers.   Even worse, Mason feels "safe" with her and starts to form a close friendship with her - something only made more difficult by the growing romantic feelings she has for him.
Okay, I think I have kept the spoilers to a minimum there.  I'm just going to come right out and say it.  I LOVED this book.  I am a big fan of Rainbow Rowell and I can feel a great deal of inspiration come from that direction but this work is all Chris.  The way she has captured the tension of high school friendships and the uncertainty of teenagers figuring themselves out was exquisite.   So much love and attention went into the development of each of the characters that they just shone on the pages.
There were moments when I found myself thinking "Geez - just tell them already!" but I had to stop myself.  Because the character was a teenager and she was merely acting the way a real, insecure teenager would.
I loved how the story tied itself together through the character relationships.  They FELT real.  They had quirks and insecurities, but they worked through them or outgrew the friendships.
Now that I am finished reading it, I plan to pass my copy along to a teen in my life who I think will really love it.  I think the messages of individualism and growth are good for her to read.
And you?  Well, you need to go buy this one now.  Just do it.  It'll be the best $4 you can spend this month.