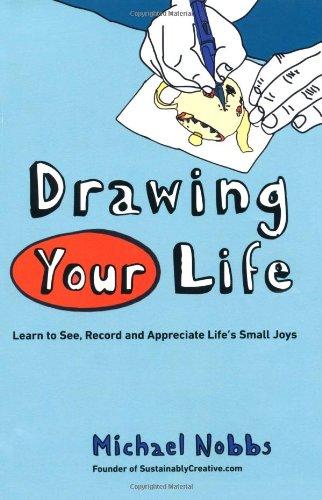 I have been itching to sketch for a while now and have been having trouble kickstarting my engine a bit to get there.  So, when I saw this book for super cheap at Winners (like TJ Maxx in the States), I decided to snap it up.
The book is meant to be  not so much an instructional guide as it is guidance to begin a drawing practice.  To journal your life by drawing the things that make up your everyday.  The cup of tea, your favorite pen or book, the way your cat sleeps beside you - the minutiae that makes up your day.  I love this idea.  Instead of hunting for some spectacular thing to draw - you draw your life.
The book, itself, has very little text.  It is actually meant to be a workbook of prompts so I think I read every word in it in about 15 minutes.   It is meant to take you out of your brilliance seeking headspace and tune you into the here and now.
I like that it gives simple instruction and tells you to not worry if you can't draw because you'll get there...and then provides places to find more instruction and inspirations as you go.   I love that it doesn't tell you what you need (beyond the basics) and encourages you to find what works for you.
For myself - I am not sure that this is necessarily a good guide, but it is a good way to throw myself back into reality and to get started with a daily practice again...to document my life and really see it again...and for that it is valuable for me.   For someone just starting out, I think it would provide a good foundation for them to see and appreciate the things around them and help them figure out how to document it through the connection between their eyes and their hands.
Perhaps beyond the book, though, is the website that the author started - Sustainably Creative.  This is full of further information and inspiration so I encourage you to check it out.