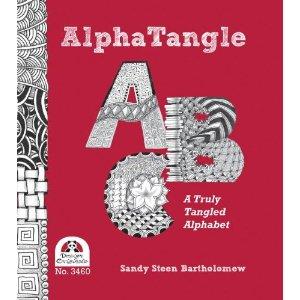 Ok - this is going to seem a bit weird to review this one before I review a "Learn to Zentangle" book, but this was a quick read so I figured I would slot it in.  Don't worry - the learning book reviews will come soon.
Right off the bat, I am going to say that I ordered this little book thinking it was something completely different than it is.  I thought it was a book on creating Zentangled letters.  I couldn't have been more disappointed than when I opened it and found that it was DEFINITELY NOT that.  Downside of ordering online, I guess.
BUT - it didn't take me long to turn my initial impression around.  This tiny little book ( about 4x5 inches) is actually an alphabetical reference to some of the different Zentangle patterns.  Each page features a tangled letter with all of the patterns that start with that letter doing the decorating.  Clever.
There is also a brief section at the start that introduces Zentangle and gives some background.  It isn't really sufficient for a new Tangler, but would be a nice overview for the curious.
While it is a cute little reference book that could easily be packed into a sketch bag or purse - it does not use the space within the pages very cleverly.  It feels like a pocket sized coffee table book with no instruction on how to actually draw the tangles.  I will probably use it a fair bit once I am a bit more proficient, but right now I still find myself needing the more classic step-by-step drawings for some of the designs.

So - for what it is, $10 seems a bit steep...but I will likely get some sue out of it as my Tangle Adventure continues.  That will hopefully make it worthwhile.