I'm in the middle of finals so I currently have the attention span of a 2 year old. Thus this post will be random- but what else is new?
I'll start off with, "Weird places I find my cat (Skyler)." I know, random. But sometimes when I'm studying, I just need a few photos to make me smile :)
I fell asleep on the couch and Kyle snapped this at some point. I'm a heavy sleeper. Yes the TV is on the ground (I'm working on the stand). Yes that is Chandler Bing.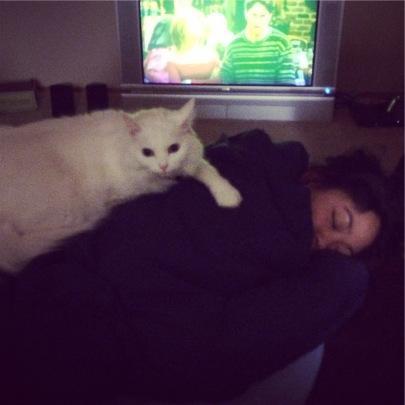 And here she is, on top of our printer. I'm sure she's going to break it one day because she pounces on top. I took her off of it as soon as I snapped the photo- hopefully that doesn't confuse her. Kind of like laughing while reprimanding a child. I'm banking on the fact that my sweet, beautiful kitty isn't the sharpest tool in the shed.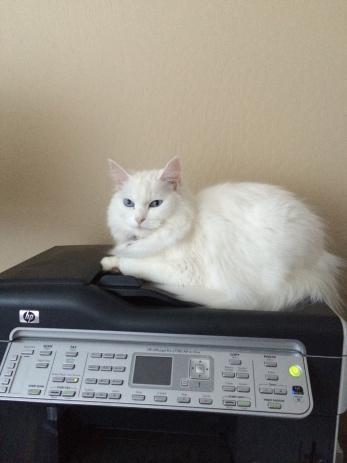 On to workouts this week, which have been thrown off due to exams.
MONDAY: HIIT class
TUESDAY: Off
WEDNESDAY: Off
THURSDAY (today): Runch with friends
Since I took Tuesday off, I'll try to make that up on Friday (Wednesday and Friday are my normal rest days). But we'll see. I have an exam Friday and a Final during the weekend. Almost. Done.
After finals are over, one thing I'm looking forward to is YOGA! Now, if you know me, you know that I've only taken 1 yoga class but I LOVED it! I know how beneficial yoga can be, and I cannot wait to pair this with my running! Well, this lucky duck is partnering with CorePower Yoga and I'm hosting a free yoga class! Don't worry friends, I'm not teaching it ;)
CorePower Yoga just opened up a new studio in Walnut Creek (CA). I'm a huge lover of Walnut Creek and cannot wait to check out the new location! If you're in the Bay Area on March 28th, please join me and CorePower Yoga for a free class!! All you have to bring is yourself! ALL levels welcome! (Please RSVP to [email protected] though)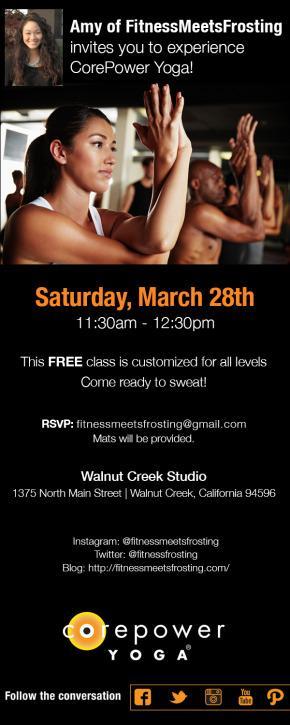 I hope to see you there!
And my final tangent- Over the weekend we celebrated Kyle's mama's birthday! We went to Bridges Restaurant and Bar. Anyone remember that from Mrs. Doubtfire?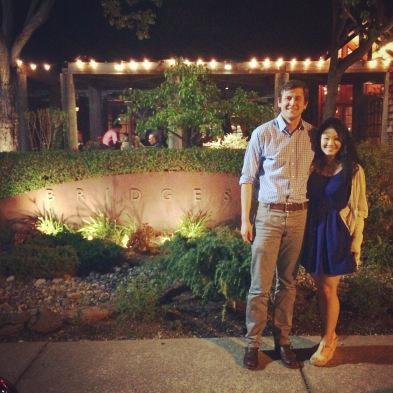 What's a weird place you've found your pet?
Do you like yoga?
Have you ever been to CorePower Yoga?
Please tell me you've seen Mrs. Doubtfire! If not, you have homework.