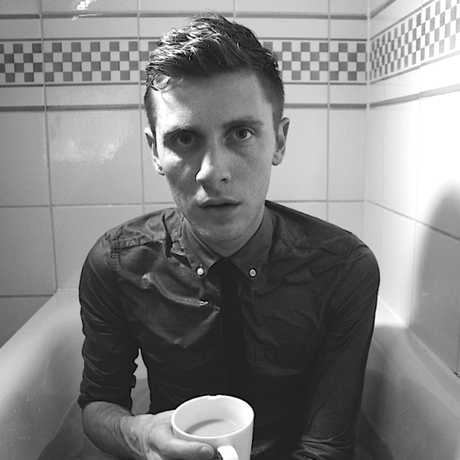 This weeks iTunes single of the week is truly unique. Frank Hamilton made a very quirky New Years resolution for 2012: to write, record and produce one song a week for a whole year. 52 new songs by the end of 2012, that's 52 more than One Direction have sung live…. (i'm being catty I know!) Having had to write just lyrics for an assignment at Uni I know how hard it is to be creative under a tight schedule, it's like everything has suddenly left your head and you don't have a creative bone left in your body. So he has had a very difficult task and he's tackled it well. Check out his blog #onesongaweek for the full breakdown of the years progression!
So this week we have been gifted the song from week 45 'Flaws and Ceilings', and what a beautiful gift it is. Of course by this point he's had lots of practice as it is a latter song of the year, but we urge you to check out the weekly archive on his website for some absolute gems.
Week 45 was not a solo project, Frank sung this song with Lauren Aquilina, a 17 year old unsigned artist who has just independently released her first EP 'Fools'. What a talented duo they are….
And to the song…
It opens with a rhythmic piano arpeggio and an underlying electronic echo of this that fades out as Franks voice fades in. This is later accompanied by acoustic guitar after Franks voice has entered, this one is most definitely a builder. He has a very young sounding voice, similar to that of Ed Sheeran (he's done a song with him and all!). It's very British.
The lyrical content however suggests a maturer individual with the stand out line from the song in the chorus 'We can't build our walls, unless you knock down yours. So let me in.' This line gets emphasised time and again by minimal instrumental backing. Even the first line to the song is smart: 'She's got flaws, she's got ceilings', that's a double entendre if ever I heard one (wanted to get that phrase into a review for ages!) To be honest I lie, the whole thing is full of beautiful lines, and being the lovely lad he is, Frank posted the lyrics in week 45′s blog post.
When Lauren is introduced the song becomes a conversation, two people thinking of each other, each too afraid to tell the other what they're thinking. Classic love story. Her verse perfectly balances his and on the return of the chorus they join together followed by a climatic bridge and a call and response thought progression in the lyrics. Followed by a repeat of the first verse.
It's a very simple song structure and simple instrumental accompaniment, but as simple as it is, it is very perfectly formed. I've now listened to this song about a million times over and it sucks me in every time. It makes me think of that climatic moment in a dramatic heart rending movie when the main lovebirds of the story line finally get it together and run to each other/kiss in the rain/turn away from all their haters as the screen fades to black before that last weird recap bit before the credits roll.
This for us is a good choice for song of the week and has been brought to our attention just in time to ask for lots of Frank Hamilton stuff for Christmas. Hurrah!
-TWSH
Download Flaws and Ceilings and his album The Best of #OneSongaWeek
Find out more about Frank Hamilton:
Facebook Twitter Website OneSongAWeek
Find our more about Lauren Aquilina: