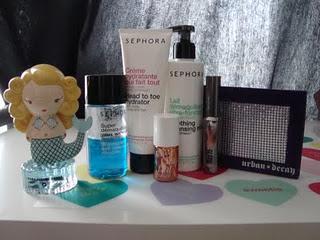 I went to france for the day and brought some things on the boat duty free and some in france.
i got 
Harajuku lovers G of the sea £10
Benefit cha cha tint £20ish
Benefit they're real £15ish
Urban Decay palette £15
I got that stuff on the boat duty free sorry i dont know the exact price. Also they had the naked palette for £25!
Sephora waterproof eye make up remover
Sephora head to toe moisturiser
Sephora cleansing milk
That all came to €15 buy 2 get 1 free
hope you liked if you have any hauls link them below i like reading them :0)