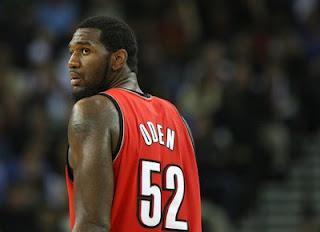 Photo: blazeoflove.com
- Adam Parker
Greg Oden.
Just seeing the name fills most of us with unshakable feelings of sympathy and, 'what a shame,' thoughts. You want to know what I see when I look at Oden -- the former No. 1 overall pick in 2007?
Two words -- wasted potential.
Think about it.
This guy has played 82 games in the NBA
total
 during his career thus far. We're talking one full NBA season over the span of four years.
Injuries have severely hampered Oden's ability to stay healthy, and because he hasn't been able to stay on the court, the young big man hasn't really had a chance to develop.
Whispers of comparisons to NFL busts Ryan Leaf and Jamarcus Russell run a muck.
But not so fast.
I'll be the first to admit that I still have my reservations and doubts about Oden's future in the NBA. But there is one team out there, (the only team, really) that I believe has all the necessary pieces to succeed with a Greg Oden experiment -- the Phoenix Suns.
Let's take a look at four reasons why.
1. Suns Training Staff -
The Suns' training staff has long been touted as the best in the association, and with what they've been able to accomplish, the credit is well-deserved. I mean, just look at how they've been able to extend the careers of both Steve Nash and Grant Hill. Not only that, but both guys are continuing to play at a high level despite entering the twilight years of their respective careers.
Oh, and we can't forget that Shaquille O'Neal had his best seasons after his title with the Miami Heat in Phoenix.
Their newest reclamation project is Michael Redd, a guy whose coming off surgery on both knees but since he's signed with Phoenix, he's been slowly working his way back to the player he used to be. He's not there yet, but I can only imagine that he definitely has a shot to reach that level (or at least close to it) if he re-signs with the Suns this summer.
The Suns' training staff specializes in preventative medicine, meaning once guys are healthy, they'll do everything they can to keep them that way and performing on the court to the best of their capabilities. I mentioned Grant Hill earlier. Like Hill, Oden has thus far had an injury-riddled career. But the Suns' training staff was able to resurrect Hill's career, so if given the chance, I don't see why they couldn't do the same for Oden.
2. Greg Oden is Still Very Young.
Despite the deceiving looks of Oden, he is still only 24 years old. If the Suns were to sign him and help him healthy, he could potentially have a decade of basketball left in him. And we all know this simple truth -- the younger you are, the faster you tend to recover from injuries.
3. You Can Never Have Enough Quality 'Bigs' on Your Roster.
 I love the Suns, but in my opinion, they don't really have any quality big men under contract outside of 'The Polish Hammer' (Marcin Gortat). Robin Lopez is okay and the young rookie Markieff Morris has shown some flashes, but adding Oden to the equation for depth purposes certainly couldn't hurt.
4. Low Risk/High Reward -
Oden's injury concerns could act as a double-edged sword for Phoenix. Sure, you have to worry about whether or not he can hold up physically through the labors of an 82-game season. But because of those concerns, the Suns could likely sign Oden this summer for pennies on the dollar. If their training staff is able to continue working its magic, then inking Oden could ultimately prove to be a great investment for both sides.
So without further ado, Phoenix Suns, meet Greg Oden, Greg, meet the Phoenix Suns.
Be sure to follow Beard And Stache on Twitter 
@BeardAndStache
, 
and also Adam 
@Adam_Parker43
, Like our Facebook page 
HERE
!