If you and your other half are getting married in winter and are big fans of the white stuff, then you may well be thinking of a honeymoon that involves lots of time on the slopes. Here's a few of my favorite hotels and resorts in Europe for a skiing (or snowboarding) honeymoon, which combine style and comfort with easy access to the slopes.
Ferme du Ciel, Samoëns, France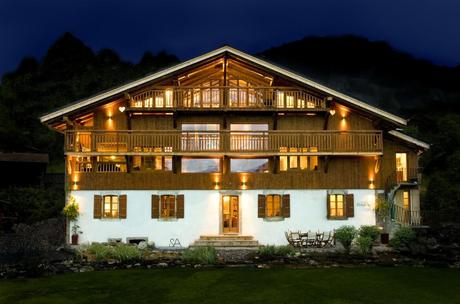 What I love about the Ferme du Ciel ("farm in the sky") is that, from outside, it looks every inch a traditional Alpine ski chalet, yet inside it's a perfect combination of rustic farmhouse and modern styles, making it both cosy and sophisticated. With just six suites, the chalet is intimate and private – perfect for a honeymoon – and boasts a sauna and jacuzzi, ideal for winding down after a day on the slopes. The in-house chef makes the most of local produce for multiple-course evening meals, which is complemented by a fabulous wine cellar (well, you wouldn't want to miss out on all that fabulous French wine, would you?).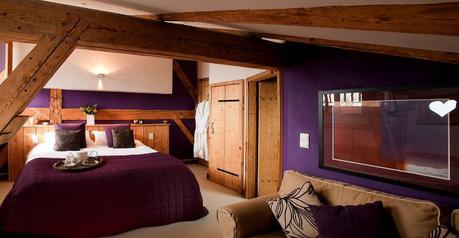 Situated in the beautiful medieval Alpine village of Samoëns, Ferme du Ciel is just an hour from Geneva airport, and on the doorstep of over 265km of skiing within the Grand Massif ski area – so, theoretically, you could be on the slope within hours of landing. At night, you can curl up by the fire in the open-plan living area, or make the most of the book, DVD and music library. It's also a great option if you're looking to honeymoon with children, with a family suite available.
From £750pp for seven nights; shorter breaks also available.
rocksresort, LAAX, Switzerland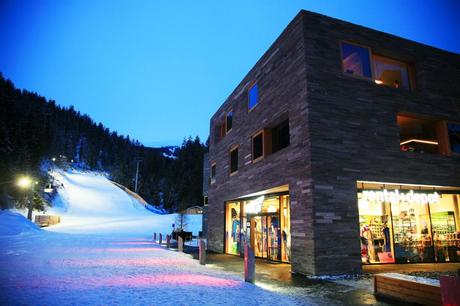 But European ski resorts don't have to be limited to the traditional chalet-style accommodation – I love the look of the super-modern rocksresort, situated in the Swiss winter resort of LAAX, ninety minutes from Zurich. Though strikingly modern, the resort's buildings don't look out of place among the mountains – their exterior is made of massive, broken Valser quartzite from a nearby quarry – and their cuboid design means that the apartments all boast fabulous views over the surrounding area. Best of all, rocksresort boasts ski in/ski out – perfect if you're eager to get onto the slopes.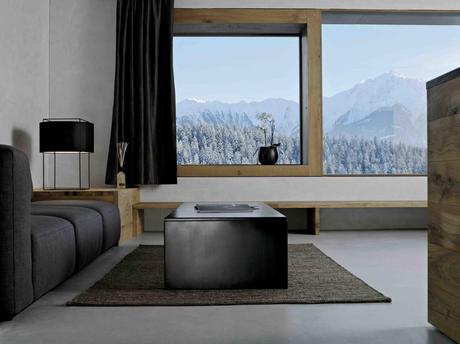 LAAX boasts 200km of pistes, and the resort area includes the Vorab Glacier, which at 3018m is one of the highest points in the Graudbunden Swiss Alps. The apartments at rocksresort all boast bathrooms that turn into steam rooms (a great touch), and are built with sustainability in mind. Though they're self-catering, they boast 24-hour concierge services, housekeeping, and you can opt to have your fridge filled on arrival – a lovely little luxurious touch.
From £990 a week.
Les Fermes de Marie, Megève, France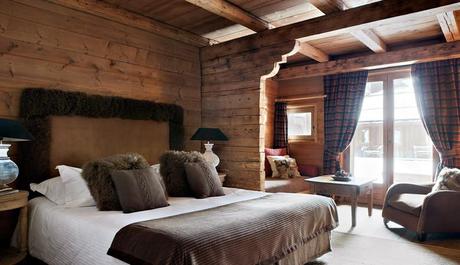 Les Fermes de Marie is unabashedly romantic – the only trouble is that it looks so cosy you might have trouble dragging yourselves out and onto the slopes. Made up of nine chalets, it's got a very rustic, charming feel to it, while still being very much a five-star hotel. I especially love the look of the library – it looks like the perfect place to curl up with a post-dinner night cap. Rooms continue the cosy feel, and vary in size and decoration, giving them all an individual charm.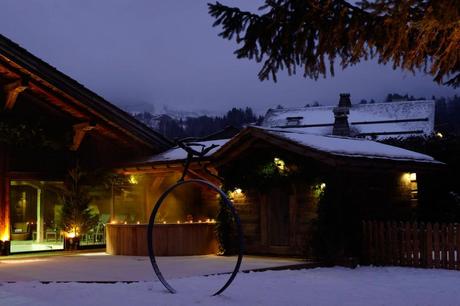 Les Fermes de Marie is situated in the Mont-Blanc region of Haute-Savoie; Megève itself gives access to 600 hectares slopes – if you want more than skiing, you'll also find exploring by snowmobile, on snowshoes or with huskies available. Two restaurants in the hotel provide a bit of variation, and there's also an extensive spa, which includes a hammam and both indoor and outdoor jacuzzis.
From £149 a night
Au Cœur du Village, La Clusaz, France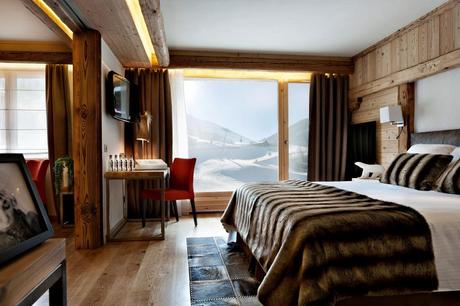 If you prefer your rustic chic to have a little more contemporary style to it, then Au Cœur du Village may be right up your street. This is a gorgeous hotel and spa, ideally situated within the Annecy-Geneva-Chamonix triangle, so a pretty perfect destination for a snowy honeymoon. All of the suites have fabulous mountain views – I especially love those from the fabulous "Prestige" suites, which boast both a bedroom and a living room.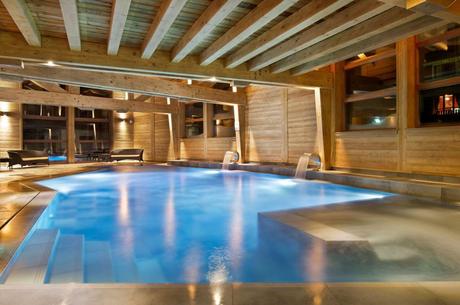 In addition to a refined restaurant, the hotel has a fabulously sophisticated spa, with a sauna and swimming pool, plus there's an "English drawing room" for after dinner. The resort itself has lots to offer, both on and on the slopes (such as paragliding), and the slopes themselves are good for all levels of skiiers and snowboarders.
From £149 a night.
Photos courtesy of Ferme du Ciel; rocksresort; Les Fermes de Marie; Au Cœur du Village