Did anyone else seem the grim, overly-sexual tweets between the TV presenter Melanie Sykes and her toyboy lover?  I always thought Mel was rather sweet and wholesome, but my opinion of her has gone totally downhill after this latest saga.  So it turns out that she met this 26-year old called Jack Cockings, through Twitter just a month ago – and now the two can't keep their virtual hands off each other.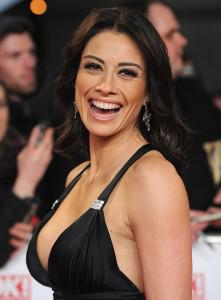 In one of her public declarations of, ahem, affection, Melanie said she had 'the giddiest knickers of my life' and tweeted to her toyboy: 'I've got the raging horn, please take me'.  In another, she wrote: 'Jack the rabbit I need some bunny love so hop to it!! Xxx boing boing!!!
She also tweeted about the color of her lingerie and the size of Jack's manhood!
Now I can't figure out if Mel really is just expressing uncontrollable feelings of new-found lust, or whether she is using Twitter to gain herself some publicity.  Sadly, I fear it is the latter.  It reminds me of the time that Liz Hurley and Shane Warne felt the need to share all of their sweet nothings to one another with the world.  It certainly got them lots of the attention that they both clearly crave.
I can understand those flushed first feelings of excitement….I'm in a new relationship myself (more on that another time!) – but the last thing I would ever want to do is share the most intimate details with the world.
All I can say is, Mel and Jack – get a room.  Spare your dirty thoughts for each other – you just look like idiots to the rest of us!