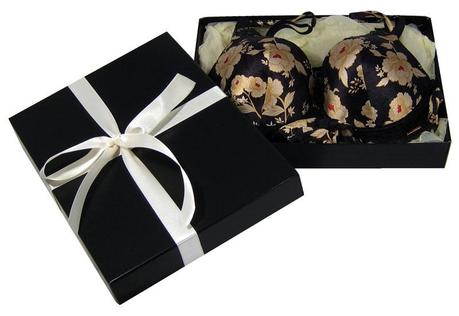 Few gifts are more intimate than lingerie gifts. Unless you are a modern day Casanova, it's a gift best reserved for a woman you are already having a relationship with (and Casanova, no doubt, wouldn't need to read this post). With so many options to choose from, it can be difficult to know what is suitable for your girlfriend or wife. Get it right and your love life might go from wonderful to fantastic, at least for a night or two, get it wrong and you might be spending your nights alone.
Wherever you are in your journey together, this post will help you decide if
Lingerie is the right gift at all and
what lingerie to choose if it is.
If you've just started dating, are in a long-term relationship or married, if you've just had a baby, you're love life's on the rocks or you're both coping with the difficult recovery after a mastectomy, this guide will make choosing the right gift easier.
Budding romance
If you've just started going out, or you've been dating a little longer, but you haven't yet gone all the way, our advice is to stay well clear of lingerie gifts altogether. Even for Valentine's, a pricey gift may not be appropriate (and don't, whatever you do, buy cheap lingerie, ever).  Now is the time to surprise her with flowers, chocolates and romantic cards. Better yet, spend time with her: arrange an intimate dinner or pursue her favorite past time together and enjoy each other's company.
Steady relationship
This is the easiest time to buy lingerie for your girlfriend, well, as easy as buying lingerie ever is. Armed with knowledge of her size, style and preferences and a decent amount of cash, buy her the lingerie of her (and your) dreams. By now you should know her well enough to decide whether elegant, romantic or naughty is right for her. Celebrate your passion with not only bra and panties, but also consider corsets, suspenders and sexy nightwear like negligees and babydolls. You may also push the boundaries by giving her lingerie that is just a touch more risqué than what she is used to wearing, but do this in small steps.
Chaste long term relationship
If you are committed to each other, but have decided to hold off on sex until you are married, the decision whether lingerie is an appropriate gift depends on
a)   Where you are on the spectrum that ranges from closed-mouth kissing to anything-but-intercourse, and on
b)   How well you know her and how she would interpret such a gift.
If you have already seen her in her underwear, it's best to stay away from overly naughty styles or role playing outfits. Bra and pants sets would be acceptable as long as she does not feel you are trying to sway her decision to remain chaste.
If you are unsure about that, or if you are closer to the kissing-only spectrum, avoid buying her lingerie. It might come across as pushy or disrespectful. Nightwear would be a much better choice. She'd still be wearing a present of yours close to her skin, but it would not have any sexual overtones. Don't pick nightwear that is too revealing unless you are sure she would love it.
Baby
If she's pregnant or has just had a baby, sex might not be the first, or even second or third thing on her mind. It's important for you to remember that she hasn't stopped loving or wanting you, but that the challenge a baby presents has changed her priorities and depleted her energy levels. This is also a time where many women feel insecure about their bodies and the way it is changing. Any overtly sexy lingerie might be seen by her as an unsubtle reminder, even an accusation, that she is neglecting you.
During pregnancy she needs bra and panties which accommodate her changing body. This may make finding the right underwear difficult even when she goes shopping herself. If you have your heart set on buying her some lovely bras or pants, take her out to a well-stocked specialist retailer or a big department store and help her pick out something you both like. However, you may find more choices and styles online, as a lot of maternity underwear available on the High Street is functional, but about as sexy as Bridget Jones' big knickers.
If you want to surprise her with something that will make her feel comfortable and cherished, choose nightwear. Do your research and find maternity nightwear which is both pleasant to wear and pleasing to the eye.
The same method works for the time after the birth of the baby. Either take her shopping or browse the internet together, so she can pick out the perfect bra (this is especially important if she is nursing as the wrong bra may frustrate her enormously). Or choose nightwear, and again pay special attention to the needs of a nursing mother and buy nursing nightwear.
Married
If you have been married for a long time, and if your love life has started to go a bit stale, rekindle the passion with a gift of sexy lingerie. Even if she never wears lingerie at all, you can still choose underwear which is more luxurious and prettier than anything you'll find in her underwear drawers. If she does wear sexy lingerie, you can have fun picking out some naughty bra and pants sets, combined with suspenders or corsets. Help her overcome any body confidence issues by buying her a matching negligee. To begin with she may feel more comfortable showing off your gift if she can cover the body parts she's unhappy about.
On the rocks
If you've not been getting on for a while and your love life has suffered as a result, a lingerie gift may make matters worse for you. An overly sexy one may well be seen as criticism of her, or come across as insensitive, depending on the reasons for your difficulties. If you wish to let her know that you still love her and want her, no matter what you are going through, we recommend sticking with nightwear. If it is high quality and pretty to look at, she'll wear it. Spend some extra time to include a card with the gift to let her know that you want to work things out.
Mastectomy
After a mastectomy and any subsequent cancer treatments, lingerie will be the last thing on her mind. However, whether she has had reconstructive surgery or not, at some point in the future, she will want to wear a bra designed to make her look and feel well again. Unless you already have experience with this, it is advisable to take her to a specialist store to find the right bra for her. If she has had breast reconstruction surgery, her attending physician will send her home with specific instructions what type of bra she is to wear. This varies from surgeon to surgeon, with some preferring non-wired bras and others asking her to wear an underwired one.
In the first few weeks after any operation it may be better to refrain from any lingerie gift. If you do decide to go ahead, please remember that her skin may get irritated and her tissues might be swollen for some time, so fabrics need to be chosen with as much care as the style, fit and size of the bra.
She may feel unattractive and even mutilated after a mastectomy. In any case, she will have to overcome a number of body confidence issues in addition to the emotional and physical fallout of any cancer treatment. You can help her by showing that she is still desirable to you, but it might be best to limit yourself to nightwear for a while. Make it count, though, pick pretty designs and comfortable fabrics. Browse the internet for mastectomy nightwear if you feel she might be more comfortable in that.
P.S. This post can only give you general guidance on lingerie gifts. If she has specifically asked for particular lingerie, just follow her wishes regardless of where you are in your relationship.