'A crust eaten in peace is better than a banquet partaken in anxiety'
Aesop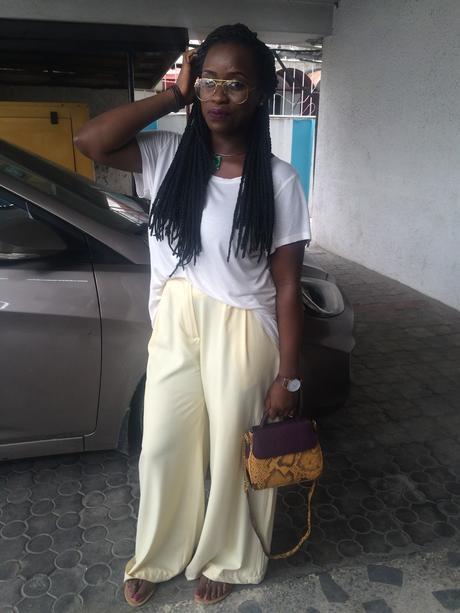 Hey beautiful people,
How go dey go? That's about all I have in my repertoire of Pidgin English but I work on it on a daily believe me. It pretty much felt like I just sat here twiddling my thumbs while waiting for Friday to come forth and somehow this week has just been interminable. I'm not much of a whiner so I'm taking each day as it comes.
So we are talking food today, started this post a couple weeks back and I never got around to finishing or posting it. Today's restaurant of choice is 411 Restaurant & Bar at 14A Adeola Hopewell, Victoria Island. Apparently there's a second 411 restaurant in Victoria Island so you might want to pick which suits you. The Saturday in question was a pretty chilled day but we had however worked up an appetite prior to heading down to the restaurant so we really wanted to eat properly.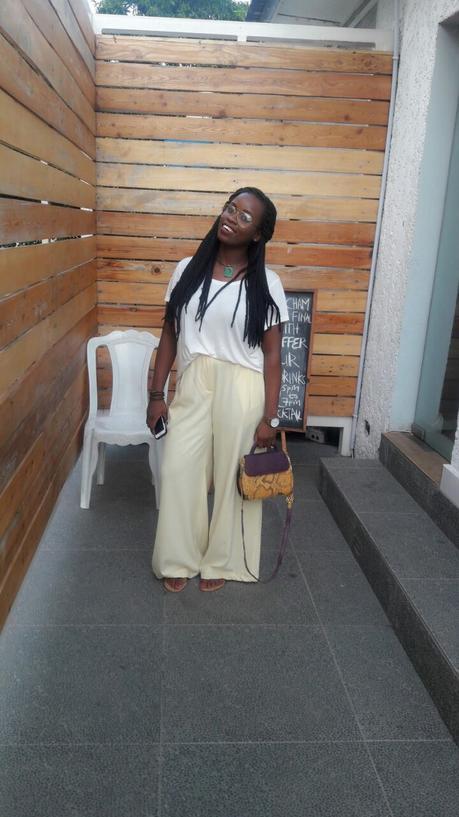 Ambience:
It looked really good both on the inside and outside, the waitstaff was polite and quite efficient. I fell in love with the décor, looked quite cozy for lunch with the girls or even family brunch, truth is the entire décor oozed that famous southern hospitality we talk about. There was a bar to one side, warm and cozy couches all around plus big screen TVs on some walls alongside cute little paintings.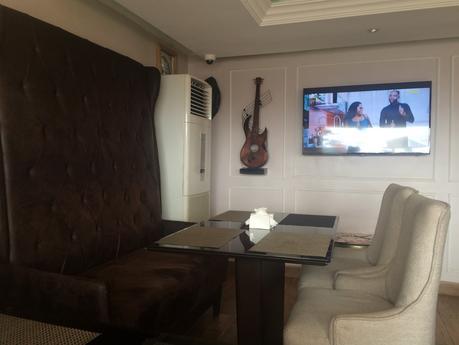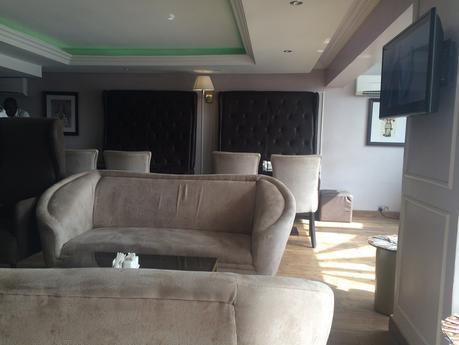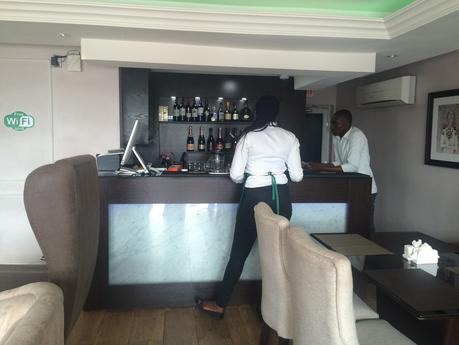 Bar area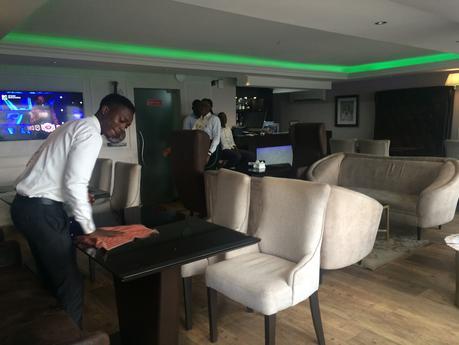 Service:
This was the first place I've been to where the menu was on a tablet, pretty dope actually. The waitress was patient and answered a couple questions we posed when we needed clarification on certain dishes. I was with three of my friends Onyi, Anuli and Keno so we all ordered different dishes based on our preferences. I ordered the
Chicken Navarrin
, Anuli opted for the
Chicken Curry with Rice
, Keno went all English on us and ordered the
Classic Chicken Burger
while Onyi was as basic as it gets with
Beans and Plantain
.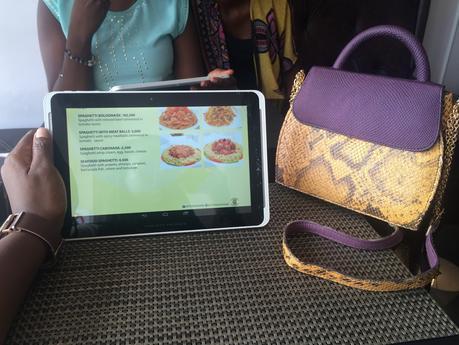 Menu on a Tablet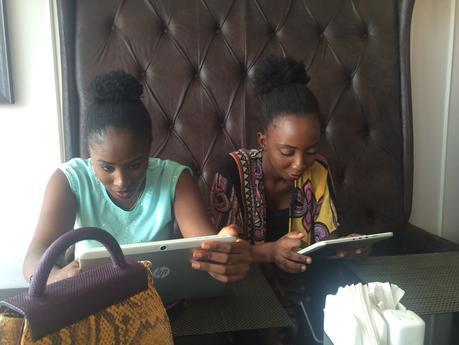 Onyi and Anuli twinning with their puffs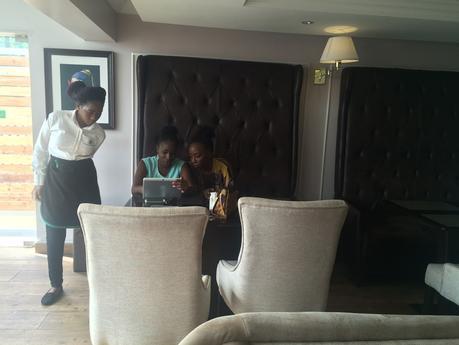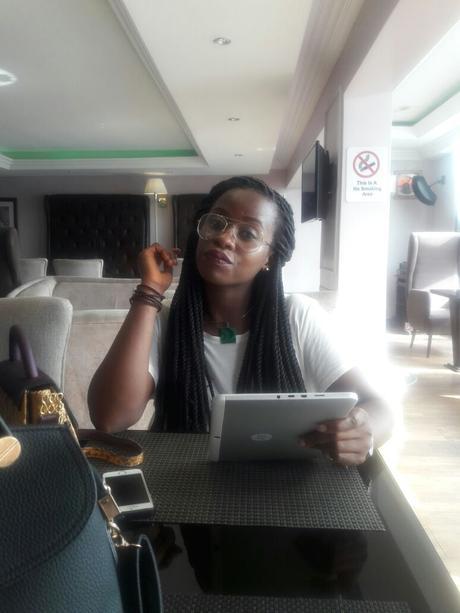 Presentation/Taste: 
I think this was where I had a problem, the food took forever to come out. My food was the last to grace the table and it was a tad frustrating watching everyone else eat their own food. My food eventually took around 30mins if not more before it was served, I was already super hungry when it came. The
Chicken Navarrin
was basically chicken in tomato sauce, mushrooms, carrots with potatoes and it was served with rice. I can say without a doubt that it was positively delicious, literally ate it all with no complaints and I certainly could have eaten much more if I wasn't already stuffed.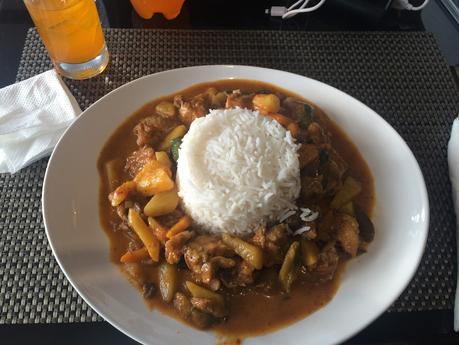 Chicken Navarrin
Anuli however, wasn't too fond of her
Chicken Curry with Rice
– the spices didn't quite agree with her senses or something along those lines. Keno's
Classic Chicken Burger
was a mix of chicken patty grilled with fresh tomatoes, black pepper topped with lettuce served with French Fries. Well Keno is a burger-fan so she did enjoy having it, I did taste the French fries while waiting for my food to arrive and I enjoyed them because they tasted just right – not too hard and not too soft at the same time.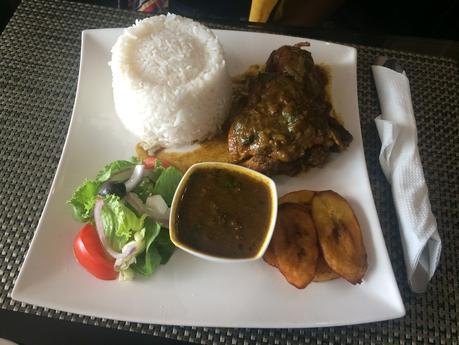 Chicken Curry with Rice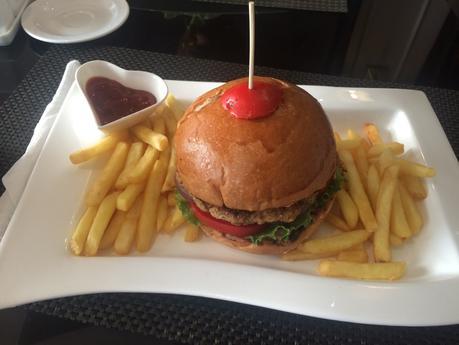 Classic Chicken Burger
I've never been a lover of beans so I'm never really objective where beans is concerned so if Onyi says it was lovely, I'm taking her word for it with no need to doubt her. The plantain was delicious and don't even get me started about that fish, and just in case you were wondering, I really do enjoy tasting people's meals or stealing from their plates…one of my favorite pastimes.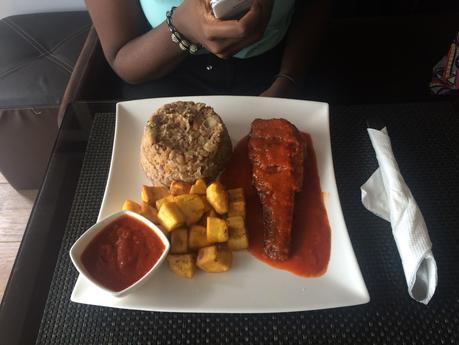 Beans & Plantain
Affordability/Menu Options: 
It did okay on the affordable list, the meals weren't overpriced or anything like that but I'm certainly expecting an increase with the current economic situation. Here's the breakdown:
Chicken Navarrin –

N

3500

Chicken Curry with Rice –

N

3000

Classic Chicken Burger –

N

2500

Beans and Plantain –

N

2500
We had a couple bottles of soda and water, I don't recall the exact prices of each bottle but I believe they were between
N
200 to
N
400, nothing too crazy.
Pros & Cons:
The menu for one was diverse which is always a pro for me, the food tasted great, service was excellent and the décor just screamed of home – utter perfection as far as I'm concerned.
The only con for me was the long wait between ordering the food and the food actually arriving. I'm not the most patient person I admit, but still the wait was pretty lengthy. However, it wasn't the same on my second visit – food delivery was faster the second time around so maybe the delay the first time around was because of some inexplicable reason.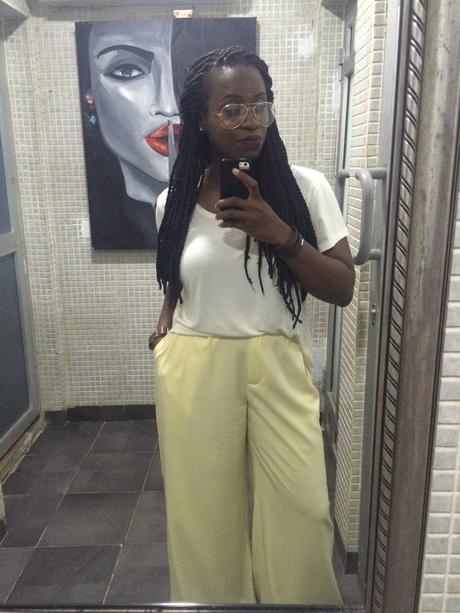 I can't resist a good selfie with a Painting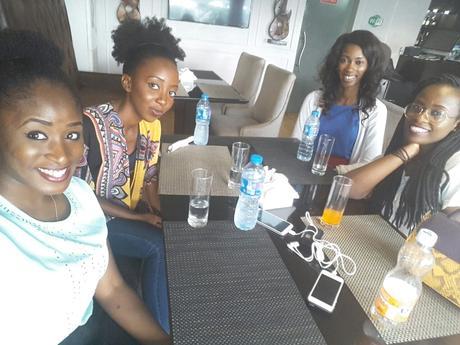 L-R: Onyi, Anuli, Keno and Ify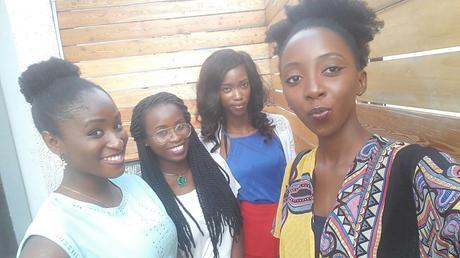 Personally, I'm thinking this restaurant is an 8 but it has the potential to become a 9 with consistency. I'm hoping this wasn't a long boring read so thanks for sticking with me.
Until my next food felony, I remain yours always.
Cherry kisses from Lagos.
Ify*
Let's Connect!
Instagram || Facebook || Twitter || Bloglovin || Pinterest
In case you missed my previous posts, please find direct links below:
Ensemble || Go Gold
Ensemble || Of Neutrals And Grey
Weekly Wanderings || Lekki Arts And Craft Market
Ensemble || Of Nudes And Black
Ensemble || Boho Loving
Ensemble || Shades Deep