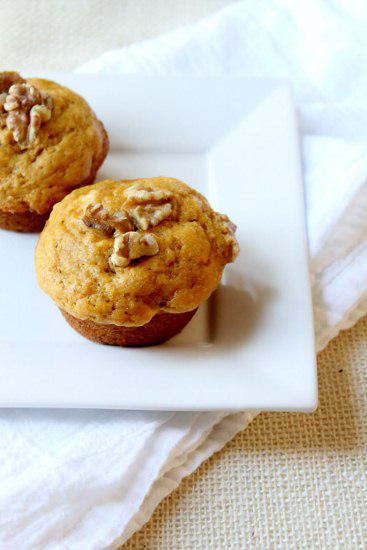 When you have 3 bananas showing their last hours of life and when you have left over pumpkin puree from your Spiced Pumpkin Bread you make these muffins.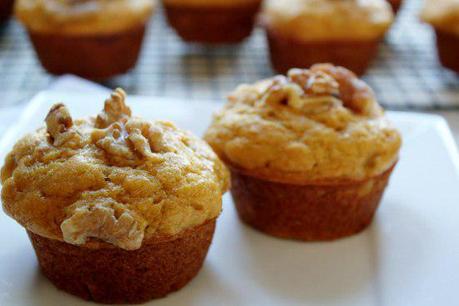 I've been eating them for breakfast, sliced open and toasted with a pad of butter. Then again for a snack. Then again for another snack. They are that good.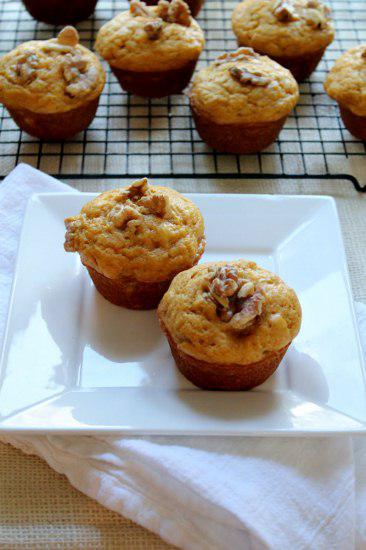 The combination of pumpkin and banana is superb..then you have the crunch of the walnut and the smooth cake like muffin – yes, please.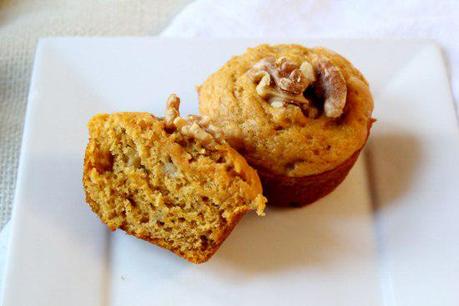 This recipe is based from my Banana Bread recipe.
Pumpkin Banana Muffins with Walnuts
Yield: 24 muffins
Ingredients:
2 cups flour, sifted
3/4 teaspoon baking soda
1/2 teaspoon salt
1 pinch nutmeg
1 pinch cinnamon
1 pinch ground ginger
1 cup sugar
1/4 cup softened butter
2 eggs
1 1/2 cups mashed bananas (x3)
1 cup pumpkin puree
2 heaping tablespoons low-fat plain yogurt
1 teaspoon vanilla
1 cup walnuts
Method:
Preheat oven to 350 degrees.
1. Combine sifted flour, baking soda,  salt nutmeg, cinnamon, and ginger into a bowl.2. Mix sugar and butter with electric mixer until incorporated. Add 1 egg at a time until well beaten and combined. Then second egg.3. Add bananas, pumpkin puree, yogurt and vanilla and mix until just combined (helps to mash bananas prior to adding them to mixing bowl – don't want to over beat the yogurt so that the batter stays light).4. Add flour in 3 separate portions to the banana pumpkin mixture until just combined and moist.5. Pour into greased muffin tins. Add 3 walnuts to the top of each muffins- press down slightly. Bake for 20 minutes. Let rest on wire rack for a few minutes, then remove from muffin tin and continue to cool on wire rack, until cooled.