I love scones. But I am picky when I choose them. And they can be hard to choose.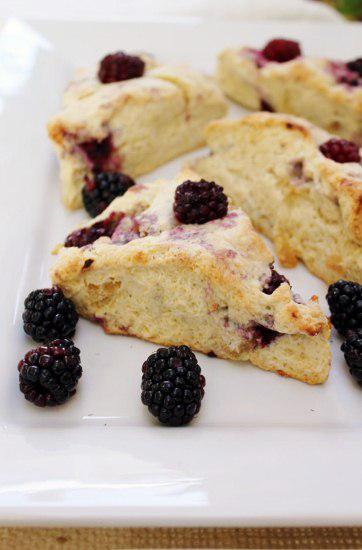 I had a scone this weekend from the airport. Yes, I know I should probably know better but when a girl is hungry she's got to eat. Well, let me just tell you that the bottle of water I bought…it was consumed right away. Wow, was that scone dry.
It crumbled the second I bit into it.
I don't like scones like that.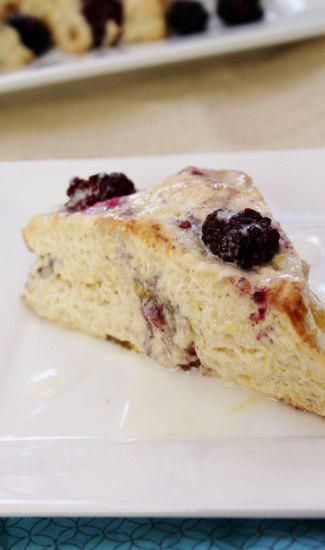 Enough of my venting. These scones are cakey and not the crumbling type!
It is the egg.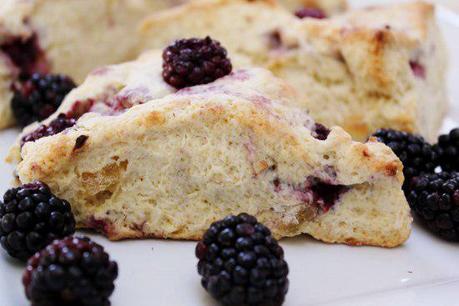 Egg + cream + butter = a delicious consistency!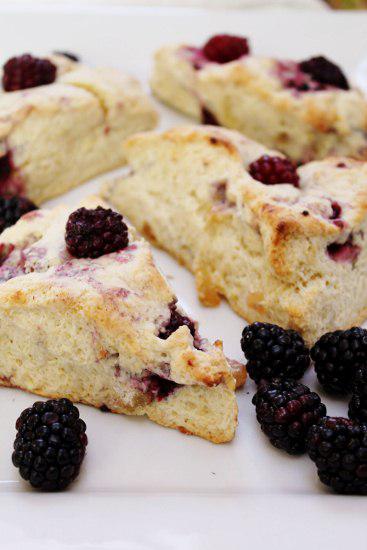 Creamed Blackberry Ginger Lemon Scones
adapted from The America's Test Kitchen Cookbook
Makes 8 scones
Ingredients:
2 cups unbeached all-purpose flour
1 tablespoon baking powder
3 tablespoons sugar
1/2 teaspoon salt
4 tablespoons cold salted butter, cut into cubes
2 tablespoon chopped crystalized ginger
zest of 1/2 lemon
3/4 cup heavy cream
1 egg, beaten
3 oz Blackberries
Method:
Preheat oven to 435 degrees.
1. Place flour, baking powder, sugar and salt in bowl of food processor. Pulse six times.
2. Add cubed butter evenly to flour mixture and pulse 12 times (each pulse is 1 second). Add ginger and lemon zest to bowl and pulse three times.
3. Transfer mixture to medium-sized mixing bowl. With a rubber spatula fold in heavy cream and egg until is begins to come together. Transfer dough to a floured surface. Fold until incorporated. Pat out dough to a rectangle. Add half of blackberries to one side of the dough. Fold the side without the blackberries over the blackberries (make sense?) They will squish, but that is okay. Form dough into another rectangle, roughly 3/4 inch thick.
4. Cut into triangles or any shape you prefer. Place on ungreased baking sheet. Add remaining blackberries to the tops of each scone. Bake until scone tops are light brown, 15-18 minutes. Cool on wire rack for at least 10 minutes.
Lemon Glaze
Whisk together 1/2 powdered sugar, 1-2 tablespoons cream (1/2 and 1/2 or milk works great too) and 1 teaspoon lemon zest. If it isn't thick enough, add more sugar. Spoon over cooled scones.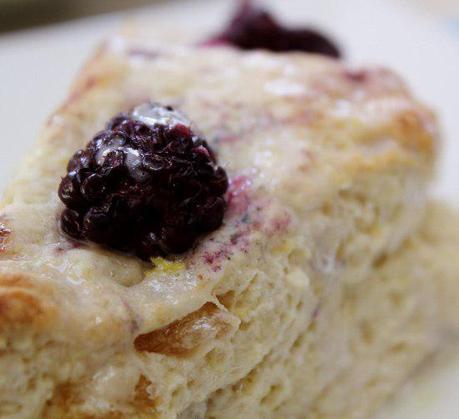 Advertisement