It is true. Scrambled eggs are pretty easy to make. I don't think I have to tell you that.
But it takes talent to add more flavor to simple scrambled eggs.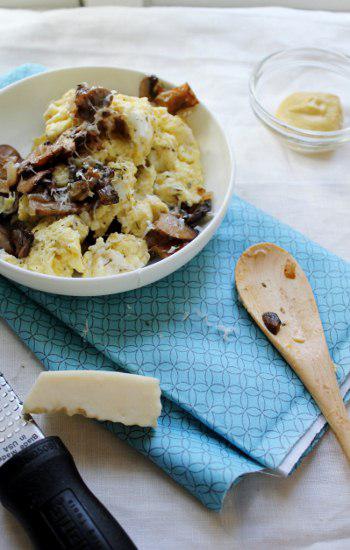 Okay, that is pretty easy too. So when you are in need of spicing up your everyday scrambled eggs choose this combination.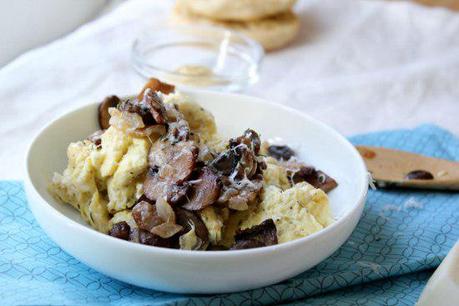 Mushrooms, yellow onion, thyme, Asiago cheese, Dijon mustard, salt, pepper and eggs…oh and half and half.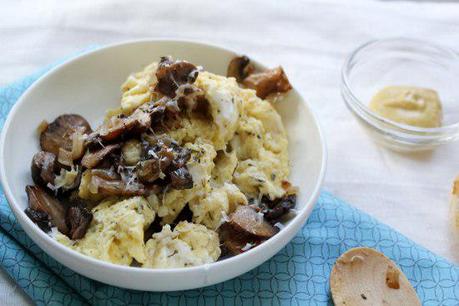 Simple yet packed with different layers of flavors and textures. They are in fact a perfect addition to a breakfast line up.
Oh and of course adding grated Asiago cheese is a must and super important. Yes, eggs with cheese are in fact good. Try it.
Mushroom Thyme Scrambled Eggs
Yield – 2 servings
Ingredients:
2 teaspoons butter, divided
4 0z. or a handful of cremini mushrooms, sliced
1/4 cup diced onion
1 teaspoon dried thyme
4 eggs, whisked
2 tablespoons Half and Half (milk works just fine too)
Kosher salt
Freshly ground black pepper
1-2 teaspoons freshly grated Asiago cheese
Method:
1.  Heat medium-sized saucepan over medium high heat with 1 teaspoon butter. When butter is melted, add mushrooms, onions and thyme. Saute until mushrooms are brown. Remove them from the pan. Wipe the pan out with a paper towel. Return back to the heat, lower to medium low.
2. Whisk together eggs, half and half, pinch of salt and pepper. Add 1 teaspoon butter to pan. Once melted, add eggs and scramble on low heat until done. Add mushroom mixture right before eggs are done. Remove from heat and sprinkle cheese on top.
3. Serve with a side of Dijon mustard for dipping fork fulls of eggs into – DEVINE, I tell you.
*sourdough toast is excellent with these too.