Welcome back for another mouth watering foodie post :). Having previously visited Browns Bar for lunch, I was quite intrigued as to what was on their A la Carte menu; so by no surprise I had made a booking for a special birthday surprise for a family member also accompanied by 9 other guests. I love dining out with groups of people as it gives you more of a chance to try out pretty much everything on the menu :p who else agrees? We ordered 7 starters to begin with, followed on by 10 main dishes. Continue reading to find out what the verdict was on this occasion and I do warn you the pictures will speak for itself and it is a long post!
Starters
Browns Bread board (£6.95):
a selection of artisan breads and flavoured butters.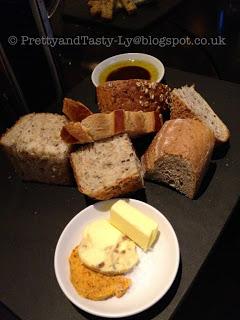 This was a classic dish to have along with our selection of starters, for quite a small platter it did consist of a variety of breads and was served with 3 different types of butters; in addition to a small dish of warm olive oil. Myself and my guests had enjoyed trying the different tastes of butters as we had not tried this before apart from the regular butters; so it gave a slight twist to such a simple dish.
The Browns Sharing Platter (£14.95):
chicken satay, chorizo, crispy duck, prawn cocktail,salt & pepper squid, harissa houmous, goat's cheese stuffed picante peppers and baked flat garlic & chillimushrooms.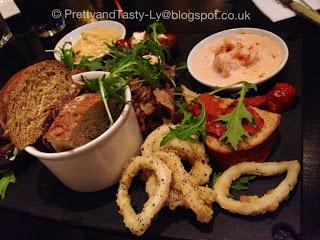 We were told by our waiter that this platter generally serves about 2-4 people, which is why it was ideal to opt for not 1 but 2 sharing platters! The picture says it all really! Good things (portions) really do come in small packages (well in this platter). Everything tasted flavoursome, well presented, and the portions were generous which allowed everyone to have a nibble of the selection. The harissa houmous and goat's cheese stuffed picante was the most favorite on this occasion for the girls.
Crab and Avocado Stack (£7.95):
crab bound with mustard crème fraîche and a mildly
spiced coriander & chilli salsa with an avocado & potato salad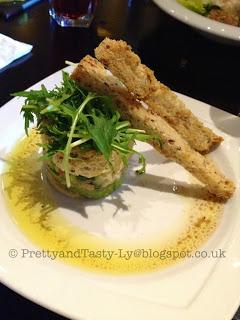 I opted for this as I love avocado and crab! And yes, it was well seasoned and tasty which didn't leave a fishy taste after eating it.

  
Pan seared Scallops (£8.95):
Jerusalem artichoke purée with a pequillo pepper & chilli vinaigrette.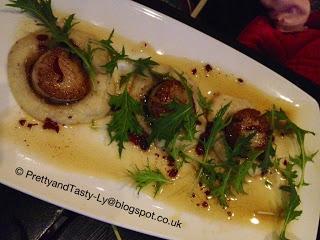 These scallops were cooked to perfection, not under-done or the slightest over-cooked, alongside with the artichoke purée this was a delicious dish and my guest thoroughly enjoyed it. Although, slightly pricey for just 3 Scallops.
Box baked Camembert (£8.95):
topped with an apple & raisin chutney.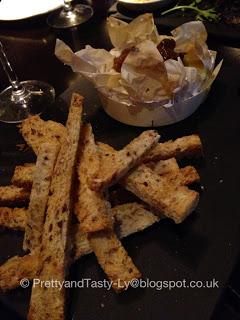 For all you cheese lovers out there this was fantastic! I had never tried Camembert before and this has definitely got me wanting to try out more different types of Cheese. The taste was not overpowering and was served with sliced toasted pieces of bread; a great way to 'pass' this plate around.
Tiger Prawn Cocktail:
with fresh seeded wholemeal bread.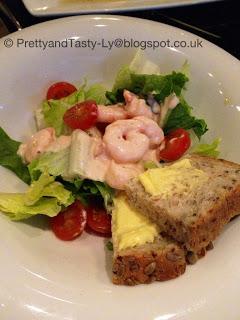 This was selected from the children's menu where it was 2 courses for £6.95. I didn't get round to tasting it as this young guest was enjoying her starter (Yep, quite a big sized portion right?) but I'm sure it was as yummy as it looked.
Mains
21 day aged Sirloin steak (£18.95):
served with anchovy butter, watercress, roasted plum
tomato, baked flat mushrooms and chunky chips.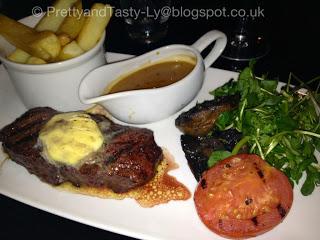 I am a huge fan of steak, so of course it was a must for me to order this! For me, I like my steak served medium and the chef had cooked it just as I requested it to be. Greatly seasoned, the meat was tender and the peppercorn sauce (ordered separately) made it taste even better. Mmm. Though, I couldn't finish my portion of chunky chips as I was getting quite full!
8oz Sirloin Steak (£18.95- Special Menu):
served with roasted potatoes, mushroom in a sauce and a side salad.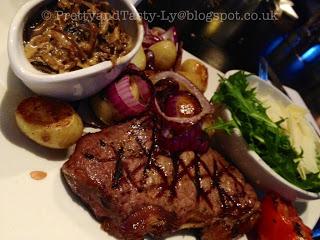 In comparison to the above steak, my guest had reviewed that the meat was slightly chewy and tough despite it being cooked medium-rare. (So glad I ordered the 21 day aged one! He he :P) It was still edible, but unfortunately he didn't accomplish it.
Roast corn fed Chicken (£13.95):
gremolata marinated, served with roasted carrots & red onion, spinach, red wine & herb jus, crisped pancetta and an arrabiata crusted rosti potato.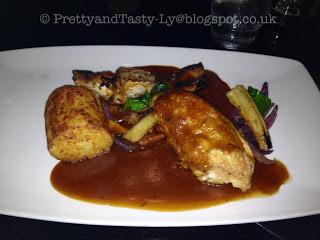 My guest simply said that this dish was beautiful and the sauce was a very lovely accompaniment.
Belly of Pork (£14.75):
with an orange & cumin glaze, creamed bacon & savoy cabbage, Aspall's balsamic caramelised apple and topped with crispy crackling.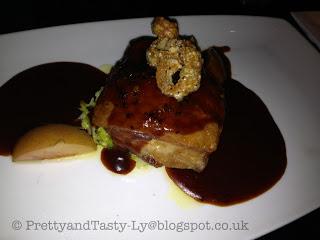 The picture says it all really, my guests' thoughts on this were that it was cooked well and the jus was very rich. The portion size was also considered slightly small.
Duck Cassoulet (£14.95):
confit leg of duck, garlic sausage, pork belly and smoked streaky bacon with haricot beans, carrots, onions and tomatoes.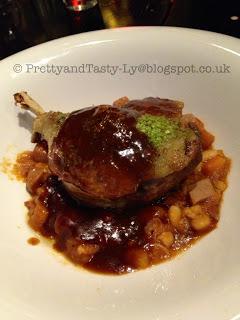 We had 2 diners who ordered this dish and both were mixed reviews. One had said that the duck was on the chewy side and hard to cut through, despite having said that if it was cooked well it would have been a very nice dish. On the other hand, it was okay and could've been something a bit more special. I did have a bite of this, and thought that it was slightly overcooked but the flavours were lovely.
Lobster and Steak Surf and turf:
(Special Menu)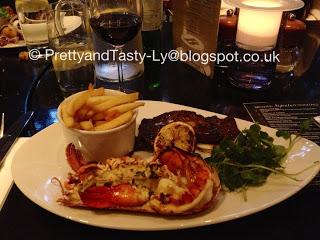 Everyone had their eyes on this when reading the menu, but we wanted a range so everyone could get a bite of each other's. Well we couldn't for this as it was considerably quite a small portion; however my guest still pleasingly enjoyed it.
Rack of Lamb:
(Special Menu)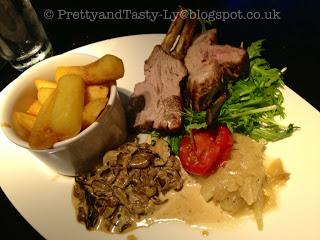 And again, 2 diners requested for this special rack of lamb and the verdict was that it was slightly bland and needed more seasoning to it. But the upside was that we was informed by the waiter that the chef was not pleased with 1 of these dishes to be served as it was when the first one came out, so he took a few minutes to re-plate the second dish to a better standard.
Battered Fish:
tempura cod loin steak served
with tartare sauce.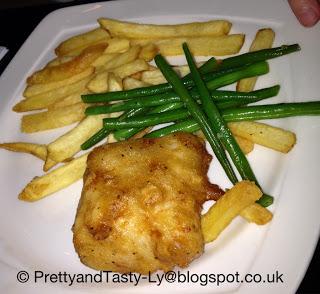 This was the main for the young guest we had, simply fish and chips. The fish was cooked nicely and as you can see it's a good size to feed any child. You can never get enough of good old British classic dishes.

  
Dessert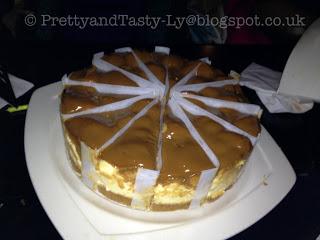 And to end the night, we had a Profiterole Cheesecake topped with toffee bought from Selfridges; it was absolute divine and was not heavy or sickly sweet at all. A scrumptious way to end this occasion.
Overall, our experience at Browns Bar Birmingham was a delightful and pleasant evening served with appetising, mouth-watering and delicious heaps of food. The main dishes which got everyone talking were the starters. Definitely great choices to choose from you just want them all! Not forgetting to mention that the service, (our waiter was Adam) was fantastic, he frequently made sure that our drinks were topped up and everything was okay, and informed of any delays which occurred.
Great food (a little pricey but worth it!), atmosphere, service and location. I would give Browns Bar Birmingham 8 out of 10.
Thanks for reading! :)
Angela x